John's Note: The night was sultry, the moon had refused to shine, and the summertime air needed air conditioning. We had been chunking and winding since way before dark. Although we had caught quite a few largemouth bass, the real prize for which we were searching – the striped bronze tiger that prowls the stump rows and rocky bottoms of Pickwick Lake on the Tennessee/Mississippi/Alabama border – had eluded us. Summer is the prime time for catching smallmouths at night along the Tennessee River that meanders primarily through Tennessee and Alabama. And, Austin James of Athens, Alabama, knows how to catch them.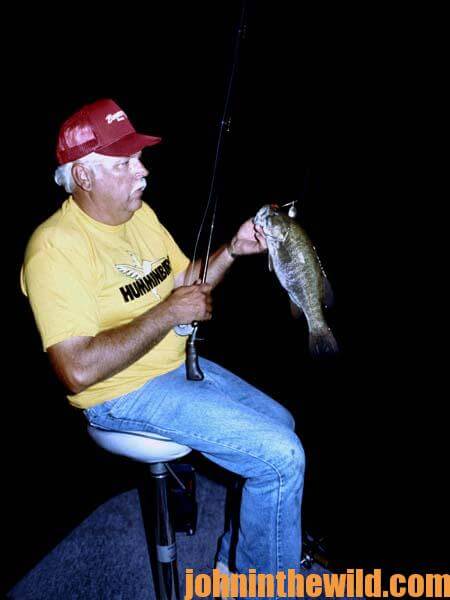 On this night, I told James as we sat wearily in the shroud of darkness, "We've beat this water to a froth while fishing from 2:00 pm until 12:30 am. We haven't had anything to eat since 9:00 am this past morning. I'm having a wonderful time, but these smallmouths seem to have taken lockjaw. I think the time has come for us to roll up our rods and go home."
James, a quiet man whose gray hair not only gave an inkling of his age but reflected his wisdom in doing battle with these brown marauders of the rocky bottom for many seasons, answered slowly as he said, "Okay, John, we'll go on in, but first I want to try the old riverbank out on the main lake and a pile of rocks along the old barge canal. We'll hit both of those spots for about 15-minutes each. If we don't catch a bass there, we'll go on in to shore."
After having fished with some of the best fishing guides in America today, I recognized instantly what James meant but didn't verbalize. He didn't want to give up, even though we both were tired, hungry and worn out. He had to prove that he could lead me to smallmouth, as most anglers would rather take a beating than come in from a fishing trip without having hooked a fish. James was no different.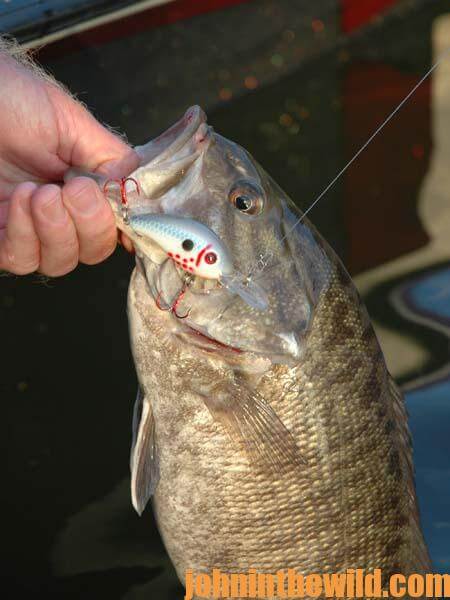 We motored out to the river ledge. On James' fifth cast, there was a watery explosion. Since my eyes had adjusted to the darkness, I saw James's rod flexing its muscle under the pressure of the line as the drag squealed. Again the water erupted, and there was a loud splash. I knew then for certain that James had connected with a big smallmouth, and that the fish had gone airborne. The battle continued between man and fish. Finally a striped tiger slid over the lip of our net. James smiled and chuckled as he explained to me that, "This is how nighttime smallmouth fishing is. You may fish all night long and not get a bite. Then within 45 minutes, you may limit out when the smallmouth turn on in the summer. I've fished before all night and not had a bite until an hour before daylight and then caught a limit of 4-5-pound smallmouths. But also, on other hot weather nights, I've gone out just at dark and by 10:00 pm, taken and released two limits of smallmouths. After years of fishing for smallmouths at night, I know that at some time during those hours smallmouths will begin feeding. What an angler must do to take these fish is be where they are with baits they'll bite when they're hungry."
To learn more about John E. Phillips' bass fishing books in both Kindle eBooks and print books, click here.
Next: Catching Big Tennessee River Smallmouth Bass