Editor's Note: "I can't wait for you to get here to Lake Eufaula," Mayor Jack Tibbs of Eufaula, Alabama (http://eufaulaalabama.com/, told me on the phone. "Tony Adams, who will be your guide, assures me he's found a spot where you and him should be able to limit out on crappie in 2 hours, and at the same time, Tony will have jugs put-out for catfish. He thinks you should be able to catch 100-200 pounds of catfish too in that 2-hour-time period."  I wanted to leave immediately for Eufaula, right after talking to Mayor Tibbs. But I remained at my home outside Birmingham, Ala., went to Eufaula the next day and enjoyed the fishing trip of a lifetime. Pam Swanner with the Alabama Black Belt Adventures Association (ALBBA), a non-profit group promoting the 23 Black Belt counties' hunting and fishing, (www.alabamablackbeltadventures.org) helped me set-up my trip and had put me in touch with Mayor Tibbs.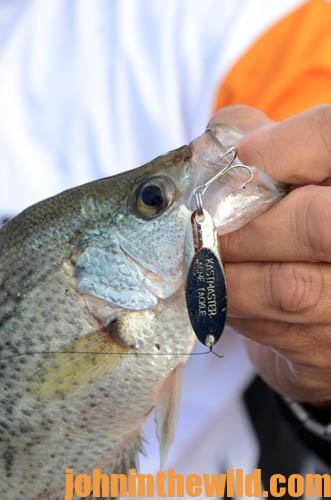 Tony Adams almost had his limit of crappie, as I furiously rebaited and reeled in crappie when he told me, "John, if you want to slow down your crappie catching, I'll show you how we can catch them on spoons and/or jigs. But I've learned that at Lake Eufaula that using minnows is the quickest way to catch crappie." So, after putting two more speckled sides in the boat, Adams reeled in his rods, laid them down in the boat and picked up a rod with a silver spoon on it.
"I enjoy catching crappie on spoons, once I know there's plenty of fish on a spot I'm fishing," Adams explains. "I'll drop my spoon in the water, open the bale and let the spoon fall all the way to the bottom. Once the spoon hits the bottom, I'll bounce the spoon two or three times off the bottom, while watching my line carefully. The crappie almost always attack the spoon  when it's falling. I mainly fish with spoons in the summertime after the sun is fairly high in the sky, and the crappie move tighter to the structure and closer to the bottom. I can drop my spoon straight down in the structure, work it through that structure and locate and catch crappie."
This technique is especially deadly on the artificial reefs made from river cane and 5-gallon buckets of cement (See Day 1) that Adams makes. The cane sticks straight out of the bucket, and there are no cross limbs on which the spoon will hang. Even if the crappie are holding tight to the structure, they may or may not be right inside of the cane. If the crappie are on the sides or the  tops of the cane, the crappie will take the spoon before it reaches the bottom. If the crappie are holding in the cane and don't take the spoon, Adams easily can reel his spoon through the cane, without it getting hung.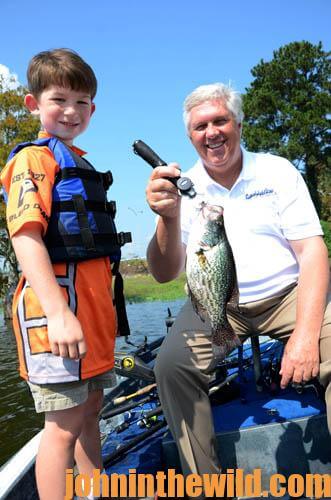 "Many times I can feel the spoon hitting the cane or other structure as the spoon falls to the bottom," Adams reports. "I think that when that spoon hits the structure, it gets the crappie's attention, and they will attack."
You can contact my guide, Tony Adams at 334-688-7505 or tony.adams@marvins.com and see photos of his fish on his Facebook page (https://www.facebook.com/tony.adams.5477). While in Eufaula, I stayed at Lakepoint Resort in the Alabama State Park (http://www.alapark.com/lakepoint-state-park), where the rooms have views of the lake, and the food is delicious. Contact the sales director, Sone Kornegay, at 334-687-8011 to learn more.
If you want to hold a crappie-fishing or a bass-fishing tournament at Lake Eufaula, you can contact Mayor Jack Tibbs at mayortibbs@eufaulaalabama.com or call 334-695-3765. You also can call 334-343-6173 or email pam@alabamablackbeltadventures.org to learn more about Alabama Black Belt Adventures.
"Don't Put a Plug in a Slip Cork" – https://youtu.be/CvtqzcNsmMQ
"Spooning for Crappie" – https://youtu.be/cOAQhrcGFcI
To learn much more about crappie fishing, get John E. Phillips' Kindle eBooks, and print and Audible books by going to http://johninthewild.com/books/#crappie or to www.barnesandnoble.com for Nook books. To receive and download for free "The Crappie Catchers' Cookbook," by John and Denise Phillips, go to http://johninthewild.com/free-books.
http://amzn.to/16AzIZi
Next Week: While at Lake Eufaula, I also enjoyed as great day of catfishing and learned some new ways to rig, fish, store jugs and bait for catfish and bass fished with Mayor Tibbs.
Tomorrow: How to Have the Most Fun Catching Crappie with Tony Adams