Editor's Note: When you first fall out of a tree and before you hit the ground, you have plenty of time to think about how stupid you've been, the mistakes you've made, and what you should have done to prevent the beating you're about to take. I know from firsthand experience. I've fallen from tree stands on four different occasions, although not in recent years. The bruises, scratches, scrapes and loss of breath finally have taught me how important learning tree-stand safety is and how to keep from falling when I climb.
I remember the first Baker tree stand I ever saw. In those days, you hugged a tree and pulled the stand up with your feet. You had to be somewhat of an athlete with both upper and lower body strength to use a climbing stand. But getting into the tree was not nearly as difficult as staying in the tree.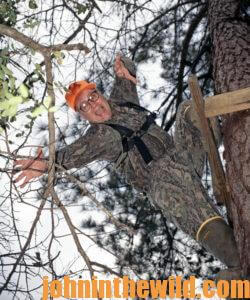 In the early days of tree stand construction, "store-bought" tree stands were expensive. Everyone I knew thought they could build a better tree stand for less money than the ones being offered on the market. Most of the early backyard tree-stand manufacturers had little or no knowledge of what was required to make a tree stand safe. They didn't know the properties of the types of metals they were using. None of these stands came with an instruction book or safety tips. The standard phrase all deer hunters used in those early days was, "If you go up into a tree with a climbing tree stand, sooner or later you will come down the tree faster than you want to and at a time you least expect."
Statistics from the Duke University Medical Center study reviewed 27 patients who came there for treatment of spinal injuries resulting from tree stand accidents. The mean age was 46 years, and mean height of the falls was 19.6 feet. There were 30 different types of spinal fractures in these patients. Significant neurologic injury occurred in 12 patients (44 percent). Nine had significant spinal injury (pins, fusion).
A survey was also done of 65 hunters admitted to the Ohio State University Medical Center for injuries. The mean age was 41. Thirty-eight (59 percent) tree stand accidents resulted in spinal fractures. Surgery was required for 81 percent of those, and 8 percent had permanent neurological deficits. So three of 38 suffered permanent paralysis. Here's how you can prevent becoming a tree stand statistic by being safer in your stand when you're hunting deer.
The Most Dangerous Stands:
Certain types of tree stands have accident written all over them. About 85% of the accidents that occur with tree stands are the result of a hunter using a homemade stand. The most-dangerous kinds of stands are constructed of wood. When a hunter nails 2x4steps or wooden blocks to a tree to climb into that tree, he's building for himself and others a potential accident. Once you drive nails through the center of wood, you split or weaken that wood. After a year or two, that wood begins to rot, as do the holes around the nails, causing the steps to be unsafe and to break-away from the tree easily. Wooden steps and wooden ladders pose the biggest dangers to the tree-stand hunter.
Also if you build a wooden tree stand, you must realize the life of wooden tree stands generally is no more than one to two years, unless the stands are built of an expensive grade of marine plywood.  If you want to save money in tree-stand construction and think wood is the answer, face the fact that you're possibly constructing an accident for yourself or others who use that stand.
To learn more about hunting deer, check out John E. Phillips' book, "How to Hunt Deer Like a Pro," available in Kindle, Print and Audible versions, at (http://amzn.to/YpoQHA).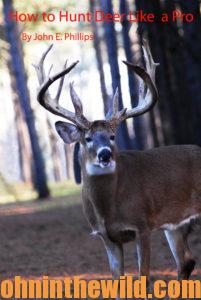 Tomorrow:  What about Deer Hunters and Tree Steps