John's Note: Small puffs of hickory and oak smoke floated-up through the clear night air from the crackling fire. On the two-burner Coleman stove, the freshly-caught catfish sizzled, and the potatoes were beginning to turn a golden brown as my fishing buddy Joe Price laid back on his sleeping bag and announced, "You know, most folks just can't appreciate how fine a trip like this is. If they knew how much fun it was, there wouldn't be a place left on this riverbank for me and you." Creekbanking for cats brings together all the ingredients of the finest outdoor living as it is…
* a solace to be rubbed on the soul of mankind;
* a potion with mystical powers to eliminate worry;
* a time for lying, for remembering and for enjoying the fellowship of good friends;
* an outdoor activity where the catching of a catfish is the excuse for the creekbanking experience, but never the ultimate goal; and
* an adventurous night in the woods and on the water.
On this particular creekbanking adventure, Joe and I set out three, short trotlines to catch us a mess of cats for the frying.
One line was strung relatively tightly from bank to bank in a small slough. Rock anchors held the main line about 2-feet off the bottom. We tied droplines onto the main lines 3 feet apart and baited them with cut shad, catfish dough, and hot dogs. The next two trotlines ran from the bank to about 50 yards in the middle of the stream. The bank line was tied to a tree, while the other end of the trotline was anchored at the bottom by a large boulder and suspended at the top by a gallon milk jug.
While putting the lines out, making the droplines, and baiting the hooks, we discussed the catfish-catching potential of our short trotlines. "We ought to be able to load the freezer with catfish and sell some, the way we're rigged," I told Joe. "That's not a bad idea, John," Joe commented. "We'll see how we do tonight. If we really catch a lot of catfish, we may want to lay off from work for 3 or 4 days, get a license and commercial catfish for the rest of this week.
"I bet we probably could make more money catfishing than we do at our regular jobs, if we really got after it.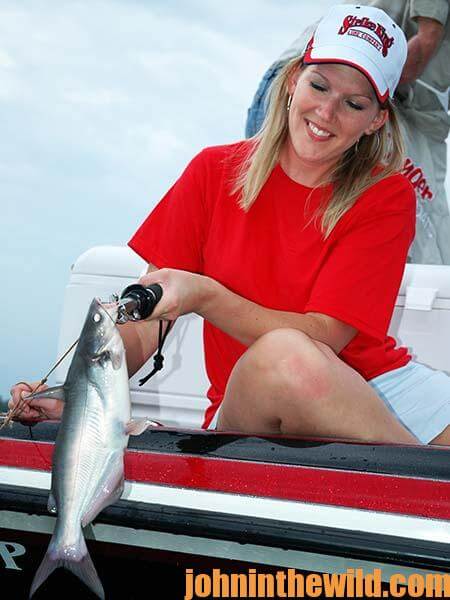 I thought on this while we were baiting and putting in the next 25-hook trotline. Since Joe and I both ran our own businesses, we decided we could tie the hooks onto the droplines during the slack time of our regular work and our lunch hours. As we baited-up the trotlines and motored back to camp, we knew we had come up with a foolproof method of moving from weekend creek bankers to full-time commercial catfishermen, while still maintaining our chosen professions.
Then as we were slicing potatoes for supper, Joe looked over at me with the seriousness of a judge, contemplating whether or not a murderer should be given the electric chair or life imprisonment and said, "You know, John, we could get to doing so well in this catfishing that we'd have to give up our regular jobs. Then, we could just fish fulltime." "That's right," I answered. But, I began to consider the wisdom of Joe's words. Now, I liked to catfish an awful lot, however, I didn't know that running trotlines, winter and summer, cleaning catfish and taking them to the market really would suit me as a fulltime vocation. But, Joe was so excited about the possibility, I couldn't let on that fulltime commercial catfishing wasn't what I'd rather be doing than interviewing folks, writing stories and taking photographs.
After the potatoes were peeled, and the salad was tossed, Joe and I went back to run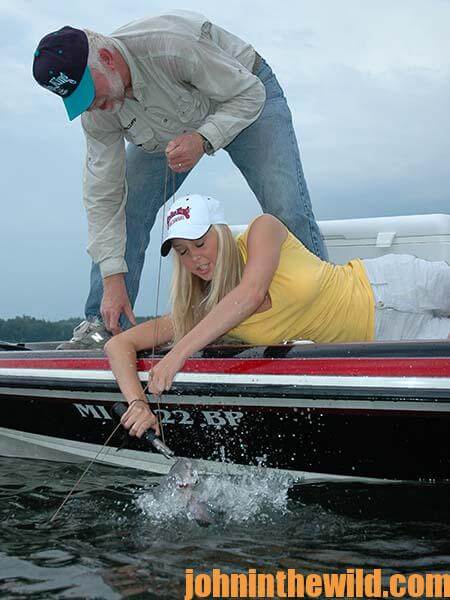 the lines and only returned with three cats. Once the fish were cooked, and the dishes washed, Joe looked at me, frowned and observed, "You know, if we're going into this full time commercial catfishing, we're going to have to catch a whole lot more catfish than we've caught tonight. I'll tell you what let's do. If we don't catch 20 catfish by daylight, we'll just keep fishing on weekends when we've got the time. But, if we catch 20, we'll seriously consider staying off work at least one day to see if we can make any money by fishing." We only took six more catfish that night, which were a few shy of the required number for becoming catfish entrepreneurs. But, dreaming and scheming are all a part of creekbanking.
To learn more, click here to get John E. Phillips' new Kindle book, "Catfish Like a Pro."
About the Author
John Phillips, winner of the 2012 Homer Circle Fishing Award for outstanding fishing writer by the American Sportfishing Association (AMA) and the Professional Outdoor Media Association (POMA), the 2008 Crossbow Communicator of the year and the 2007 Legendary Communicator chosen for induction into the National Fresh Water Hall of Fame, is a freelance writer (over 6,000 magazine articles for about 100 magazines and several thousand newspaper columns published), magazine editor, photographer for print media as well as industry catalogues (over 25,000 photos published), lecturer, outdoor consultant, marketing consultant, book author and daily internet content provider with an overview of the outdoors. Click here for more information and a list of all the books available from John E. Phillips.