Editor's Note: Matt Lee (http://www.mattleefishing.com/) of Guntersville, Alabama, finished 4th in the 2018 Bassmaster Classic (https://www.bassmaster.com/tournaments/2018). On the last day, he had two chances to win it all. In 2012, Lee won the Collegiate Bass Fishing Championship, and he had four, top-12 finishes in the 2017 Bassmaster Elite Series tournaments, which represents a very-good and consistent year for a Bassmaster Elite Series pro. Twenty-nine-year-old Lee, who has fished the Bassmaster Elite Circuit professionally for 3 years, has earned about $300,000 fishing for bass. 
On the last day of the 2018 Bassmaster Classic on Lake Hartwell in South Carolina, I caught a 3 pounder under a dock, near the end of that day. There was a 4 pound, 11 ounce bass following my 3 pounder, as I reeled it into the boat. I decided to let the dock rest and went around the corner from the dock I'd just fished and spotted a 6 pounder under that second dock. I skipped my 4-inch Strike King Ocho cigar-shaped soft-plastic worm right in front of that bass's nose, but it wouldn't take the bait. I skipped it again under the dock and allowed it to go to the bottom but still couldn't get that 6 pounder to bite.
I decided to return to the first dock where I'd seen the 4-pound 11-ounce bass. I know that the bass weighed that because when I returned to that first dock, Aaron Martens of Leeds, Ala., was fishing it, caught the bass and later weighed in the bass – a 4 pound, 11 ounce fish. Once I saw Aaron with that bass and knew I hadn't caught the 6 pounder on the other dock either, which would have given me 10 pounds more of bass than what I had, I then felt certain I didn't have a chance to win the 2018 Classic.
When my younger brother, Jordan, weighed in and won the 2018 Classic, I wasn't sure how I felt. I was very excited and happy for Jordan, but I also was disappointed that I didn't win. That was one of the strangest feelings I'd ever had at a fishing tournament.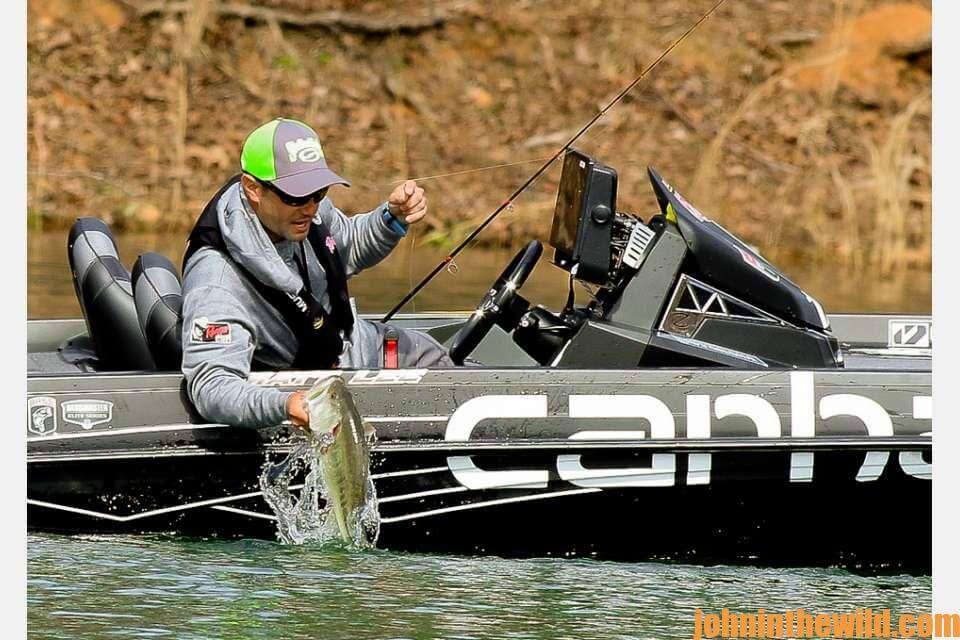 On Day 1 of the 2018 Classic, I'd lost a very-nice bass at the dock I later returned to on that last day. After the first day, I was in 18th place, so I realized I had a long way to go to have a chance to win the 2018 Classic.
Before I reached the dock that last day of the 2018 Classic, the Bassmaster camera crew showed up and started filming me. So, I knew I was within striking distance of winning the Classic. The crew filmed me catching the 3 pounder. As I mentioned earlier, I spotted a bigger bass following the 3-pound bass I'd just caught – the only time during Classic week that I'd seen a second bass following another bass. I had 1-1/2-hours left to fish in the 2018 Classic at that time. I knew the big bass had seen me. So, I didn't think it would bite right away after seeing me.
There was a little pocket nearby where I'd caught the 3 pounder, about 200 yards from that dock where I'd caught a couple of bass earlier in the week too. I went to the dock in the pocket, skipped a worm up to the dock and felt a bass pick up the worm. Then my line went slack. I didn't get a hook set, and when I reeled in my line, I saw that the bass had taken my 4-inch Ocho off my hook. I thought the bass would bite again, because it hadn't felt the hook. I scrambled around and got another worm. Before I could make the cast, I spotted a giant bass under the dock that hadn't been there earlier. I made a perfect skip up to the huge bass with my Ocho and then a small hop up to its face with the worm. The giant bass slowly sunk down, as my worm sunk. I shook the worm, shook it and shook it but couldn't make the bass bite. Although I made some more casts to that 6 pounder, I still didn't get a bite. That's when I decided I'd return to the dock where I'd caught the 3 pounder earlier and saw Aaron fishing there, although I hadn't seen any other competitors fishing in this region all day.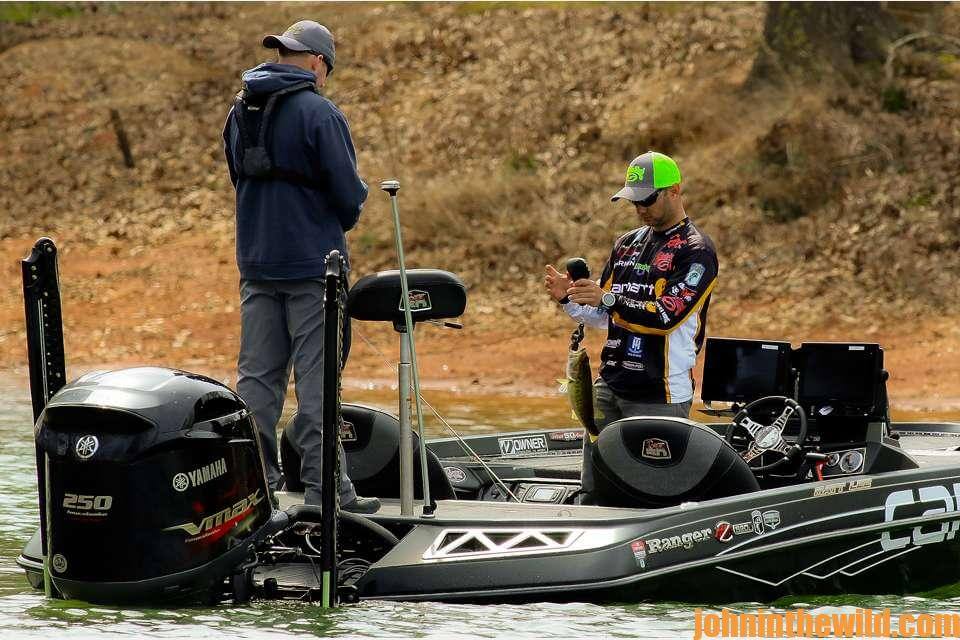 There are probably 3,000 docks on South Carolina's Lake Hartwell where the 2018 Classic was held. The odds were next to nothing that there would be another competitor fishing the same dock where I'd been fishing. When I saw Aaron in the press room after the weigh-in, I said, "You saw me turn around and coming back to that dock. I'd caught a 3 pounder off it earlier." Aaron told me, "I caught a 4 pound, 11 ounce bass off that same dock."  But that's just bass fishing.
To learn more about bass fishing and get John E. Phillips' Kindle eBooks, print books and audiobook on bass fishing, go to http://johninthewild.com/books/#bass, or for Nook books, visit www.barnesandnoble.com.
Tomorrow: Research – How Matt Lee Does It and What He Learns That Makes Him a Better Bass Fisherman