John's Note: Mark Davis of Mount Ida, Arkansas, long-time professional bass fisherman, is one of the quiet giants of professional bass fishing. Davis has won the BASS Angler-of-the-Year title three times and has combined earnings from the BASS and the FLW circuits of almost $2 million. He's also the only angler to win BASS Angler of the Year and the Bassmaster Classic in the same year (1995). This week, Davis will tell us how he catches bass in really-hot weather, one of his specialties.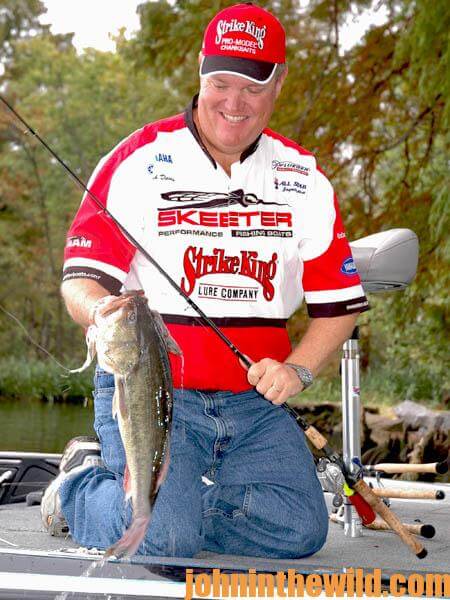 Question: Mark, yesterday you explained how to use deep-diving crankbaits to catch hot-weather bass. Why use shallow-running crankbaits when the air's so hot that you can't breathe?
Davis: The hotter the water gets on most lakes and rivers, the less oxygen there will be in the water. Oftentimes the place with the smallest amount of oxygen will be in the deep-water part of the lake. When that happens, the bass have to move from the deep water back to the shallow water, or they can't breathe. Now, the bass may need sunscreen, but breathing is more important than staying cool. The bass have to go where there's oxygen. Anglers think that when the temperature's 90 or 100 degrees, there won't be any bass in the shallow water. However, that's where most of the bass in the lake will be holding because the oxygen levels in the deep water get depleted in very-hot weather. At this time of year, a square-billed crankbait, like the Strike King's (http://www.strikeking.com/) Series 4S, is a productive lure to catch those shallow-water bass.
If you're a bass, and the water's hot, where will you be? You'll be holding on a stump, a log or a rock in shallow water. For example, let's say there's a log in shallow water that's perpendicular to the bank but underwater. When you look out at that flat, which may be 2- to 4-feet deep, you may think there's not any cover for bass to be holding there, so you don't fish it. But if you find a log on the bottom that nobody else can see, there's a good chance there will be a bass holding next to it. I'll find these logs by using a crankbait to dig the bottom and then bump it into the logs. Once you locate this type of log, you'll be surprised at how many bass you can catch off one log in one day. You may not catch all the bass at once. You may have to catch one or two bass, leave that log alone for a few hours and then return to catch one or two more bass. Bass will continue to move onto the log and hold there because it provides shade and cover in shallow water where there's oxygen. Too, these shallow flats home good spots where bass can ambush shad.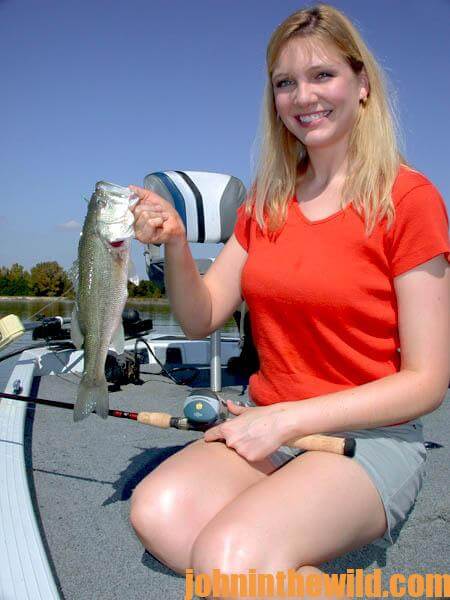 I like the Strike King Series 4S in the chartreuse color. One of my favorites is chartreuse and black. I'll fish it on heavier line – 14- to 20-pound test line – than I usually use to fish a crankbait. Now, boat positioning is everything. You want to position your boat, so you can bring this crankbait right down beside that log. You want the nose of the crankbait bumping that log and rubbing the log as it falls. If you're fishing around stumps, run the crankbait around a stump and hit the stump, the same way you fish around a tree top. To successfully catch bass on a shallow-running crankbait, make multiple casts to the same piece of cover. I'll make two to three casts to each side of an underwater log. Before I leave the log, after I've run that crankbait down each side of it several times, I'll take a 4-inch Coffee Flip-N-Tube in black or green pumpkin and Texas rig it on a 1/4-ounce sinker on 20-pound-test line and make a couple of casts on that same log after I've fished it with a crankbait.
Question: Why will you return to that same log with the tube?
Davis: Many times the bass holding on that log have looked at that crankbait four times and decided they don't want the bait. So, when you return with the Coffee Flip-N-Tube, you're giving the bass something different to look at with a different smell. Many times the bass will bite that coffee tube when it won't bite the crankbait. The Coffee Flip-N-Tube is a really-good lure to make shallow-water bass bite in the summertime.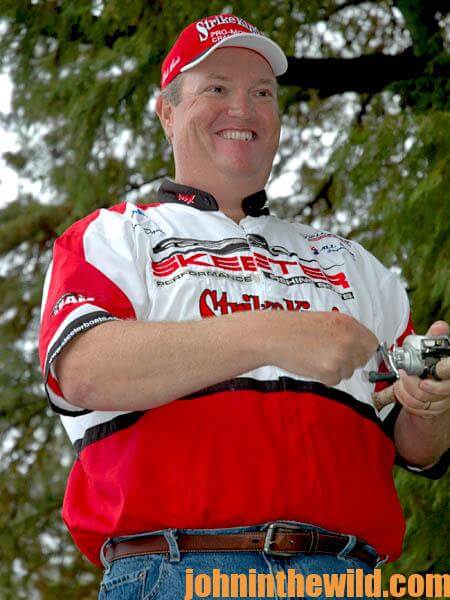 To learn more about bass fishing, get John E. Phillips' Kindle eBooks and print books on bass fishing, "How to Win a Bass Tournament," "Catch the Most and Biggest Bass in Any Lake: 18 Pro Fishermen's Best Tactics, "Hot Weather Bass Tactics" and "How to Become A Tournament Bass Fisherman" go to www.amazon.com/author/johnephillips or at www.barnesandnoble.com; or an audiobook on "How to Bass Fish Like a Pro" at http://amzn.to/YpoJvD.
Next: Fish the Spoon for Bass with Mark Davis