After the fish we caught that day with Shore Thing Charters (the full story starts here) were filleted and put into Ziploc bags, we took a portion of them to The Blind Tiger Restaurant, less than a block from the Bay Town Inn in Bay St. Louis, where we met Chef Aimee Anglin, a chef for 22 years. After working under some of the finest chefs in New Orleans and Atlanta, she's been chief chef at The Blind Tiger for more than a year.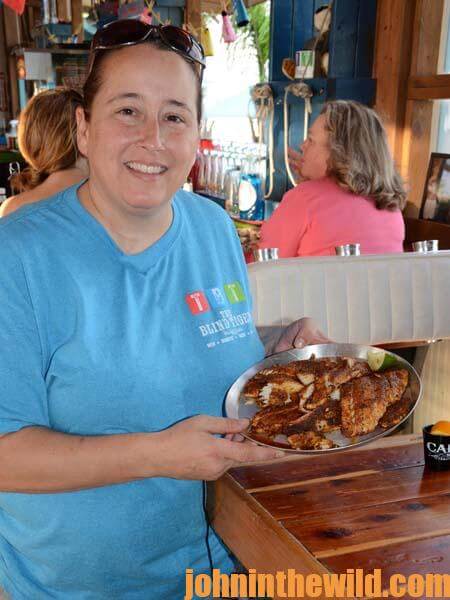 "The two-most popular ways that people want their fresh catch prepared is either fried or blackened," Chef Aimee explains. She also bakes, broils, grills and puts all kinds of toppings on freshly-caught fish that create unusual and distinctive flavors. One of the side dishes that came with our freshly-caught fish was steamed corn, sausage and potatoes. "We use Cajun Land and Old Bay seasoning – both crawfish boil seasonings. We toss the potatoes, the sausage and the corn in a pan with these two seasonings, add melted butter and then put all this in a steamer. If you don't have a steamer, you can use a sauté pan with a lid on it." After I ate an ear of corn, some of the steamed potatoes and a healthy portion of the green onion sausage (you can buy it at www.cajungrocer.com), I knew I could eat that side dish and almost forget about everything else. I had to force myself to back away from the vegetables and the sausage to leave room for the fish.
Another side dish I couldn't leave alone was Chef Aimee's homemade tartar sauce. She told me, "We use a quart of Blue Plate mayonnaise, sprinkle in some Louisiana hot sauce until the mayonnaise turns pink, add 1/4-cup of pickle relish, 1/4-cup of capers and about 1/4-cup minced red onions. Then, I mix all the ingredients together with a whisk." The tartar sauce was so good that my wife Denise said she could eat it on crackers or plain lettuce by itself. After eating all the fish we could hold, we got a to-go box that had enough fish left for three more meals the day after I returned home from my trip to Bay St. Louis.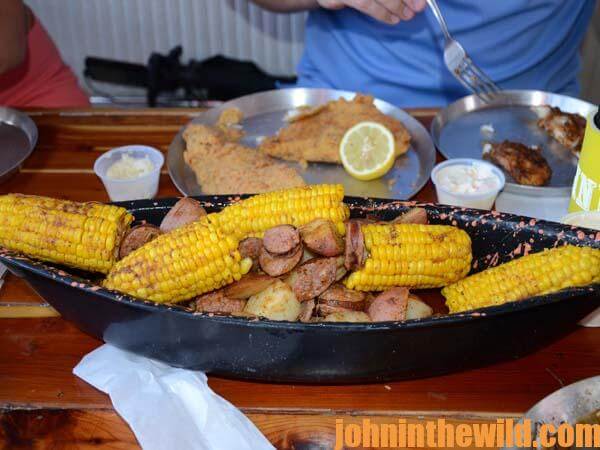 Here are some links to videos of Chef Aimee telling how she prepared each of the recipes we mentioned.
Blackened Trout
How to Fry Fish
Grilled Trout
How to Make Tartar Sauce
Steamed Royal Reds
To get more information and to see more pictures of fishing trips and cooking seafood at Bay St Louis, go to www.shorethingcharters.com. Also, check-out www.visitmississippi.org.
For more information about fishing Mississippi's Gulf Coast and to get John's eBooks and print books "Fishing Mississippi's Gulf Coast and Visitor's Guide," "The Best Wild Game & Seafood Cookbook Ever: 350 Southern Recipes for Deer, Turkey, Fish, Seafood, Small Game and Birds" and "13 Saltwater fish Recipes You Can't Live Without," click here.