John's Note: Between the cover where they bed down, and the places where they feed, trophy-rack bucks are on the move and vulnerable, especially early in the morning and late in the afternoon. You can identify the places they prefer to be and take more deer.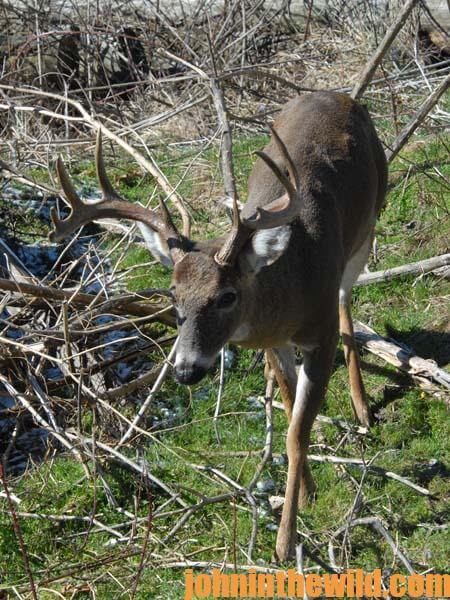 I was hunting near Estill, South Carolina, with Terry Hiers, a longtime deer hunter who specialized in helping other hunters take home trophy bucks. "This section of South Carolina has nice bucks to hunt because hunters are not permitted to take a buck that measures less than 10 inches between the two main beams."
On this morning, I had hoped to meet a trophy whitetail. But by 9:00 am all I had seen were the two yearling bucks and does. I was using a tree stand that morning with a back rest that faced the tree. From time to time, I would stand up and look around, but most of the time, I sat in the stand. All of a sudden from directly behind me, I heard a twig snap. I looked and saw a head full of horns walking straight for my tree. "Will the stand squeak when I stand up? Can I get up and turn before the deer sees or smells me? My scope is sighted and aimed in for 100 yards – how will I aim if the buck is right under me? Are there 10 inches between his antlers?" were all questions that rapidly raced through my mind as I began to stand, turn and raise my rifle. Now the buck was less than 30-yards away and still walking head down, straight for my tree. "He's better than 10 inches between the main beams," I thought.
Slowly I looked for the buck in my 4X scope. At 20 yards all I could find to aim at was the middle of the deer's back between his two front shoulders. I touched the trigger, the gun exploded, and the buck dropped. Waiting in the stand, I bolted the rifle and sighted in on the deer's shoulder. I waited some more. For 5 minutes I held the crosshairs on the deer's shoulder, because I'd previously seen supposedly-dead deer jump up and run off. I wanted to make sure my trophy did not get back up and take off. Finally I came down the tree and inspected the animal. He was a fine 9 point. The bullet had broken the buck's backbone and penetrated his heart. This hunt was successful because Heirs had found a prime transition area for me to hunt.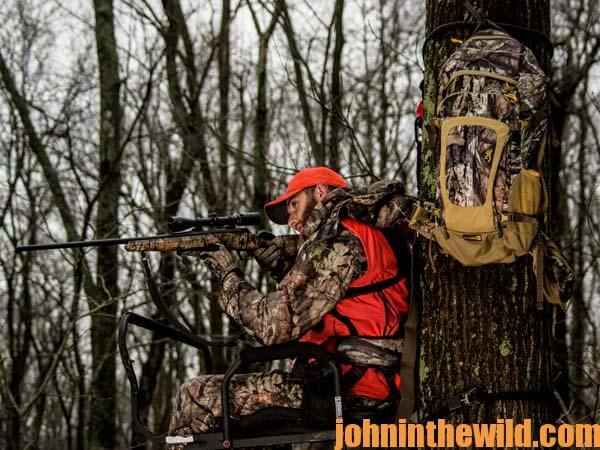 To get John E. Phillips' Kindle eBooks and print books on hunting deer, "How to Hunt and Take Big Buck Deer on Small Properties," "How to Hunt Deer Up Close: With Bows, Rifles, Muzzleloaders and Crossbows," "PhD Whitetails: How to Hunt and Take the Smartest Deer on Any Property," "How to Take Monster Bucks," "How to Hunt Deer Like a Pro," and "Bowhunting Deer: Mossy Oak Pros Know Bucks and Bows," or to prepare venison, "Deer & Fixings," click here.
For information on making jerky from your deer to provide a protein-rich snack, you can download a free book from http://johninthewild.com/free-books.
Next: Finding the Transition Regions to Take Deer