John's Note: Most beach goers never see the true beauty of the beach because they're asleep. But at first light the beach becomes a spectacle of God's paintbrush as He demonstrates the beauty of a new day in the sky on the beach and in the water. And, that's when the fish bite best.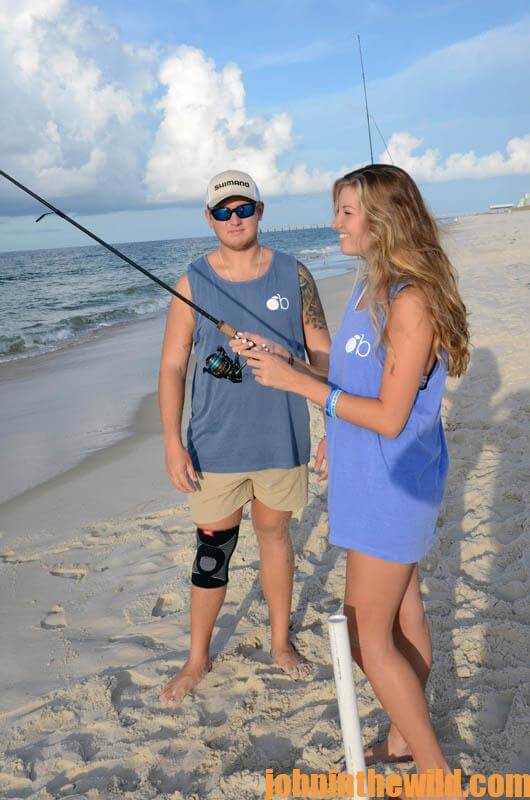 Finding productive spots to fish on the beach can be difficult. The entire beach doesn't hold sportfish like speckled trout, redfish, black drum, flounder, blue fish, ladyfish and pompano. "Since I've lived in Orange Beach, Alabama, all my life, I've gone surf fishing before school, after school and on weekends," Dustin Hayes explains. "Over time I've identified places that provide good fishing under certain water and weather conditions. Finding good spots to fish on the beach can be an ongoing problem because sand bars and ditches move constantly. I shift around quite a bit with my fishing because a productive spot may yield plenty of fish one week, and the next week you may not be able to catch any fish there. That's why I'm always scouting for different places on the beach where my parties can catch fish, and why I often fish multiple locations. I generally can tell within 10 or 15 minutes if a place will be good to catch fish or not. If we haven't had a bite in 10 or 15 minutes, I'll move to another spot. The good news is there's an abundance of good surf fishing from Alabama's Fort Morgan peninsula all the way east to Destin, Florida. You just have to pinpoint the bottom changes where the fish like to feed."
Hayes usually takes from one to five people fishing at a time. The cost for four people for a 2-hour surf-fishing trip is $200 plus $25 for each additional person. All you have to do is show up, and Hayes has all the equipment and bait you need to fish.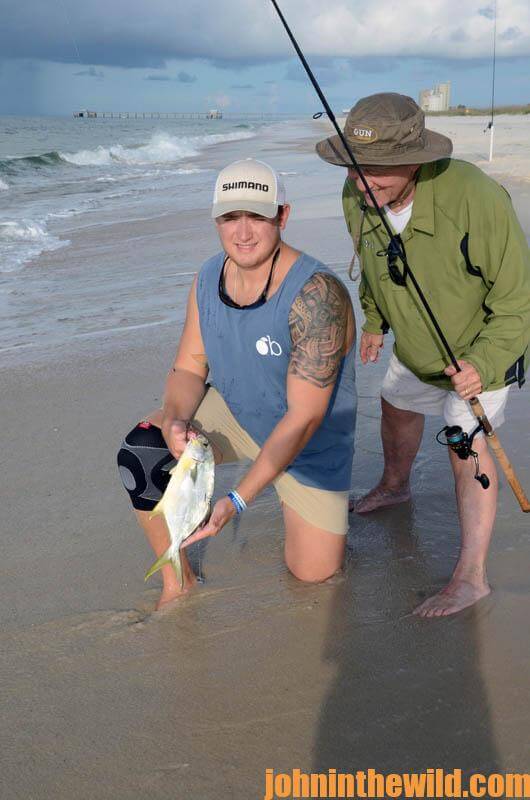 "That first 2 hours of daylight is when we usually find the most fish for anglers to catch, before the sun gets up, and the weather's hot," Hayes explains. If the group is having a great day of fishing, and everyone is catching lots of fish, Hayes will stay with them until everyone is ready to go home. After the trip, Hayes cleans the fish for free and puts the fillets in Ziploc bags. Then you can take that bag of fillets to one of the local restaurants that will cook your fish and provide side dishes. Nothing's better than freshly-caught fish right out of the Gulf of Mexico.
Contact Dustin Hayes to learn more about surf fishing at: 678-897-0167, shorethingfishing@yahoo.com, or facebook.com/shorethingfishing.
To learn more about saltwater fishing, check out "Alabama's Inshore Saltwater Fishing: A Year-Round Guide for Catching More Than 15 Species," "Alabama's Offshore Saltwater Fishing: A Year-Round Guide for Catching Over 15 Species of Fish," "Fishing Mississippi's Gulf Coast and Visitor's Guide," "How to Fish Mississippi's Gulf Coast in June" and "13 Saltwater Fish Recipes You Can't Live Without," available in Kindle eBooks and some print books. To learn more about hunting and fishing from John E. Phillips' print and eBooks, go to www.amazon.com/author/johnephillips and www.barnesandnoble.com.
Next: How to Battle the Redfish on the Beach