John's Note: You can catch truckloads of catfish during the fall and winter on the Tennessee River that runs through Tennessee, Alabama and Mississippi, if you know how to troll for catfish. In late October, I learned a technique that makes catfishing fun and productive all the way up until about Christmas. This week Brian Barton of Muscle Shoals, Alabama, a professional catfish and smallmouth guide, will teach us all how to catch fall and wintertime cats.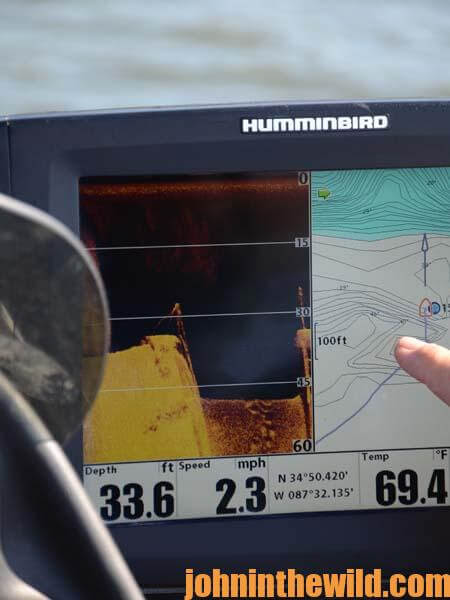 During the fall and winter months, I like to troll in the mouths of creeks that run into main lakes. On this trip with John Phillips, we'll be trolling Shoals Creek, the largest tributary that flows into Wilson Lake in north Alabama on the Tennessee River. We'll be fishing a flat out in front of the mouth of the creek that's 58- to 62-feet deep. There isn't very much structure on this soft, flat bottom. I'll fish the mouth of this creek, because in the fall, huge schools of shad concentrate here and in the mouths of other creeks on Wilson Lake. I want to troll over and through these schools of shad and keep my bait about a foot or two off the bottom. The catfish will be following these schools of shad. In the spring, we'll often catch 30 to 50 catfish using this method, and those fish will have a composite weight of anywhere from 100 to 200 pounds. In the fall, we'll usually catch 20 to 25 catfish in a day of fishing, and the total weight of those cats will be from 75 to 125 pounds.
Another place I like to fish is the underwater locks on Wilson Lake. There were 6 locks – locks 4-9 on Wilson Lake – before the lake was impounded. Each one of these locks had riprap leading up to the dam, an old road bed near the dam and a lock, so the boat traffic could lock through one dam to go up to the next lake. Today you can locate these locks using your depth finder and your GPS. You also can see photographs of these underwater locks and dams before Wilson Lake was impounded by going to the William McDonald collection at the University of North Alabama's Collier Library www.una.edu/library/collections/william-lindsey-mcdonald-collection.html. These old underwater lock sites are catfish magnets, and they usually hold plenty of catfish from 1-1/2-pounds to 3-1/2-pounds.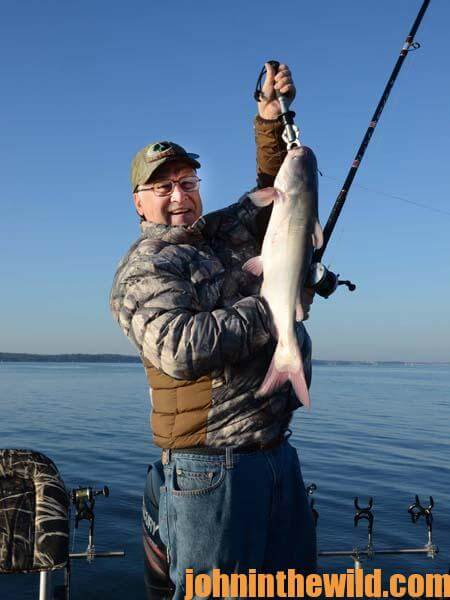 The nearest town to this place we're fishing is Muscle Shoals, Alabama. Prior to the lakes on the Tennessee River being impounded, there were many shallow shoals along the old Tennessee River. Many years ago the boats going up and down the Tennessee River had to navigate through the shoals. So, dikes and locks were built to allow steamships, ferry boats and barges to move up and down the Tennessee River without fear of running aground on the shoals. Also pre-impoundment there was a shoals aqueduct built next to the river. When the lake was impounded, the aqueduct was left standing. On a depth finder, the aqueduct looks like a giant water slide. That aqueduct was functioning during the 1800s. The William McDonald Collection at the University of North Alabama has thousands and thousands of pictures of these and many other structures that were either in on or around the lake before it was impounded. You can see a lot of structure that will hold catfish during the fall and winter months by studying those old photos. All these places where you find the underwater structure like the locks and aqueducts are great places to catch eating-size cats at almost any time of the year.
To learn more about trolling for catfish you can email brianbartonoutdoor@aol.com, go to his website at www.brianbartonoutdoors.com, his Facebook page at https://www.facebook.com/Brian-Barton-Outdoors-155558067855049, or call at 256-412-0969.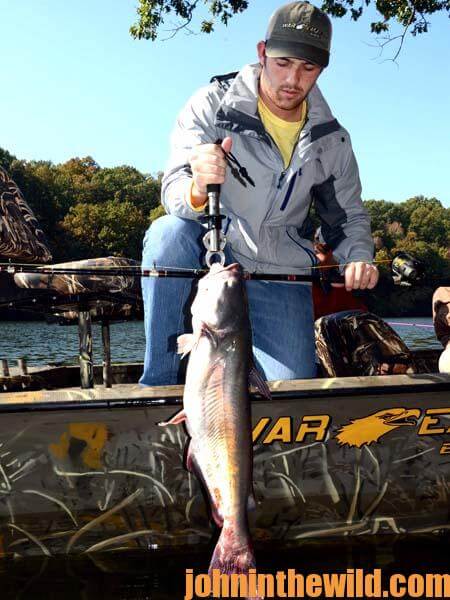 To learn more about fishing for and cooking catfish, check out John E. Phillips' print and eBooks for "Catfish Like a Pro," "13 Freshwater Fish Recipes You Can't Live Without" and "The Best Wild Game & Seafood Cookbook Ever: 350 Southern Recipes for Deer, Turkey, Fish, Seafood, Small Game and Birds." Click here to get these books. You can also get "The Catfish Catcher's Cookbook" for free at http://johninthewild.com/free-books.
For one of the finest places to stay on the Tennessee River, the Coldwater Inn in Tuscumbia, Alabama, go to http://www.coldwater-inn.com, or call 256-383-6844.
To learn more about the Colbert County section of the Tennessee River, go to Colbert County Tourism at http://www.colbertcountytourism.org, or call 256-383-0783.
Check out these YouTube videos:
"How and Why to Slow Troll for Eating-Size Catfish"
"Why Fish with a Float Rig for Eating-Size Catfish"
Next: Fish the Historic Sites on the Bottoms of the Tennessee River's Lakes and Rivers for Catfish