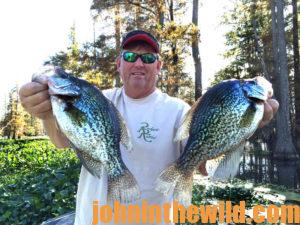 Editor's Note: Whitey Outlaw from St. Matthews, South Carolina, has been fishing crappie tournaments for the last 40 years. He's a third-generation crappie fisherman and consistently finishes in the top 15 in most of the tournaments he enters. Whitey's home lake is Santee Cooper in South Carolina that was impounded from the Congaree River. Like most river systems, whether they're dammed up or not, the Congaree was supported by a wide variety of creeks – often well away from the main river. Many of these creeks went through cypress and tupelo hardwood forests. So, when the river started backing up, these creeks were flooded and created what Outlaw calls, "The Swamp." Many of these creeks became oxbow lakes that were cut off from the main river channel when the lake was impounded. The swamps that Outlaw fishes include Broadwater, McGirth's Lake, Otter Flat and all the swamps attached to the main lake. However, most all rivers anywhere – whether they're a part of a lake or a free-flowing stream – have creeks coming into them. Many of these creeks will have grass in them and often standing timber, just like they do at Santee Cooper in South Carolina.
"I don't guide crappie fishermen," Outlaw explains. "If I take anybody with me, it'll either be family and friends or outdoor writers. I work for myself with my real job, and I must deal with people every day. So, I've tried to keep my fishing always just between me and Jesus. Every now and then I will take a friend, and Jesus doesn't seem to mind.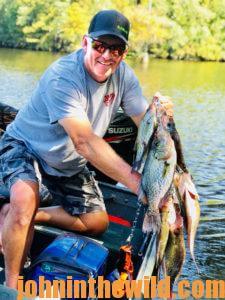 "One question I'm often asked is, 'What crappie circuits do you fish?' I once fished all the crappie circuits when I first started competing in crappie tournaments. But today, I mainly fish the American Crappie Trail (www.americancrappietrail.com) because it has the best payouts. I've had second place in a couple of those tournaments, and I've come out fourth in Angler of the Year on that circuit. I've also fished quite a few local crappie tournaments. I've won the Alabama State Championship three times, and I've been in the top 5 in the Classic about eight or nine times. I've had pretty good luck competing in crappie tournaments for the past 40 years. There are many young crappie tournament fishermen who are using the latest technology, and they've started taking over and whipping a lot of us older crappie tournament fishermen with the latest techniques, new electronics and innovative ways of finding and catching crappie. Every now and then, some of us old timers will pull a trick out of our hats and beat all these young folks.
"I fished my first crappie tournament when I was 15-years old on Santee Cooper. We had to weigh in 60 crappie for two fishermen, and my partner and I won the tournament by weighing 60 crappie with a total weight of 89 pounds. Winning that tournament just really set me on fire about tournament crappie fishing, and I've been fishing in tournaments ever since then. I like the competition, but I don't really compete against the other competitors. I'm really competing against myself to find the best place to fish that has the biggest crappie on any lake where the tournament is held. I want to try to see how good I can be at tournament crappie fishing.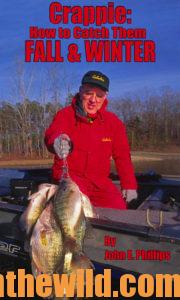 "One fellow asked me one time, 'Why do you like crappie fishing so much?' And, to be honest, I really don't know, but I grew up fishing for crappie with my grandad and my dad. And, I always loved the way a crappie attacked with such a vicious strike. We've had so-many good years of plenty of crappie here on my home lake of Santee Cooper. And, I've also won a lot of bluegill tournaments here on Santee Cooper. Although I enjoy catching those big bluegills when they go on the bed, my greatest love always has been crappie. I guess another reason I love crappie fishing so much is because it's a family tradition that the men in my family always have had a passion for doing. My lineage goes back to great crappie fishermen as far as anyone in my family can remember."
For more information on crappie fishing, check out John E. Phillips' book, "Crappie – How to Catch Them Fall and Winter," available in Kindle and print versions at http://amzn.to/16AzIZi