John's Note: If you live in a state where the lakes remain frozen in February, these techniques for catching February bass and crappie certainly won't work. But if your state has open water during the month of February, the size and the number of bass and crappie you take may surprise you.
Although Thompson prefers to fish with 8-pound-test line, if he encounters heavy underwater structure and/or his jigs hang-up, he'll switch to 12-pound-test line.
"I prefer the heavier line when I fish in brush in February because that heavier line will allow me to straighten out the hooks on my jigs and not break so many jigs," Thompson recommends. "I also like to use a medium-action spinning rod instead of a light-action rod for trolling. Because I fish in such deep water in February, I prefer to use a 1/8-ounce jig, instead of a 1/16- or a 1/32-ounce jig that many crappie fishermen like. The heavier jig helps me to keep my bait at the right depth while I troll. A lighter jig will rise up in the water and out of the crappie's strike zone."
Thompson names a black-body jig with a chartreuse tail as his favorite color of jig for February fishing.When the crappie quit biting this color, Thompson switches to a blue-body jig with a white tail. Thompson also prefers fishing with small minnows to large minnows.
"Over the years I've learned that I consistently catch more and bigger crappie using small minnows, than I do when I fish with large minnows."
Thompson explains, "Even when a big crappie isn't hungry, it will go ahead and eat a little minnow, just because it's close by and is easy to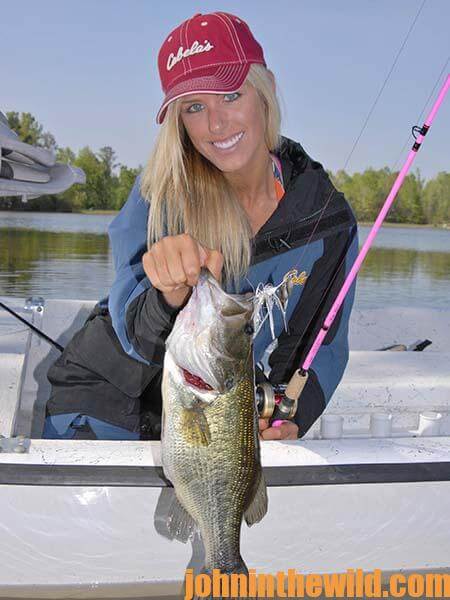 eat, much like an hors d'oeuvre. You may not want a big steak dinner, but when someone passes a tray of small appetizers under your nose, you'll automatically eat one."
You'll have the most success when you fish for crappie at Lake Eufaula the fourth day of a stable front. "If you get three days of stable, warm weather where the surface temperature is 53 degrees or higher, you're almost guaranteed to take all the crappie you want to catch in a day of February fishing at Lake Eufaula," Thompson says. Next try fishing Lake Eufaula in February on the fourth day of a steady cold front. Crappie seem to bite best during February under stable weather conditions, regardless of whether the weather's warm or cold.
Although crappie fishing can mean hit-or-miss on any lake in February, according to Thompson, areas around bridge pilings remain the most-productive places to catch crappie at any time of the year. "If a person doesn't know to fish on the lake and doesn't want to troll for crappie, he or she can always catch a few crappie around the bridge pilings. But he'll catch the most crappie at this time of year in creek mouths. You can also expect to catch crappie around bridge pilings at night at any time of the year."
Anglers can double dip at Lake Eufaula in February by bass fishing in the morning and crappie fishing in the afternoon. But if you crappie fish in the morning and start catching those big slabs every time you let your line down, you'll have a tough time leaving hard-biting crappie to go in search of bass that may bite.
For more crappie fishing tips, get John E. Phillips' Kindle eBook "Crappie: How to Catch Them Fall & Winter," or get "Crappie: How to Catch Them Spring and Summer." Click here to get these books.
Share this page with a friend!
About the Author
John Phillips, winner of the 2012 Homer Circle Fishing Award for outstanding fishing writer by the American Sportfishing Association (ASA) and the Professional Outdoor Media Association (POMA), the 2008 Crossbow Communicator of the year and the 2007 Legendary Communicator chosen for induction into the National Fresh Water Hall of Fame, is a freelance writer (over 6,000 magazine articles for about 100 magazines and several thousand newspaper columns published), magazine editor, photographer for print media as well as industry catalogues (over 25,000 photos published), lecturer, outdoor consultant, marketing consultant, book author and daily internet content provider with an overview of the outdoors. Click here for more information and a list of all the books available from John E. Phillips
EXPLORE MORE: you'll love these stories from John too