Editor's Note: At several of the bass-fishing tournaments I've covered the past few years, the hottest new lure is a goofy-looking, little-bitty jig head with a wire hook and a 1-1/2 to 3-inch long worm – the Ned Rig.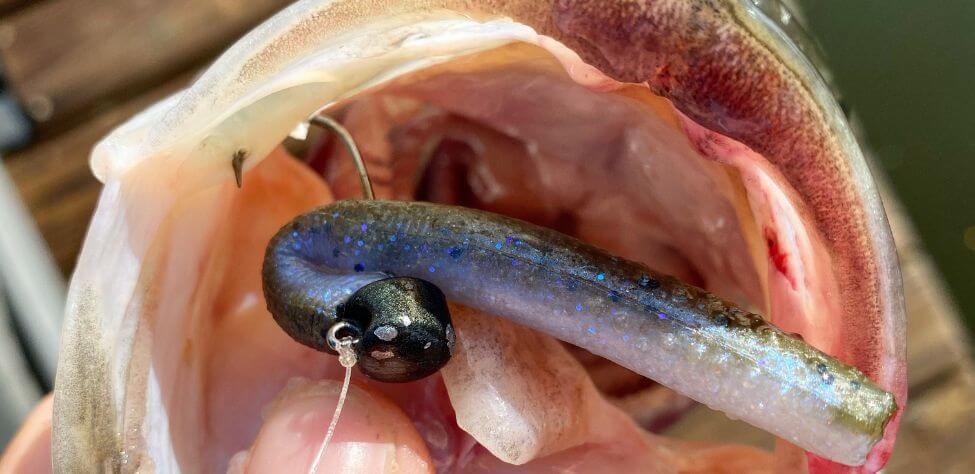 Joey Nania, from Pell City, Alabama, started fishing bass tournaments when he was 11 years old and won his first B.A.S.S Junior World Championship when 14 and then won again later. Nania fished the Bassmaster Opens, and recently in the summer of 2023, won the tournament at Oklahoma's Lake Eufaula. He's worked with numerous sponsors through the years. These sponsor relationships have enabled him to film a television show titled "Sweetwater TV," which airs on the Sportsman's Channel and Fox/Sun Sports in Florida. He also guides on Logan Martin Lake and other of Alabama's Coosa River chain of lakes and says, "I fish the Ned Rig often in tournaments and when I'm guiding. I guide about 150 days a year, and I really believe that the Ned Rig is one of the best baits on the market for catching bass, as well as for teaching youngsters and novice anglers how to bass fish.
"The Ned Rig is a small, compact bait. For the Coosa River and other rivers and lakes with healthy shad populations, a 2-1/2 to 3-inch lure like the Ned Rig may resemble a small shad or a small crawfish. The Ned Rig falls slowly and doesn't move much, so there's no reason a bass won't eat it."
Nania's favorite head for the Ned Rig is a 1/6-ounce that he rigs somewhat differently than most anglers. Although the Ned Rig is often used with an open hook, Nania prefers to rig it like a small, shaky-head worm.
"I use the new Z-Man Pro ShroomZ hook that's bigger and stronger – a No. 2/0 – than the wire hook most people use to fish a Ned Rig with," Nania reports. "I rig the flat, mushroom-shaped head like I'm Texas rigging a plastic worm. Then this hook on the Ned Rig is 100% weedless, and I can fish that Ned Rig anywhere."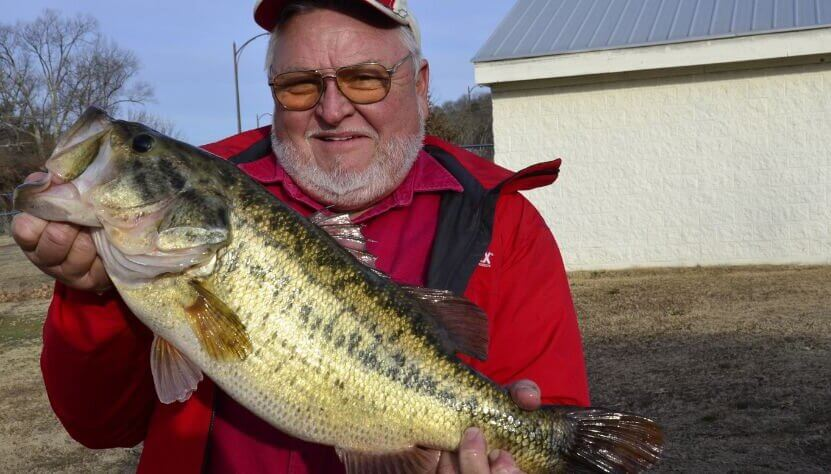 Nania explains that when he rigs the Ned Rig like this, once the worm hits the bottom, it will stand up at more of a 45-degree angle instead of standing straight up.
"I don't believe that this position of the Ned Rig bothers the bass, and it allows me to fish where I can't if I've rigged the Ned Rig open hook," Nania mentions. "I also fish the Ned Rig with a TRD BugZ, a finesse bait, on the Ned Rig head. This beaver-style bait made by Z-Man features a ribbed body that traps fish-attracting bubbles, and its oversized appendages trigger bites. It's the best, darting crawfish-like lure I've ever fished."
Nania says that on the Ned Rig, he's caught tiny bass and bass weighing up to 5 pounds or more. "Remember that huge elephants eat peanuts, and big bass will eat little Ned Rigs just as quickly, if not quicker, than little bass will. My favorite color is Canada Craw, and on shad lakes, I enjoy fishing the colors of Mud Minnow and the Deal with a green-pumpkin tail and a blue belly."
To learn more about Joey Nania, check out http://joeyfishing.com/ and https://www.facebook.com/joey.nania.
Tomorrow: How Bass Anglers Fish the Ned Rig
Expert Guidebooks on Bass Fishing: Best Sellers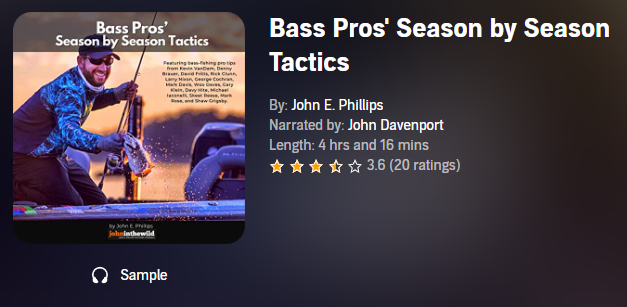 If you want to become the best you can be, find someone who's already become the best at what you want to do and follow his or her instructions. This is what I've done in my new book, Bass Pros' Season by Season Tactics.
In this book, I've chosen some of the best bass fishermen to give you advice on how to find and catch bass during each period of a bass fish's life, including professionals like Kevin VanDam, Denny Brauer, David Fritts, Rick Clunn, Larry Nixon, George Cochran, Mark Davis, Woo Daves, Gary Klein, Davy Hite, Michael Iaconelli, Skeet Reese, Mark Rose, and Shaw Grigsby.
My hope is that this book will help you find and catch more bass at every time of the year and each day you're on the water. The men included in this book are some of the best mentors I know of for successful bass fishing anywhere in the nation.
VERSIONS: AUDIBLE & PRINT
---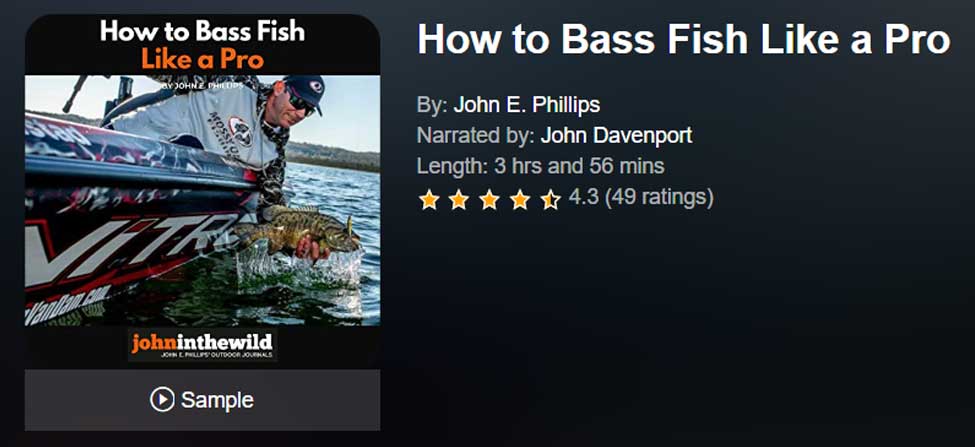 How to Bass Fish Like a Pro
If you could sit down and interview some of the best pro bass fishermen in the world, what would you want them to tell you to help you improve your bass fishing skills?
In this book, How to Bass Fish Like a Pro, Kevin VanDam explains how he catches bass consistently, and how he fishes all 12 months of the year. In the bonus chapters, he will tell you how to fish for hot-weather bass.
Denny Brauer will tell you the ways he hates to fish, how he picks the best fishing lures for different water and weather conditions, and will give you his best fishing tips for hot weather. In Brauer's bonus chapters, he'll teach you when to flip a jig, a tube, or a creature bait and tell you his three tips for how to be a better fisherman.
Mark Davis, in Chapter 3 of the book, explains his five secrets to becoming a better bass fisherman, how to turn your bass fishing around to the positive side, and how to catch hot-weather bass. In the bonus chapter, you'll get six different interviews with Davis, where he tells you: three tips for becoming a better bass fisherman; his three favorite bass lures; and how to keep a big bass on the line and get it to the boat.
James Niggemeyer tells you how to become a bass pro. He also tells you how to catch bass when the weather sizzles. In Niggemeyer's bonus chapter, he explains how to move from being a bass-club fisherman up to being a pro.
Mark Rose will explain his five favorite go-to bass lures, and how to catch bass in the middle of the summer.
In this book, you'll hear from top-performing pro fishermen about how they catch big bass consistently, and what they do to win millions of dollars as professional bass fishermen.
VERSIONS: AUDIBLE, KINDLE & PRINT
---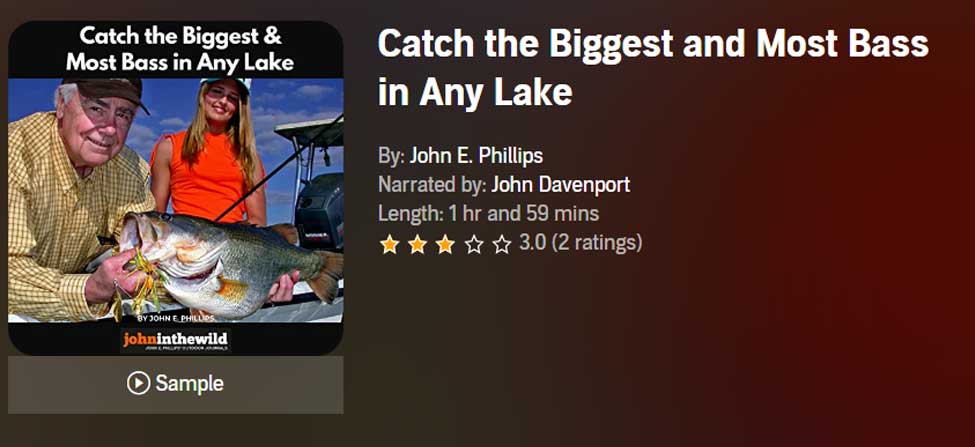 Catch the Biggest and Most Bass in Any Lake
If you were having open-heart surgery at the hospital, you'd want the best doctor with the most experience and the latest equipment and techniques that money could buy to do your operation. You'd study these doctors' credentials to learn who was the best.
This is the same type of research that author John E. Phillips has done with the best bass fishermen in the nation to solve the problem of how to find and catch the biggest and the most bass in any body of water that he fishes.
This is the same type of research that author John E. Phillips has done with the best bass fishermen in the nation to solve the problem of how to find and catch the biggest and the most bass in any body of water that he fishes.
In this book, you'll hear about the techniques, tips, baits, lures, and tackle that 18 of the nation's best professional fishermen use to support their families by winning bass tournaments and catching the most and the biggest bass they can in every tournament they fish.
Most of these anglers are Bassmaster Classic winners, Megabucks winners, Angler-of-the-Year and FLW Tour winners – like Rick Clunn, Kevin VanDam, George Cochran, Mark Davis, Paul Elias, Skeet Reese, Larry Nixon, Hank Parker, Ken Cook, Denny Brauer, Alton Jones, and Jay Yelas.
Also, every serious bass fisherman should know Timmy Horton, Mark Rose, Randy Dearman, Harold Allen, Mike Wurm, and Shaw Grigsby, men whose tactics you'll find in this book. To learn how to fish for bass and change your bass-fishing trips from fishing trips to catching trips, this book is a must-have.
VERSIONS: AUDIBLE, KINDLE & PRINT
---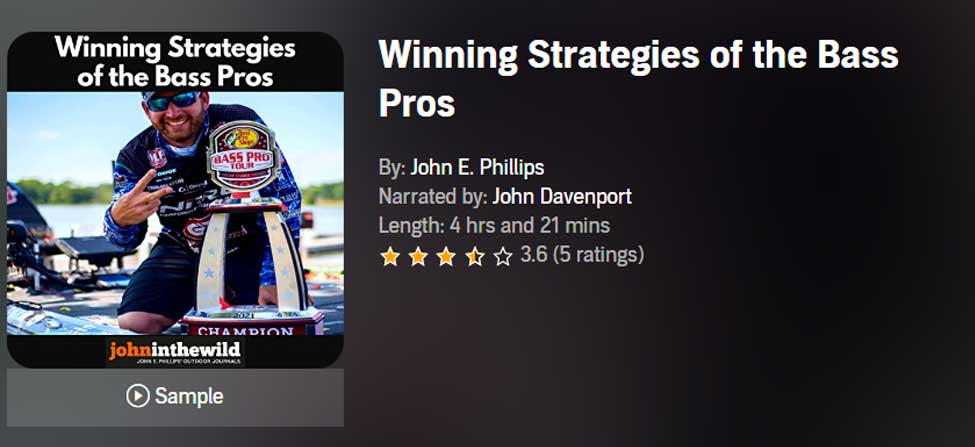 Winning Strategies of the Bass Pros
I learned many years ago if you want to be the best you can be, then you need to learn from the best – particularly when you want to be the best bass fisherman possible. That's why I've written Winning Strategies of the Bass Pros about 11 top bassers.
If you're wondering at what age you can start learning about bass fishing, you'll see in the first two chapters about two young men who have come up through the ranks of collegiate bass tournaments – Jordan Lee, who won the Bassmaster Classic in 2017, and Dustin Connell, who won $100,000 in a B.A.S.S. Elite Series tournament in Mississippi in 2017. Top-name pros on both the B.A.S.S. circuit and the FLW circuit are in this book, including Kevin VanDam, Jay Yelas, George Cochran, Rick Clunn, Larry Nixon, Woo Daves, Randy Howell, Scott Canterbury, and Gary Klein.
VERSIONS: AUDIBLE, KINDLE & PRINT
---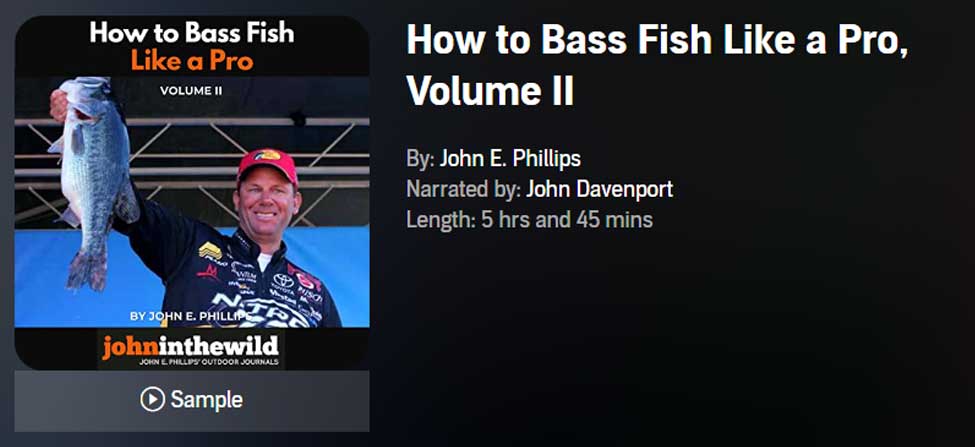 In How to Bass Fish Like a Pro, Volume II, you'll learn tips and tactics from 21+ Bassmaster Classic winners, two Major League Fishing champions, and 20+ Bassmaster Anglers of the Year about some of the dramatic changes in bass fishing, like:
Depth Finders: You need the latest and greatest depth finders available, since they're the brains of a bass boat with maps, GPS, side scanning, down scanning, and forward scanning features that enable you to see underwater structures and fish 100-feet away with a 360-degree view. Today's competitive bass anglers may have four or five depth finders located on the consoles and the bows of their boats.
Other Changes in Equipment: Power fishing for bass using heavy line and rods, big baits, and bait-casting reels that resemble winches have given way to finesse fishing and new techniques like fishing the Ned Rig, the Neko Rig, the Chicken Rig, and the Tokyo Rig on spinning tackle and line as small as 6-10 pounds.
The Growth in Youth and College Competitions for Bass: A young person can begin competition fishing as early as the second grade and continue throughout high school. After that, if the competitor qualifies, he/she may win a scholarship to fish on a college team that eventually may lead them to a professional bass-fishing career.
Changes in the Ways Anglers Bass Fish: Many of the most-consistent winners never pick-up their rods to fish during pre-fishing. Instead, they'll idle across the water, dropping waypoints from their electronics in places where they've identified schools of bass holding. These contestants will have at least 50-250 locations, where they've pinpointed schools of bass before a tournament starts.
VERSIONS: AUDIBLE, KINDLE & PRINT