Editor's Note: Forty-two-year-old Troy Grogan lived in Utah for 26 years. Then he moved to Farmington, New Mexico, 16-years ago. He's been hunting elk for at least 28 years. "I like the Mossy Oak Brush pattern camo (https://store.mossyoak.com/camo-patterns/brush), because where I live in the West, there's a lot of sage brush and cedars, and it really fits the open country where I hunt," Grogan explains. He's taken several mature bulls and also 30 cows and spikes.
I've called in quite a few bulls for other people that have scored 250 to 300 inches. My hunting buddy, Dean Sanchez, and I were hunting the Gila National Forest (http://www.stateparks.com/gila.html). Dean had an elk tag, and I didn't. So, I was calling for Dean.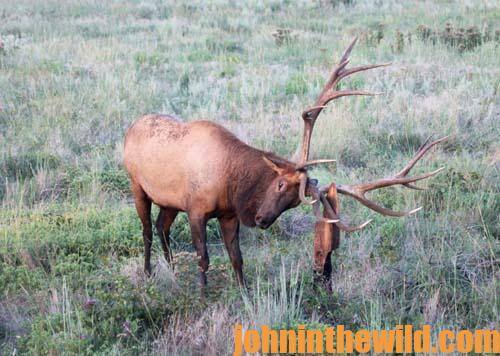 As we walked into the area where we were going to hunt, we spotted a couple of cow elk near a pond. We watched, and the cows went over the edge of the water hole and down into a canyon. I set Dean up 60 yards in front of me, and I got behind him and started calling. I used a Primos Hyper Plate Double diaphragm call (https://www.primos.com/products/elk-mouth-calls/) and several other Primos elk diaphragm calls. Then I could sound like several different cows up near the water hole. After my first series of calls, we heard a bugle. I called again, and the elk bugled once more.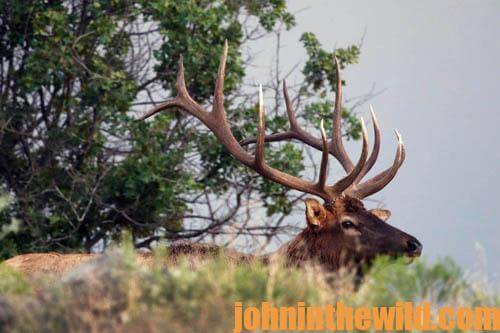 We knew that if the elk tried to come around downwind of us, he'd have to walk along the edge of the canyon, and he'd be within shooting range. Because I was back in the trees behind Dean, I could hear, but I couldn't see the bull walking toward us. The bull was coming in from our right, and I was on the left-hand side of Dean – back 60 yards. I only gave two more cow calls and then shut-up. Over the years, I've learned that if you've got a bull coming to you, you don't need to cow call much, because of that bull's natural curiosity to come in and look for the cows.
When the bull was 30-yards from Dean, he took the shot. Dean shoots a Hoyt Carbon
Element bow (https://hoyt.com/technologies/hoyt-carbon-technology), and he shoots a Rage broadhead (http://www.ragebroadheads.com/). He took a broadside shot, and the arrow penetrated both lungs. The elk went out of sight and down toward a canyon. Dean and I waited about 35 minutes, before we went after the elk. We had a really-good blood trail to follow for about 80 yards, and then Dean saw his elk. There were plenty of high-fives, hugs and jumping around like anyone does when they kill a nice elk.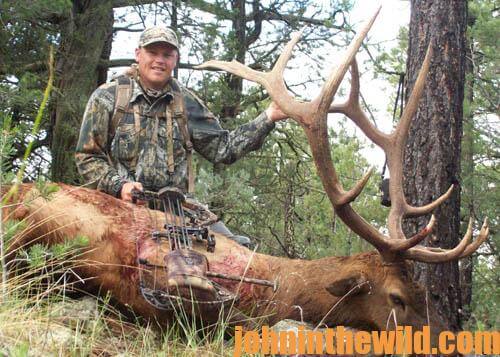 My brother, Calvin, was hunting with us too. So, we called him on the two-way radio, and we only had to make one trip with each of us carrying the meat. Dean just made a European mount out of the bull's rack that was about 300 inches.
To learn more about John's elk books go to http://johninthewild.com/books. Also, John's latest elk book, now available, is titled, "Elk: Keys to 25 Hunters' Success." To get John and Denise Phillips' free cookbook, "Miz Denise's Outdoor Cooking: More Than 35 Recipes for Elk and Mule Deer," go to http://johninthewild.com/free-books.