Editor's Note: If you've already got venison in your freezer left from last year, start thinking now about thawing it to prepare. And, if you take a deer this season, don't miss out on some of the most-delicious meals ever. Researchers have proved that venison, a heart-friendly meat, contains fewer calories than the same size serving of chicken or turkey and one-half the calories of ham or ground chuck. Venison also has more protein than freshwater or saltwater fish and one-tenth as many fat grams as ground chuck. A rich source of trace minerals, including calcium, magnesium, zinc, potassium, phosphorus and iron, venison has a cholesterol content comparable to chicken and turkey. Through the past 50+ years, our family has eaten venison and have included this week some of our favorite recipes.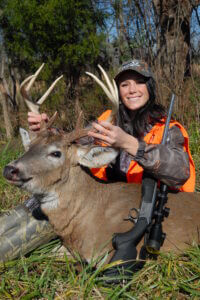 Have your equipment ready. Always carry in your daypack a deer drag, a sharp knife for field dressing, gloves and a spray that helps prevent the growth of bacteria by lowering the pH on the surface of the animal, creating an acid base where bacteria can't grow.
Look for a hill or a log that you can drag your deer to as soon as you recover it. Put the deer's head up and the body down to make field dressing easier. Gravity will aid the entrails in coming out easier.
Wear field dressing gloves to open the deer's cavity and remove the entrails.
Don't wash the open cavity with water, even after removing the entrails. Use a spray that's available from several different companies that prevents the growth of bacteria. Coat the cavity with it.
Wash out the cavity, and spray it again with the spray once you move the deer from the woods and before you hang it in a cooler or outdoors, if the area has a below 40-degree temperature. Then the animal can cool down and age, which will mean better-tasting meat.
Let the deer hang for 2 or 3 days before removing the hide and cutting-up the meat.
Use a very-sharp, clean knife and a saw to separate the meat, instead of chopping it with an axe.
Cut away all fat, connective tissue and gristle before packaging the meat for the freezer to ensure the very-best-tasting venison when you prepare it later.
Allow cuts of venison to unthaw in the refrigerator in heavily-salted water after removing the meat from the freezer for 24 – 48 hours. Be sure to wash all the salt off.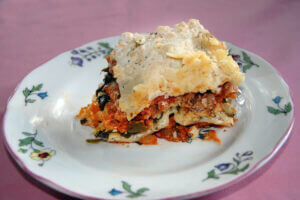 Backwoods Lasagna
This delicious recipe makes a large recipe of lasagna and freezes well. We've had numbers of non-hunters eat this dish and never realize it was prepared with venison.
Ingredients:
3 cloves garlic minced
1 (6 ounce) can tomato paste
2 #1 cans tomatoes
1 teaspoon pepper
1 #1 can tomato sauce
2 tablespoons minced parsley
5 pounds ground venison or mixture of half ground venison and half venison sausage
24 ounces Swiss cheese
2 (24 ounce) cartons cottage cheese
Grated Parmesan cheese
1 (16 ounce) box wide lasagna noodles
2 teaspoons salt
1 teaspoon oregano
2 medium onions chopped
3 tablespoons olive oil
Preparation: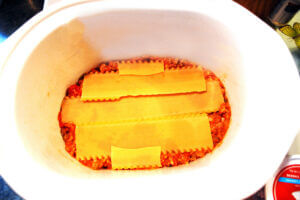 Brown the ground venison with the garlic, onions and olive oil. Add the tomato paste, tomatoes, tomato sauce and seasonings. Cover, and simmer for 30 minutes. Heat the oven to 350 degrees, while boiling the lasagna noodles according to package directions. (We prefer to use the lasagna noodles that don't require cooking).  Grease two 9×13 pans, and alternate layers of cooked noodles, meat sauce, Swiss cheese, cottage cheese, etc. Top last layer with grated Parmesan cheese. Bake in the oven for 45 minutes or longer, according to taste. Allow the dish to cool for 30 minutes or so after cooking and removing from the oven to make cutting easier. Generally we eat one pan of lasagna, and then freeze the other to reheat later.
Slow-Cooker Tuscan Venison Stew
This yummy stew that's also heart-healthy will be enjoyed by people of all ages.
Ingredients:
1 can (10-3/4-ounce) tomato soup
1 can (10-3/4-ounce) condensed beef broth
1/2-cup water
2 pounds venison cut for stew meat into 1″ pieces that you soak in heavily-salted water in the refrigerator for 24 hours and then rinse carefully
1 can (14-½-ounce) diced Italian-style tomatoes (for a spicier taste, use Rotel tomatoes)
3 large carrots cut into 1″ pieces or 2 cans sliced carrots (pour off liquid before using) for ease of preparation
1 teaspoon Italian seasoning
½-teaspoon garlic powder
2 cans (about 16-ounces each) white kidney beans (Cannelini), drained
Package of frozen seasonings, including onions, bell peppers and celery
Preparation:
Mix soup, broth, beef, water, tomatoes, carrots, Italian seasoning package frozen seasonings and garlic in crockpot. Cover, and cook on LOW for 8 to 9 hours or HIGH for 4 to 5 hours. Stir in beans. Turn heat to HIGH, and cook 10 minutes. Then you can boil thick egg noodles to ladle the stew over, prepare a salad and heat the bread, and you're ready to enjoy this flavor-filled hot dish.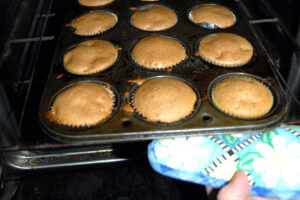 Venison Sausage Muffins
This recipe came to us from our good friends, Jim and Sherry Crumley, the creators of Trebark. We enjoy these muffins at any time of the day, but they're especially good for breakfast or to carry in your pocket when you're hunting.
Ingredients:
1 spice cake mix
Eggs
Oil
Water
1 pound hot venison sausage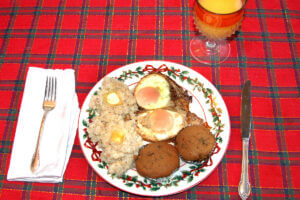 Preparation:
Make spice cake, according to box directions using amounts of eggs, oil and water suggested on the box. 1 pound hot venison sausage or can use mild sausage. Mix cooked sausage into cake batter. Pour into greased muffin tins, and bake according to cake instructions. (Makes 24 muffins).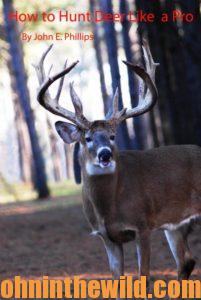 To learn more about hunting deer, check out John E. Phillips' book, "How to Hunt Deer Like a Pro," available in Kindle, print and Audible versions, at http://amzn.to/YpoQHA, and "13 Chili Recipes You Can't Live Without," available in Kindle at  http://amzn.to/12o31fr. You may have to copy and paste these links into your browser. (When you click on this book, notice on the left where Amazon says you can read 10% of the book for free, and you c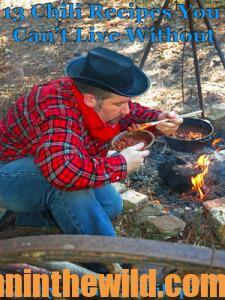 an hear 10% for free). On the right side of the page and below the offer for a free Audible trial, you can click on Buy the Audible book. To see more of John's deer books, visit http://www.amazon.com/author/johnephillips.
Tomorrow: Deer-Processing Equipment & Recipes