Editor's Note: Dudley McGarity is the general manager of BPI Outdoors, which owns CVA Muzzleloaders, Bergara Rifles and several other outdoor brands. McGarity has taken several elk with a muzzleloader as well as a custom rifle. But like many of us, McGarity always has had a dream of hunting a different way. He's hunted in many states as well as in Africa, but his dream has been to one day hunt a bull elk on public lands with his longbow.
"I am often asked, 'What is it you like about elk hunting?'" Dudley McGarity says. "Elk hunting is my favorite form of hunting. I like to be where elk live and enjoy the beauty of the mountains and the landscape that I get to see and enjoy when I go elk hunting. I really love to hear those bulls vocalize. I also enjoy the sport of calling elk and seeing just how close I can get one of those big, smart animals to me. When you add in the thrill of hunting with traditional archery like our forefathers hunted with, it's a much-more challenging and exciting sport than anything else I know. With a longbow, I feel I have to get the elk within 40 yards or less to have earned the opportunity to take the shot. With a compound bow, I can take elk at about twice that distance. So woodsmanship, calling skills and luck all play a major role in having the opportunity to try and take a bull elk. There's the challenge.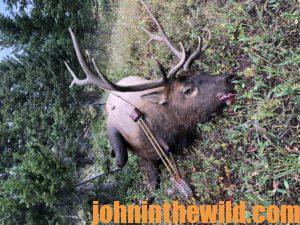 "One of the big advantages I had on this hunt was that the bull came in so quickly that I didn't have a chance to get nervous or have to endure a dose of buck fever before I took the shot. I have gotten buck fever on many other occasions when I've had a big bull coming and can see him from a long distance. In the time that I've been hunting with a longbow, I should've had a chance to kill and harvest about twice as many elk as I have harvested except for buck fever that often attacks many of us when we see an animal that we've dreamed about all our life coming possibly to within bow range. The adrenaline's running wild through our bodies. However, that's something else I like about elk hunting – the huge adrenaline rush you get when you know that the bull will have to be within 30 yards or less before you can take the shot. Controlling your emotions is a major factor, I believe, in whether or not the archer can harvest a bull that he has worked so hard to try and get in close for a shot.
"The good news on this bull was he came in so fast and so unexpected that I didn't have time to think. I just had to react in a very short window of time and not think about anything but shot placement. I don't ever recall being nervous before or during the shot. All I remember saying to myself was, 'There is the shot. Take it.'
"Another question I'm often asked is, 'Why did you want to hunt public land?' I've been very successful on private-land elk hunts, having a guide call for me. But I really wanted to have the whole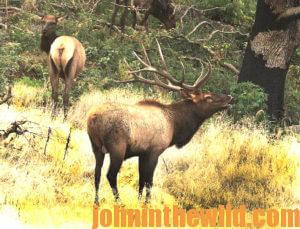 experience of a public-land bull elk hunt with just me and a buddy. I really wanted to challenge myself and test my own ability to find a bull on public land, call that bull in within 30 yards or less and take him with my longbow. I wanted to hunt land that anybody could hunt and try and take an elk the hard way by taking the bull with a longbow and a cedar arrow I had built myself and on public lands without a guide.
"The only support I had was my GPS and phone app called onX Hunt Hunting Apps
(https://www.onxmaps.com/hunt-app). On my first elk hunt, I only had my GPS receiver because onX Hunt apps either hadn't come out, or I wasn't aware of them. One of the problems I had with my GPS receiver was that it could show me how to get to my waypoints, as the crow flew,  but it didn't show me the changes of elevations as I went up and down the mountains. I liked this app because it gave me a satellite view of the land I was hunting with a topo map overlay. However, I used my onX Hunt maps more the first time I hunted this area than I did in 2019, since I already knew where the elk usually held, and how they most often moved in the mountains. The experience I'd had five years earlier on this same public land was what allowed me to be successful this past year when I hunted that same area. What I found five years ago definitely led to the success I had in 2019. I marked the waypoints in my onX Hunt that I had marked five years ago in my GPS receiver. Then I could find and hunt the places I wanted to hunt in 2019.
"One of the reasons this place is so hard to hunt is there's not any water close to the region where we hunted. So, in the spring of 2019, I packed water in to the campsite. Then in the fall we would have water to drink when we got to the campsite. However, once we hiked into the campsite and went to the place where I had cached the water, we saw that a bear had found it and broken every bottle of water, except for four. I had put the water in a cave near our campsite. I don't know whether the bear was hibernating in that cave or just happened to find the water. So, we only had enough water to get us through the first day we arrived at cam   p. The next day, in the middle of the day, I drove back to town for another case of water and packed the water back to camp."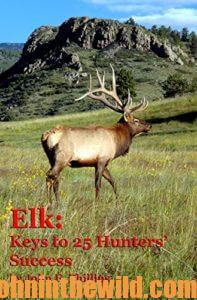 To learn more about hunting elk, check out John E. Phillips' book, "Elk: Keys to 25 Hunters' Success," available in Kindle, print and Audible at https://amzn.to/2IDszQk
Tomorrow: Knowing the Secrets to Finding and Taking Public Land Bull Elk