Editor's Note: What magic ingredients do the best deer hunters in the nation use to find their perfect tree stand sites? What can we learn from hundreds of years of deer-hunting experience that will help each of us pinpoint places in the woods where we can take big deer?
John in the Wild has interviewed seven of the nation's top deer-hunting experts to learn the answers to these questions. We'll ask each of them to describe the best tree-stand site he ever has hunted from and to name what ingredients have made that particular site so productive that he's bagged a big buck from that spot in the woods.
Brad Harris Describes His Favorite Type of Deer Stand Sites
Brad Harris of Neosho, Missouri, has hunted deer for about 50 years and is well-known for his video productions. "I took a buck with a bow that scored 178 points on Pope & Young," Harris remembers.
"The tree-stand site I selected to take this buck was in a creek bottom where four ridges came together. This creek bottom was a wet-weather creek and remained dry throughout part of the year."
"I discovered the deer bedded on top of two of the four finger ridges, to the south and west of where I'd put my tree stand."
"I had to have a south or a southwest wind to hunt that tree stand. I knew to try and take one of these bedding deer, I would have to hunt them during the rut when they would be the most active."
"Usually, the rut occurred during November and December in my section of the country, with the wind most often coming from the north. So, I had to wait on the right wind before I could hunt this stand."
"While pre-scouting for this stand site, I'd spotted two 140-class bucks, but I had never seen this particular buck I later bagged. From scouting, I also spotted some really-big rubs on the sides of trees and some big tracks. I knew a bruiser buck was in that section of land.
"The morning I decided to hunt this buck, I wore camouflage. A light southwest wind was blowing, and I went to my stand well before daylight. When a little light appeared, I began to rattle and grunt with my calls. I rattled in a fairly-nice 8-point that walked past my stand and didn't wind me."
"I saw a lot of does moving and plenty of deer activity. About every 30 minutes, I would rattle and grunt. At 7:30 am, I heard a deer running off the top of one of the hills and into the creek bottom. I grabbed my bow and readied for the shot."
"When the buck was 40-yards from me, he stopped and looked around for what seemed like forever. By now, I was at full draw. I made one more-soft grunt. The buck started to walk and stopped at 20 yards, giving me a broadside shot."
"The buck only ran a short distance before he went down. To be totally honest, I'd hunted this stand 5 days earlier but missed one of those 140-class bucks. I didn't know what happened. But I waited 5 days until I could get another southwest wind to return to that stand site to hunt."
"And, here's another characteristic of a great stand site. You usually will have more than one big buck that you can bag at a really-good stand site if you'll only hunt that stand site on the days where your chances are the greatest for taking a trophy buck."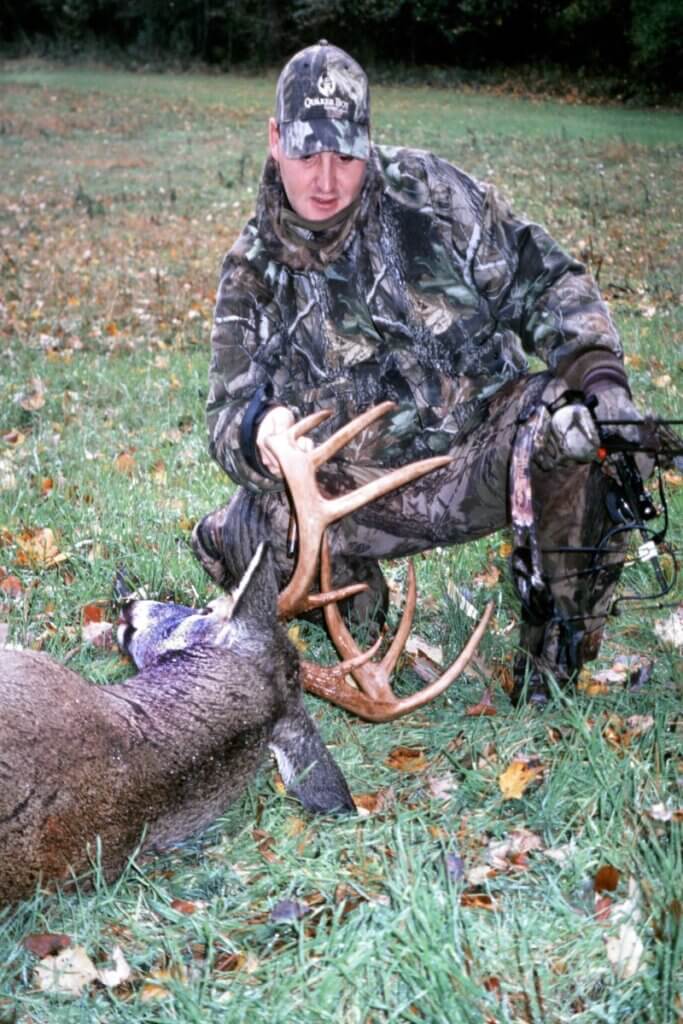 Chris & Michelle Kirby Enjoy Bowhunting from Deer Stand Sites
Chris Kirby, the president of Quaker Boy Calls in Springville, New York, has bowhunted for deer for more than 25 years. Kirby's favorite hunting partner, his wife Michelle, also enjoys bowhunting. You'll see how she helped Kirby take one of his nicest New York bucks.
"My wife actually had missed this buck a week before I hunted it," Kirby says. "I was very concerned that this buck wouldn't come back to this same stand site."
"We went to the farm where she had missed the buck another afternoon. Since I only had two stand sites on this farm, I put her in the stand that no one had hunted from yet. I took the stand that she missed the buck from, not thinking that the buck ever would return. I didn't have high hopes of taking a buck from this stand."
Related Deer Hunting Gear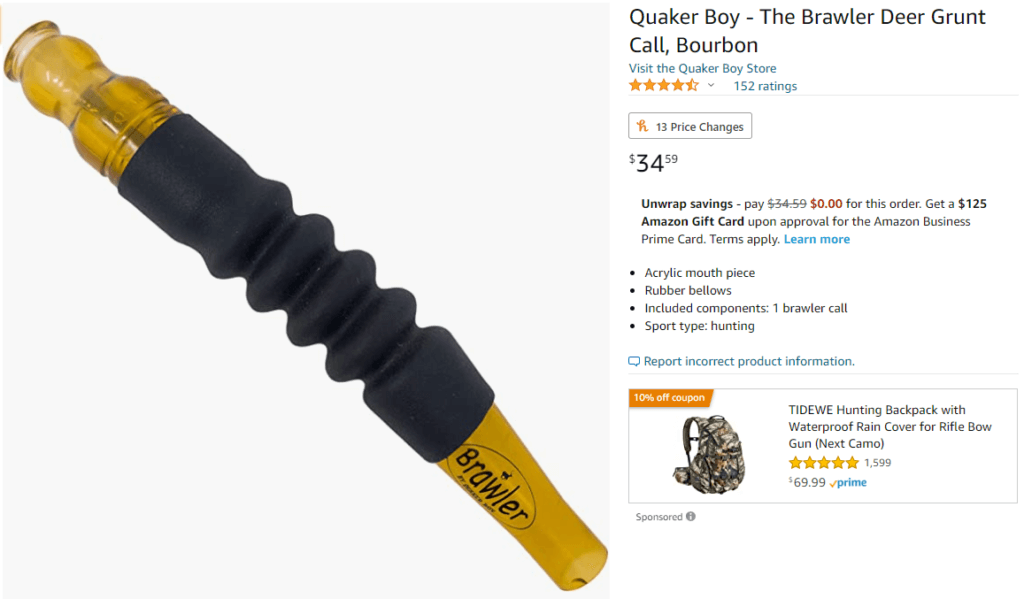 "The wind was perfect for this stand on this day. After I'd been in the stand for about an hour, I spotted movement out in front of me. I used my binoculars to check out the movement."
"About 150-yards away, I spotted a deer, which I first thought was a doe, feeding in some thick hemlocks. When the deer lifted his head, I could see he had a really nice rack. From Michelle's description of the buck, I could tell this was the same buck she had missed."
"We were hunting the pre-rut and saw numerous scrape lines and rubs in the woods. I knew I couldn't take a shot at the deer at that range, but I had plenty of time to get out my grunt call and call to the deer."
"Since the wind was blowing fairly hard, I blew the grunt call as hard and loudly as possible to get the buck's attention."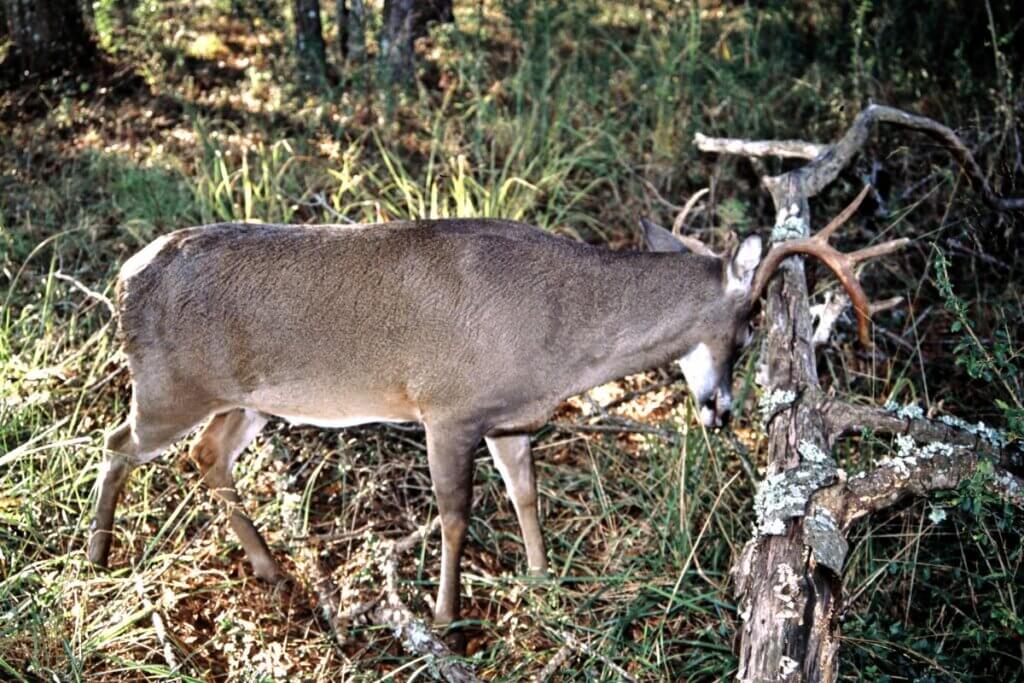 "When the buck heard the call, he picked his head up from feeding, looked right at me, and threw his ears forward.
Then, I used a can-style call and turned the can over three-different times to make three bleats. I grunted three times too. In 45 seconds, the buck covered that 150 yards and walked straight toward me."
"I already had used a range finder and knew where 30 yards was all the way around my stand."
"When the deer was at 40 yards, I drew my bow. I looked at his rack and saw that he had 5 points on the left side of his antlers. I got really excited."
"However, from years of missing deer with my bow, I quickly forgot about the antlers and concentrated on the spot I wanted to hit behind his shoulder. The buck stepped into an opening. I made a small grunt to stop him and then released my arrow."
"The buck only traveled about 60-yards before he piled up. The buck rough-scored 137 inches and had 9 points, which was a really-fine buck for upstate New York."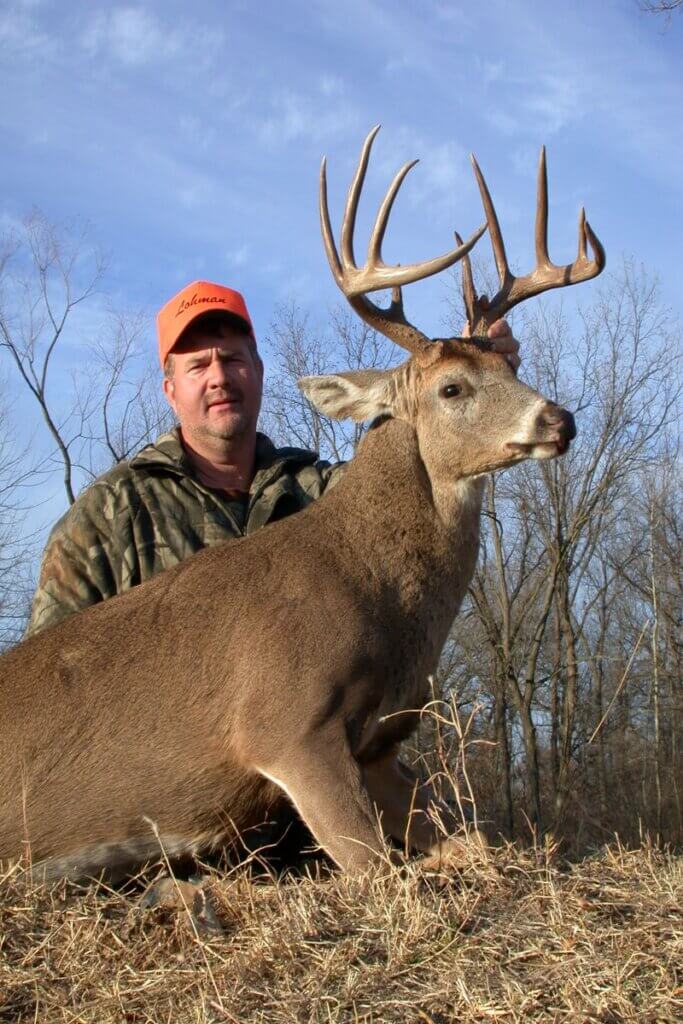 "The stand was in 70 acres of woods surrounded by a giant rye field. Because this area had been logged 3-years earlier, it contained a lot of briars and downed treetops, an ideal area for deer. I had spotted some 2-1/2-year-old bucks in this area, but I had never seen this buck."
"I really didn't think a deer this big was on our land. I had the stand set up in a bottleneck in two swampy areas with lots of doe signs but not many buck signs. A 30-acre high spot that ran through the funnel's center had a heavily-used deer trail across that high spot."
"I had set the stand up primarily to take does. However, after I took the buck, I went back, searched the land around the stand, and discovered rubs and scrapes that weren't there 2 weeks earlier."
"I really believe that the stand was productive because I was in a place with a lot of does. Before the rut, the buck had moved into this region to make rubs and scrapes to attract does. I think he was traveling this bottleneck to find hot does ready to breed."
More Advice from Pros You Know in John's Books
Since deer hunting and deer hunters are drastically changing each year, John interviewed some top deer hunters like Mark Drury, Dr. Larry Marchinton, Dr. Bob Sheppard, Pat Reeve, Gene Wensel, Cody Robbins, Ernie Calandrelli, Brian Murphy and Luke Brewster, who took the world's largest whitetail, to learn their up-to-date techniques for successfully hunting deer and having more places to hunt.
Too, check out John's book, "Bowhunting Deer: the Secrets of the PSE Pros," available now in Kindle, print, and Audible versions.
When you click on these books, notice on the left where Amazon says you can read and hear 10% of the Audible books for free. You can click on Buy the Audible book on the right side of the pages and below the offer for a free Audible trial.