Editor's Note: Dustin Hayes of Orange Beach, Alabama, is a master inshore master fisherman. He guides families and individuals surf fishing and night fishing under dock lights in the back bays. During the daytime, he takes them fishing on the grass flats and artificial reefs. Hayes knows how to catch inshore fish near and on beaches, and his tactics will work for you.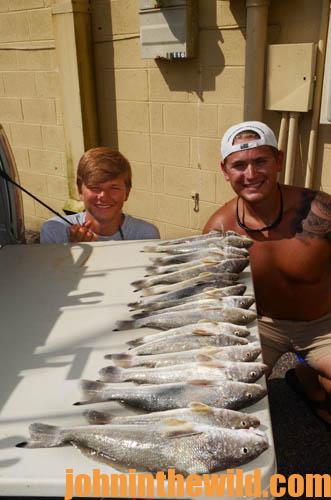 "If you're surf fishing with a beach guide, or if you're going to be fishing the beach regularly, a beach cart is a big advantage," Hayes emphasizes. "Although this cart is designed for carrying rods, reels, ice chests, tackle boxes, sand spikes, ghost shrimp pumps and sand flea rakes, you also can use the beach cart to carry everything you need for a day of fishing out on the Gulf State Park Pier (https://www.gulfshores.com/details/gulf-state-park-pier/). When you go home, you can use the beach cart to move firewood and for gardening and carrying youngsters to the fair or athletic meets. However, since we're talking about no-hassle surf fishing, let's look at the advantages that the beach cart gives you.
"In my beach cart with its inflatable tries, I carry an ice chest with soft drinks, water and bait. Since many of my customers want to catch fish to eat, as soon as the fish comes out of the water, I can put it in the ice chest to stay fresh until the end of the trip. I fillet the fish and bag it for my customers. I also carry a couple of tackle bags, a couple of cups of fresh dead shrimp, six rods, extra pompano rigs and extra lures and my customers' lawn chairs too on my beach cart.
"I like the Berkley beach carts (http://www.berkley-fishing.com/berkley-tools-and-equipment-carts-berkley-classics/berkley-jumbo-fishing-cart/1285816.html) with the orange inflatable tires. Since the tires are inflated, they float over the sand rather than digging down in the sand. The beach cart allows me to bring everything my customers may need to make their surf-fishing trip productive, fun and comfortable. Also if the fish aren't biting in one spot, I can load everything onto my beach cart, take the beach cart and my customer back to my truck and their vehicle, and we quickly can move to another location on the beach where the fish may be biting better.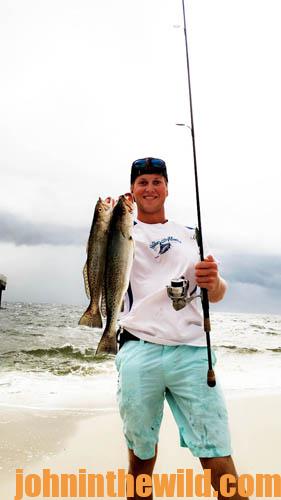 "Another advantage my customers have who fish with me is that I teach them everything they need to know about surf fishing. I show them where to fish, and then they can surf fish without me while they're here at the beach. Every time they come back to the beach, they know what they'll need, where to fish, what tackle to use and what they can expect to catch. This way, every trip to the beach can provide a fishing opportunity for everyone in the family, and a way to catch fish for any meal they want to prepare."
On Alabama's Gulf Coast and other beaches all over the nation, you usually can catch fish all year long fishing in the surf without spending much money.
To see how, where and with what Dustin Hayes fishes, check out his videos, "Catch Your Own Sand Fleas for Bait for Surf Fishing:" https://www.youtube.com/watch?v=TRJnO3k3TAk; "Why I Use a Beach Cart:" https://www.youtube.com/watch?v=f2-oISbIC30; and "Surf Fishing and Catching a Remora:" https://www.youtube.com/watch?v=e1FkyX2KuJk. If you'd like to go on a surf-fishing trip with him, call at 251-981-3811 or his mobile at 678-897-0167. You can check out his Facebook page and see what his clients are catching at https://www.facebook.com/Shorethingfishing.
To learn more about saltwater fishing, check out John E. Phillips' Kindle eBooks and some print books at http://johninthewild.com/books/#gulf.