Editor's Note: During the spring of the year, high water and cool weather are often a nightmare for fishermen. However, if you're like me, you have to fish when you have a chance to fish. You can't change the fishing conditions. So, you need to learn to fish in bad weather and bad water conditions. In 3 days this spring, Center Hill Reservoir in central Tennessee had risen 16 feet. My friend, outdoor writer and guide, Jim Duckworth, had invited me to bass and crappie fish at Center Hill. My favorite tool I learned about there was a StowMaster (https://www.norsemenoutdoors.com/product-category/stowmaster/) Tournament Series foldable dip net that I've really enjoyed using. We were staying at Edgar Evins State Park (http://tnstateparks.com/parks/about/edgar-evins) – a beautiful resort overlooking the lake. The weather had been in the 70s. So, I only had packed one pair of blue jeans. The rest of my wardrobe consisted of shorts and t-shirts. I sure was glad I'd packed my Browning (www.browning.com) Gore-Tex lightweight rain suit. It kept me dry and warm. The anglers you're most likely to see on any lake during April and May are bass fishermen and crappie fishermen. So, I wanted to learn how to catch crappie when a lake was rising, and the temperature dropping. The next morning (See Days 1 and 2) I fished with Chris Duraji of Lebanon, Tenn., who's been fishing for 42 years.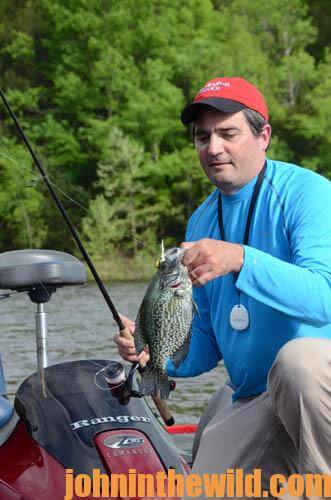 Some lakes in Tennessee have blacknose crappie. When I asked Duraji about the blacknose crappie, he smiled and said, "When I catch a crappie, I get out my permanent Sharpie marker and put a black line on that crappie's nose all the way up its back." Then Duraji laughed and chuckled while continuing, "I don't know how or where crappie get black noses, but I've noticed that they're really different from the white or the black crappie. They're usually much bigger, and they seem to be much thicker around than the black or the white crappie. Of the three crappie we have here in Tennessee, I really prefer to catch the blacknose crappie. The crappie in Center Hill can be caught all year long. The water is deep and clear. Often during the spring and fall, I can see the crappie from the surface holding on trees and brush underwater. In the springtime, I'll only fish about 2-feet deep for these crappie. But in the summer months, I'll fish as deep as 28-30 feet deep."
Duraji is not a minnow fisherman. He prefers to strictly fish jigs. His favorite jig is a 1/8-ounce Bobby Garland Crappie Pro (www.bobbygarlandcrappie.com) with a pink jig head and glow. Most of the time, he only fishes 4-pound-test line. Most fishermen won't downsize their lines to 4-pound test, but Duraji explains that he's experimented with line and discovered that he gets more bites and catches more crappie fishing 4-pound-test line than he can with a larger line. "I use a really limber rod," Duraji explains. "I just got an ESP rod (https://www.norsemenoutdoors.com/product-category/esp-rods/) from my friend Jim Duckworth, and I really like it. I like the limber rod and light drag. On 4-pound-test line, after I get the crappie out of the cover, I can play the fish down and get it to the boat. Most of the crappie that I keep will weigh about 2 pounds. Except in the spring, most of my Center Hill crappie will weigh a little more than 2 pounds.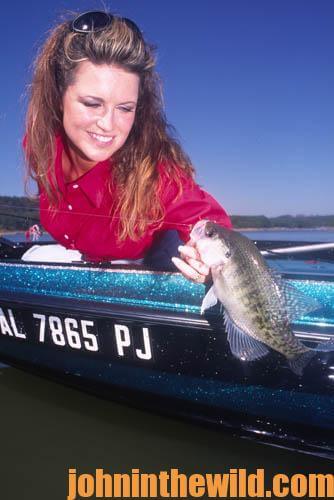 "During the spring, I try to fish two or three times a week; but during the summer months, I may only fish two or three times a month. In the summer months when I fish, I don't bring home but about 8-12 crappie that I plan to eat. I generally get a couple of good meals out of those crappie. At Center Hill, the limit on crappie is 15 per person per day. I also fish Old Hickory Lake located on the Cumberland River just northeast of Nashville and Dale Hollow Lake on the Kentucky/Tennessee border during the spring and summer."
To learn more about crappie fishing on Tennessee lakes, call Chris Duraji at 615- 519-5904, or email him at fishingrx@aol.com.
Videos:
To learn much more about crappie fishing, get John E. Phillips' Kindle eBooks, and print and Audible books by going to http://johninthewild.com/books/#crappie or to www.barnesandnoble.com. To receive and download for free "The Crappie Catchers' Cookbook," by John and Denise Phillips, go to http://johninthewild.com/free-books.
Tomorrow: Catch Crappie on Tennessee's Old Hickory and Dale Hollow Lakes