John's Note: Nothing is more versatile to prepare and cook than delicious wild turkey, and with turkey season starting across the U.S., think about cooking your turkeys. Yet many folks we know give their turkey meat away. Wild turkeys don't have much fat, due to their diets, but they do have a wonderful flavor. Through the years, we've prepared wild turkey leg soup and other recipes to use the entire wild turkey. Here are some of our favorite ones.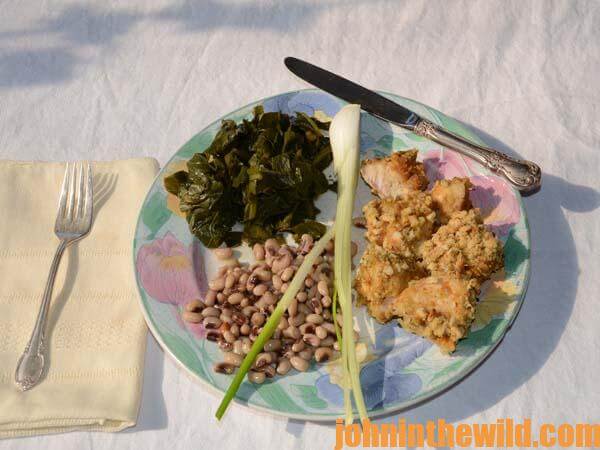 Grandmother Murdock's Crunchy Wild Turkey
Both of Denise's grandmothers were outstanding cooks – one a specialized baker and the other a down-home kind of cook. We know you'll enjoy this recipe which we've shortened by using prepared stuffing. Denise's grandmother used leftover homemade stuffing.
Ingredients:
1 pound wild turkey pieces
1 box Stovetop Stuffing Mix, chicken flavor
1 can (10 ounces) cream of chicken soup
1/2-cup milk
Preparation:
Preheat oven to 400 degrees. Place stuffing mix in large zipper seal bag, and crush with a rolling pin or a meat tenderizer (or your hands). In a bowl or a measuring cup, stir together soup and milk until well blended. Pour stuffing mix crumbs in one bowl and soup mixture into another. Dip each piece of turkey, on both sides, first into soup mixture and then into crumbs. Place on greased baking sheet. Bake at 400 degrees for 20 – 30 minutes, or until turkey is lightly browned and no longer pink in the center. Yield: 6 – 8 Servings.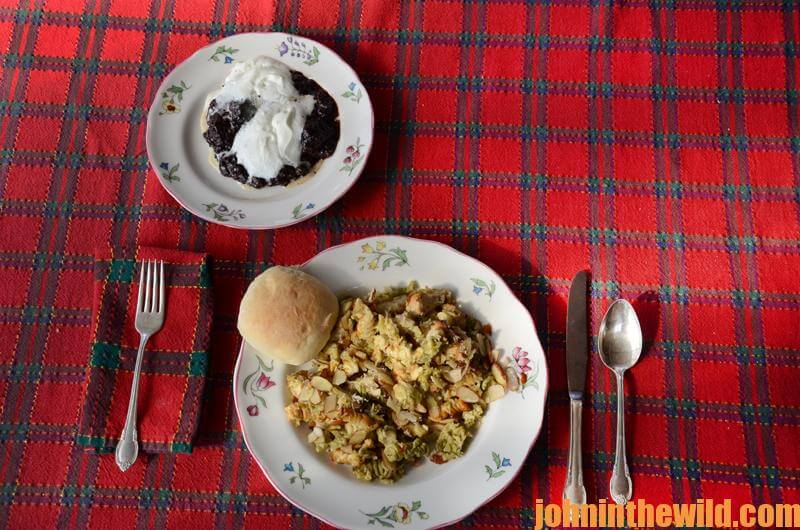 Magnolia Café's Broccoli Wild Turkey Pasta
The Magnolia Café, down the street from our home in Vestavia, Alabama, has served this dish for some time. It's been a favorite of our entire family for at least 16 years and is a delicious, colorful way to use turkey breasts.
Ingredients for Turkey Marinade:
1/2-cup red wine vinegar
1/2-cup soy sauce
1/2-cup vegetable oil
2 cups water
1/2-cup fresh lime juice
2 tablespoons crushed red pepper
2 large onions, chopped
6 jalapeno peppers, sliced
Mix all ingredients together, and use to marinate turkey overnight.
Ingredients for Pasta Casserole:
1 boneless turkey breast, cut into cubes, marinated and grilled (this is a lot of meat)
3 cups broccoli flowerets
8 ounces uncooked tricolor rotini pasta
1/2-cup roasted almonds
1/2-cup Parmesan cheese
1 tablespoon lemon juice
1 teaspoon dried basil
3/4-cup mayonnaise (preferably Hellmann's)
Preparation for Casserole:
Grill marinated turkey. Steam broccoli until tender (about 8 minutes). Set aside until cool. Cook pasta according to package directions. Rinse in cold water. Place cooled pasta and cooled, cut broccoli into a large bowl, and add remaining ingredients, including turkey pieces. Toss until thoroughly mixed. Place in a 9×13-inch baking dish. Sprinkle roasted almonds on top of casserole. Cover, and heat 15 to 20 minutes at 350 degrees. (Is also delicious when reheated. You may want to sprinkle more Parmesan cheese on top when reheating). Yield: 6-8 ample servings.
(This dish is wonderful heated up).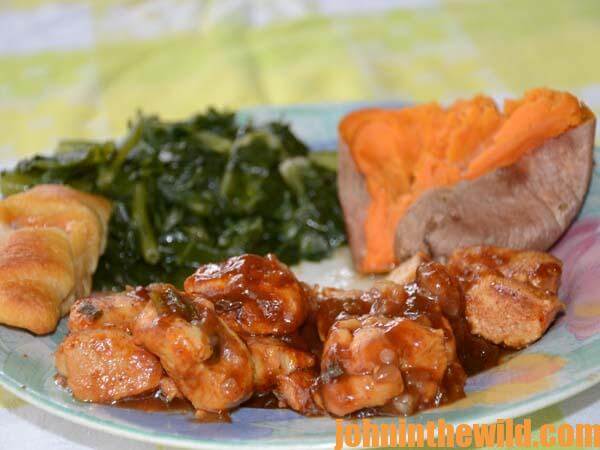 Dr. Pepper Glazed Turkey
Our grandchildren and son-in-law love to drink Dr. Peppers and hunt turkeys. The Dr. Pepper gives this dish an original flavor that all will enjoy.
Ingredients:
3 to 5 pounds turkey pieces
2 to 4 tablespoons olive or vegetable oil
1 (12-ounce) can Dr. Pepper soda (regular not diet)
3/4-cup dark brown sugar
2 tablespoons honey
1 tablespoon ground cumin
1 tablespoon ground chili powder
3 scallions, chopped
1 tablespoon Dijon mustard
1/2-cup ketchup
2 tablespoons cornstarch
Preparation:
In a large sauce pan over medium heat, mix the Dr. Pepper, brown sugar, honey, cumin, chili powder, chopped scallions, Dijon mustard and ketchup, and bring the mixture to a boil. Reduce the heat, and simmer, stirring often, for 3 to 5 minutes. Add the cornstarch a little at a time while continuing to simmer, until the mixture thickens enough to coat the back of a spoon. Remove from heat, and set aside. Preheat oven to 350 degrees. In a large skillet, heat the oil over medium heat, and brown the turkey pieces for 8 to 10 minutes, turning often. Place the browned turkey parts in a foil lined 13 x 9-inch baking pan, and pour the sauce over the turkey, coating each piece. Bake for 60 to 70 minutes, until the turkey has reached an internal temperature of 165 degrees. Serve immediately. Yield: 4 to 6 servings.
Italian Wild Turkey Sandwiches
These amazing wild turkey sandwiches are fun to prepare at your hunt camp or at home, using a crockpot.
Ingredients:
1 or 2 bone-in wild turkey breast(s), 6 pounds total, skin removed
1 medium onion, chopped
1 small green pepper, chopped
1/4-cup chili sauce
3 tablespoons white vinegar
2 tablespoons dried oregano or Italian seasoning
4 teaspoons beef bouillon granules
12 kaiser or hard rolls, split
Preparation:
Place turkey breast(s) in a greased 5-quart slow cooker. Add onion and green pepper. Combine the chili sauce, vinegar, oregano and bouillon; pour over turkey and vegetables. Cover, and cook on LOW for 5 to 6 hours, or until turkey is tender. Shred turkey with two forks, and return to the slow cooker; heat through. Spoon 1/2-cup onto each roll. Yield: 12 servings.
Freeze Option: Place cooled meat and juice mixture in freezer containers. To use, partially thaw in refrigerator overnight. Microwave, covered, on HIGH in a microwavable-safe dish until heated through, gently stirring and adding a little water if necessary, and then placing on rolls.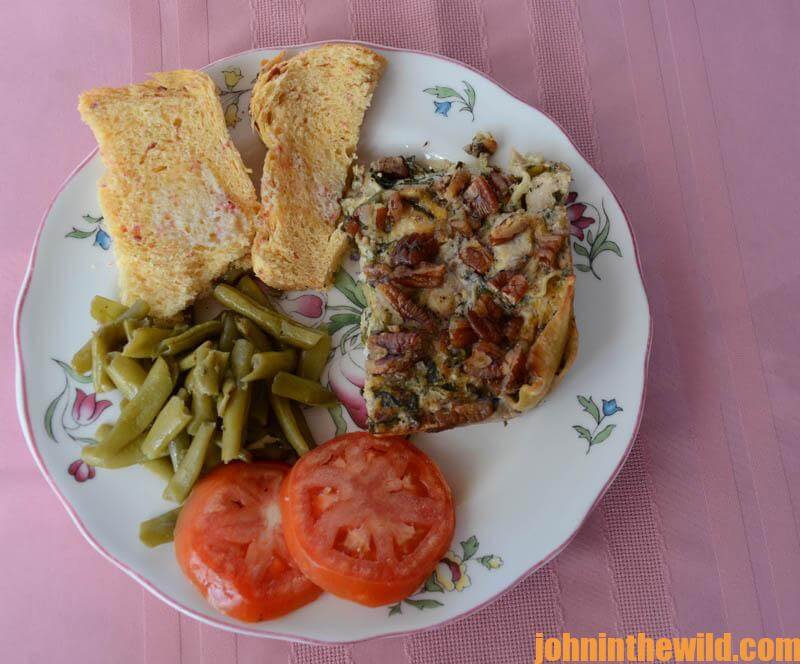 Turkey Lasagna Florentine
This dish is one of the most-delicious ever and is an elegant presentation too.
Ingredients for Lasagna:
6 lasagna noodles, uncooked (we prefer the lasagna noodles you don't have to boil and can use as they come out of the box)
1 (10 ounce) package chopped frozen spinach, thawed
2 cups cooked, chopped turkey breast
2 cups shredded cheddar cheese
1/3-cup finely chopped onion
1/4- to 1/2-teaspoon ground nutmeg
1/2-teaspoon salt
2 teaspoons white pepper
1 tablespoon soy sauce
1 can (10-1/2-ounces) cream of mushroom soup
1 container (8 ounces) sour cream
1/3-cup mayonnaise (we prefer Hellmann's)
3/4-cup freshly grated Parmesan cheese (or to taste)
Butter Pecan Topping
Ingredients and Preparation for Topping:
2 tablespoons butter or margarine
1 cup chopped pecans
Melt the butter in a skillet over medium heat; add the pecans, and cook for 3 minutes. Cool completely.
Preparation for Lasagna:
Cook the noodles according to package directions, drain, and set aside. Drain the spinach well, pressing between layers of paper towels. Combine the spinach, turkey, cheddar cheese, onion, nutmeg, salt, pepper, soy sauce, soup, sour cream and mayonnaise in a large bowl; stir well to blend. Arrange half the noodles in a lightly greased 9×13-inch baking dish. Spread half the turkey mixture over the noodles. Repeat this procedure with the remaining turkey mixture and noodles. Sprinkle with Parmesan cheese and the Butter Pecan Topping. Bake, covered, for 55 to 60 minutes, or until hot and bubbly. Let stand for 15 minutes before cutting. Yield: 8 servings.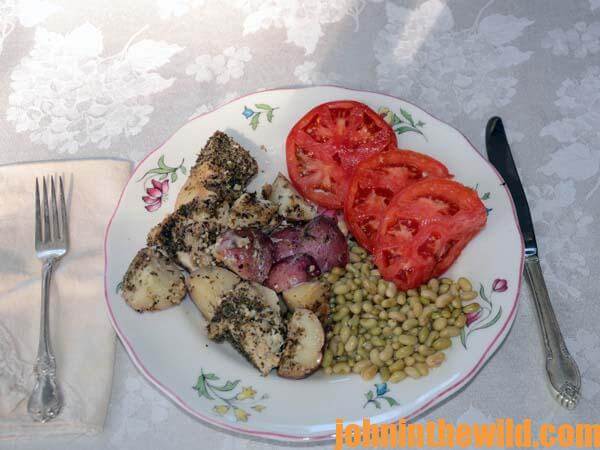 Easiest Greek Wild Turkey and Potatoes Ever
Through the years we've prepared various Greek turkey recipes, but never before has one matched the intense Greek flavors we've hoped to create like this one does.
Ingredients:
2 teaspoons kosher salt (if you prefer less salt, cut this amount in half)
1 tablespoon dried oregano
2 teaspoons garlic powder
1/2-teaspoon ground black pepper
1/3-cup lemon juice
1/4-cup olive oil
3-4 pounds turkey pieces
8-10 small red potatoes, more or less – to taste
Preparation:
In small bowl, stir together all dry ingredients. Wash, and quarter potatoes, leaving skins. Place turkey and potatoes in deep 9×13-inch baking dish. Sprinkle with seasonings. Drizzle with lemon juice followed by olive oil. Cover with foil, and bake at 350 degrees for 30 minutes or more, or until lightly browned. Remove foil, and increase oven temperature to 400 degrees. Bake for 30 minutes more, or until lightly browned. Yield: 6 – 8 servings.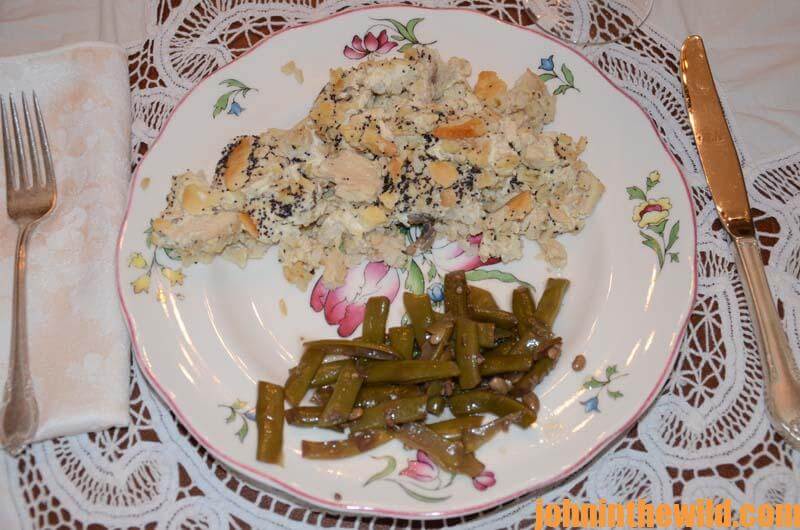 Poppy Seed Turkey
This longtime favorite family recipe came to us originally from John's sweet sister, Bettie Jackson. This comfort food can't be surpassed. All our grandkids love it.
Ingredients:
Cooked and boned turkey breast, cut into 1-inch pieces (about 2 pounds)
2 cans cream of chicken soup
2 containers (8 ounces each) low-fat sour cream
4 cups cooked brown rice
1 sleeve Ritz crackers, crushed
1/2-stick butter, melted
1 jar or can (4.25-ounces) of sliced mushrooms
3 tablespoons poppy or sesame seeds
Preparation:
Stir soup well, and smooth out lumps. Stir the sour cream into the soup until smooth. Place the cooked rice in the bottom of a 9×13-inch casserole dish that's been sprayed with PAM. Place the turkey on top of the rice. Add the soup and sour cream mixture. Spread mushrooms on top. Sprinkle the crushed Ritz crackers over all. Pour the melted butter on top, and sprinkle with poppy or sesame seeds. Bake at 350 degrees for 30 minutes, or until hot and cook through. Yield: 6 – 8 servings.
To see other tasty turkey recipes besides these, you can get John E. and Denise Phillips' cookbook available in print and on Kindle: The Best Wild Game and Seafood Cookbook Ever. You also can download a free copy of John E. Phillips' "The Turkey Gobbler Getter Manual" from http://johninthewild.com/free-books.
Next: Hunt Wild Pigs and Use Their Delicious Meat