John's Note: Venison has more protein than freshwater or saltwater fish, beef liver or turkey and is a rich source of trace minerals, including calcium, magnesium, zinc, potassium, phosphorus and iron, besides tasting delicious.
Venison Hamburger Soup
This tasty soup is vegetable-packed and provides plenty of vitamins and fiber. We love any recipe that can be prepared ahead of time to cut down on frantic suppers for a busy family.
Ingredients:
2 pounds ground venison
1 cup chopped onion (1 medium onion)
1 cup chopped celery
1 cup sliced carrots
1 cup chopped zucchini
1 cup chopped cabbage
2 potatoes, diced
1 (15-ounce) can petite diced tomatoes
5 – 6 cups beef broth
1/3-cup pearl barley
1/4-teaspoon granulated garlic powder
1/2 to 2 teaspoons salt to taste
1/2-teaspoon Turkish oregano
1/2-teaspoon freshly-ground black pepper
1/4-teaspoon rubbed sage
Preparation:
In a stockpot, brown the ground venison, stirring frequently to break it up, about 10 minutes. Drain well. Add the remaining ingredients, and bring to a boil. Reduce the heat, and simmer for about an hour, or until the vegetables have softened, and the flavors have blended. We also at this point in the preparation will put the soup in a crockpot on WARM to keep it from burning but also ready to eat. Yield: 12 -15 servings.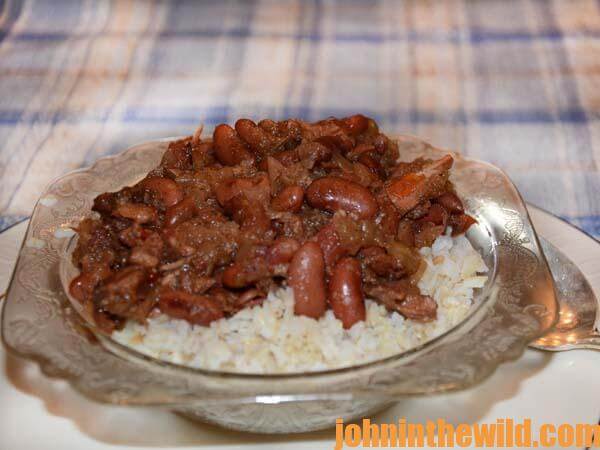 Spicy Slow Cooker Red Beans and Rice with Venison Sausage
A friend who loves all things Louisianan gave us this recipe. Although at first glance, it may seem like a lot of work, its fabulous flavor is worth the time involved. We like it too because we can prepare it, put it in a crockpot and forget it. The specialty meats – the andouille sausage and the Tasso ham – are generally available at butcher shops – especially Cajun ones. You can find recipes for preparing Tasso ham on the internet, but a pound only costs $6.00 already prepared.
Ingredients:
1 pound dry red kidney beans
12 cups water
1 tablespoon vegetable oil
1 pound venison sausage
1 pound andouille sausage, sliced in 1/4-inch rounds
5 cups chicken broth, divided
3 cups yellow onion, diced
2 cups celery, diced
1 cup green bell pepper, diced
1 cup red bell pepper, diced
5 cloves garlic, finely minced
1 pound Tasso ham, sliced into 1×1/4-inch strips
1 tablespoon firmly-packed light brown sugar
3 bay leaves
2 teaspoons salt
1 teaspoon hot sauce, such as Tabasco
1 teaspoon cracked black peppercorns
1 teaspoon Cajun seasoning
1 teaspoon rubbed sage
1/4-teaspoon ground chipotle Chile pepper
1/2-teaspoon cayenne pepper
1/2-cup fresh parsley, chopped
1/4-cup green onion, chopped
Hot cooked jasmine rice or brown rice
Garnish: chopped parsley
Preparation:
In a 4-quart container, soak red beans in 12 cups water; leave uncovered overnight. After soaking, discard water, and rinse beans thoroughly several times with fresh water. Set aside. In a large skillet, heat oil over medium-high heat. Add venison sausage and andouille sausage, and cook until browned, 8 to 10 minutes. Remove sausage from pan, and set aside. Deglaze skillet with 2 tablespoons chicken broth, add onion, and cook until softened and beginning to brown, 7 to 9 minutes. Add celery and bell peppers to skillet, and cook until soft, 3 to 4 minutes. Transfer mixture to 6-quart slow cooker. Add garlic, remaining broth, Tasso ham, brown sugar, bay leaves, salt, hot sauce, black pepper, Cajun seasoning, sage, chipotle pepper, cayenne pepper, reserved beans and cooked sausage, stirring to combine. Cover, and cook on HIGH until beans are softened and cooked through, 5 to 7 hours. Remove bay leaves. Add chopped parsley and green onion to red bean mixture. Serve over rice. Garnish with additional parsley if desired. Yield: 12 – 15 servings.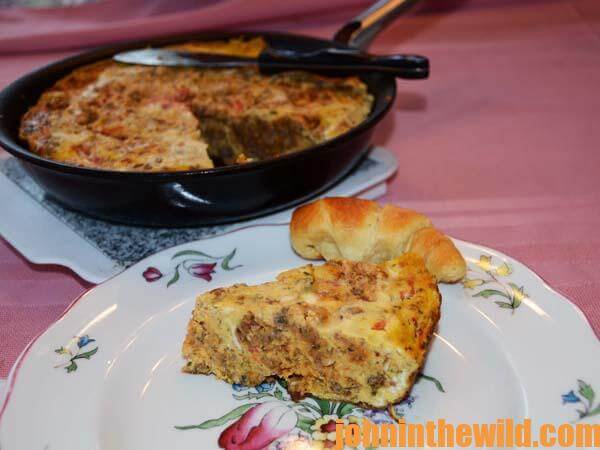 Venison Sausage and Sweet Potato Frittata
Our family has loved eating frittatas for more than 30 years, and the recipe uses venison sausage.
Ingredients:
16 ounces venison sausage
1 large sweet potato, peeled and thinly sliced, about 3 cups (Since slicing sweet potatoes requires so much work, sometimes I use frozen sweet potato/yam patties instead)
1 medium tomato, halved and sliced
1 clove garlic, minced
1/4-cup chopped fresh parsley
1 tablespoon chopped, fresh dill
12 large eggs, beaten
1-1/2-teaspoons kosher salt
1/8-teaspoon crushed red pepper
1/2- cup grated Parmesan cheese
Garnish with fresh dill
Preparation:
Preheat oven to 350 degrees. In a 12-inch non-stick oven-proof skillet, cook venison sausage over medium-high heat, stirring occasionally, until browned and crumbly, approximately 8 minutes. Add sweet potato; cook, stirring gently, until tender, approximately 8 minutes. Stir in tomato and garlic; cook 1 minute more. Add parsley, dill, eggs, salt, pepper and cheese. Cook until bottom is set on an eye of the stove, approximately 2 minutes. Bake in oven just until set, 12 to 15 minutes. Garnish with dill, if desired. Yield: 4 – 6 servings.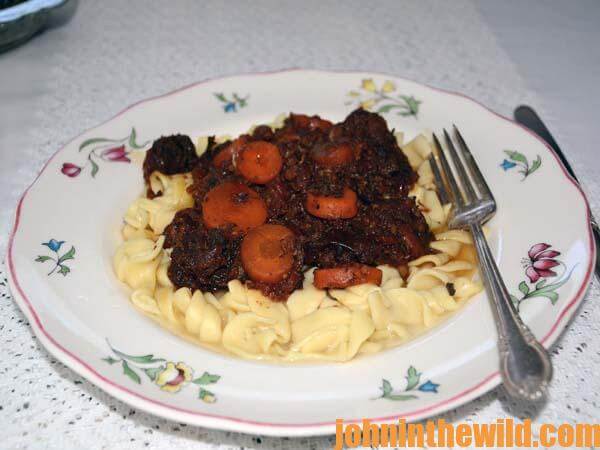 Chunky Venison Ragu
We love cooking in slow cookers/crockpots at least a couple of time a week due to our busy schedules. This fall-apart venison is bursting with flavor.
Ingredients:
3 ounces (1/2-cup) thinly sliced prosciutto or pancetta, chopped
1-1/2-pounds venison stew meat, cut into 1-inch pieces
2 to 4 ounces sun-dried tomatoes in oil, drained, chopped
2 medium carrots (1 cup), sliced
2 cloves garlic, finely chopped
1 can (14.5 ounces) diced tomatoes, undrained
1/2-beef broth
1-1/2-teaspoons dried basil
1-1/2-teaspoons dried oregano
1/2-teaspoon salt
1/4-teaspoon crushed red pepper flakes
Cooked pasta
Preparation:
In an 8-inch nonstick skillet, cook prosciutto over medium-high heat, about 5 minutes, stirring frequently, until crisp. Drain on paper towels. Coat a 5 to 6 quart slow cooker with cooking spray. In slow cooker, mix prosciutto and remaining ingredients. Cover; cook on LOW heat 8 to 9 hours (or on HIGH for 4 to 4-1/2 hours). Serve with pasta of your choosing. Our family prefers wide noodles. Yield: 6 servings.
Spicy and Sweet Venison Brisket
Here's another delicious recipe that you can put together, place in the oven and forget for 3 hours.
Ingredients:
1 teaspoon dried rosemary
1/4-teaspoon salt
1/8 to 1/4-teaspoon cayenne pepper
3 pounds venison brisket (that's had all white membranes removed from it and been soaked in heavily salted water, covered, refrigerated overnight and then rinsed well)
1 onion, halved and cut into 1/4-inch thick slices
1 can (15 ounces) Sloppy Joe sauce
1/2-cup apple juice
1/4-cup water
Cooking spray
Preparation:
Preheat oven to 350 degrees. Coat a large roasting pan with cooking spray. In small bowl, combine rosemary, salt and cayenne. Rub seasoning mixture over all sides of brisket; place in roasting pan. Halve the onion, and slice into 1/4-inch thick slices. In bowl, combine Sloppy Joe sauce, apple juice, 1/4-cup water and onions; pour over brisket. Cover pan lightly with foil. Roast until very tender, about 3 hours. Serve brisket with pan juices. Yield: 12 servings.
To see other tasty venison recipes besides these, you can get John E. and Denise Phillips' cookbooks available in print and on Kindle: Deer and Fixings and The Best Wild Game and Seafood Cookbook Ever.
Next: For the Most Exciting Hunting Chase Wild Turkeys and Eat Them