Editor's Note: Fifty-two year-old Shannon Parsons and his dad, 85-year-old Mike Parsons, own property in the Crazy Mountains of Montana near the town of White Sulphur Springs. The Parsons have been hunting elk and mule deer since 1978, and they have developed a very-successful method of finding and taking elk for both rifle hunters and bowhunters in their guiding business of Crow Creek Outfitters. Shannon's son, Mike is 23-years-old and will be the third generation of Parsons in the elk-guiding business. One of the reasons the Parsons have been so successful is because they pass down all the knowledge about elk hunting from one generation to the next.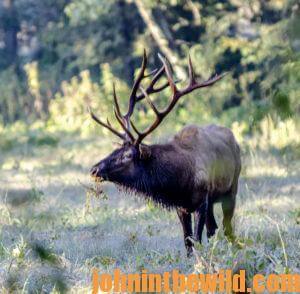 Another big advantage that the Parsons have is they've hunted the same ranch (private land) for over 30 years and 100,000 acres of national forest for over 40 years. Hunting approximately 135,000 acres means they don't put heavy hunting pressure on any area. These elk are much-less spooky than the elk on public lands that receive extreme elk-hunting pressure. Besides knowing where to find the elk, and when they're most likely to show up, all the guides at Crow Creek Outfitters offer are very proficient in calling elk.
During elk rifle season, I don't do much calling. Those hunts are pretty much spot-and-stalk hunts. If the elk aren't pressured, they always will be where they always have been, and this is one of the reasons we've been so successful. When we hunt in the mornings, and we see elk leave the area where they've been feeding at night and then move back into the woods to bed-down. We don't chase them or try to .take them when they're moving to their beds. And, we don't try to hunt them once they reach their bedding sites. We prefer to wait until the evening to let the elk come back to where they've been feeding and then allow them to come close enough to get a shot. The only time that we put pressure on any elk herd is about once a week, when the elk are coming out to feed. We have so-many places to find and take elk, we don't want to blow any of the herds off the property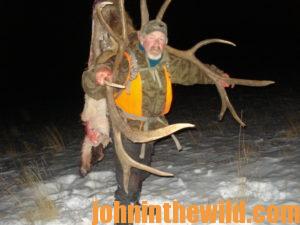 by overpressuring them.
Although most of the shots that gun hunters take at elk will be 150 yards or less, once we see how a hunter shoots, and we know how accurate he is at distances greater than 150 yards, we may suggest he shoot up to 250 yards, if that hunter sees a bull he really wants to take.
I like to gun hunt elk just like I bowhunt them. I want to try to get my hunter as close as I possibly can to the bull he wants to take. The closer I can get him to the bull, the greater the odds are of his taking that bull. But sometimes if: you're on the edge of the timber; the bull is out in the meadow at 300 yards and that's as close as I know we can get to the herd without spooking the elk; I'll let a hunter take a 300-yard shot, if he has a good rest to anchor his gun on, and I'm confident he can make the shot. Sometimes we have hunters who book a hunt well in advance, and a hunter will call me and ask, "What gun and bullets do you suggest. What scope should I purchase? And what binoculars do I need?"
Personally, I shoot a .270 caliber Winchester short magnum, because it's a flat-shooting gun. But many hunters prefer a .300 Win mag. I've always shot a .270 and have a tremendous amount of confidence in that gun and caliber. I have harvested elk out to 400 yards with this gun with a Leupold 3×9 scope (https://www.leupold.com/scopes/rifle-scopes) with 140 gram AR bullets.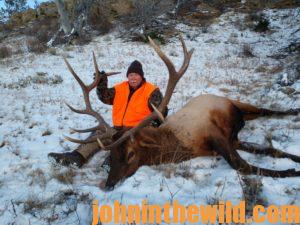 One of the strangest gun hunts I've ever had was the time my hunter set-up to shoot a bull at 150 yards with his rifle, shot nine times and never, ever, hit the bull.
He started shooting at the bull when it was 150-yards away, and the last shot was when the bull was 350-yards away. The next day this hunter and I went to another area and saw a bull leave a meadow to go into thick timber. That evening we returned and took a stand near the spot where the elk usually came out of the woods and into the meadows. When the bull moved out, I started talking to the hunter, tried to keep him as calm as possible and told him to make sure his crosshairs were steady behind the bull's shoulder. Then I whispered in his ear, "Squeeze the trigger so slowly that you won't know when the gun fired." The shot was at 280 yards, and he nailed the bull. Since this was his first elk hunt, he was as excited as any other hunter who takes his first bull.
To learn more about hunting elk successfully, check out John E. Phillips' book, "Elk: Keys to 25 Hunters' Success," available in Kindle, print and Audible versions at https://amzn.to/2IDszQk. You may have to copy and paste this click into your browser. (When you click on this book, notice on the left where Amazon allows you to read 10% of the book for free).
Tomorrow: Shannon Parsons on Elk Hunting