Editor's Note: Fifty-two year-old Shannon Parsons and his dad, 85-year-old Mike Parsons, own property in the Crazy Mountains of Montana near the town of White Sulphur Springs. The Parsons have been hunting elk and mule deer since 1978, and they have developed a very-successful method of finding and taking elk for both rifle hunters and bowhunters in their guiding business of Crow Creek Outfitters. Shannon's son, Mike is 23-years-old and will be the third generation of Parsons in the elk-guiding business. One of the reasons the Parsons have been so successful is because they pass down all the knowledge about elk hunting from one generation to the next.
Another big advantage that the Parsons have is they've hunted the same ranch (private land) for over 30 years and 100,000 acres of national forest for over 40 years. Hunting approximately 135,000 acres means they don't put heavy hunting pressure on any area. These elk are much-less spooky than the elk on public lands that receive extreme elk-hunting pressure. Besides knowing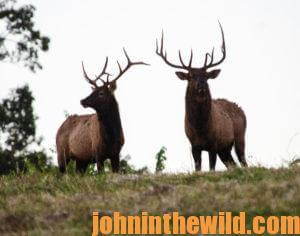 where to find the elk, and when they're most likely to show up, all the guides at Crow Creek Outfitters are very proficient in calling elk.
I learned how to set-up my hunters and how to call from my dad. I use a Primos Super Pack Bugle call (https://www.primos.com/hunting-calls/elk-calls/) that's like a grunt tube, and I use a cow-elk call that's made in Gardiner, Montana, for my cow call. The majority of the calling I do is with the cow call.
I learned to hunt and guide elk from my dad, Mike. I started out as a spotter. I'd go find bulls on the 35,000 acres of private land we hunted and the 100,000 acres of the Lewis and Clark National Forest land (https://www.fs.usda.gov/hlcnf/) that we have the concessions on (the Parsons are the only outfitters hunting that 100,000 acres). Once I spot herds, I search for the bulls and watch the direction from which the bulls leave the meadows and the agricultural fields and any other areas where they're feeding. Then I go look for the trails that the bulls take to leave their feeding area, so my dad will know where he and his hunters should set-up that afternoon to bag a bull. We've learned over the years not to pressure the bulls, and that there's a high chance that when the bulls return to feed, they'll use the same trails in the afternoon to come back to the meadows that they've left.
When I've got a bowhunter coming to camp, I try to go to the area where the elk should be before the hunt. I'm not just looking for any bull, I'm trying to find the bull that's most actively calling and that seems to be the bull most interested in finding and breeding cows. I'll notice the direction that he comes from and the type of wind direction we'll need to get close enough to the bull without his smelling us for the archer to take the shot. I've learned that the closer I can get to the elk before I start calling to him, the better the odds are for a successful bowhunt.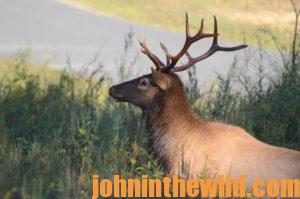 Once I've spotted a bull, and my hunter and I have gotten close enough to try and take the bull, I'll search for a place with plenty of back cover – to keep a bull from spotting the bowhunter. There also needs to be several shooting lanes where the bowhunter can take the shot if and when the bull comes to where he is. Next, we'll move back 50 or 60 yards from the hunter and start calling.
Sometimes I can see the bull I'm calling and how he's reacting to the call, but that depends on the terrain, the amount of ground covered between me and the bull, and how thick the timber is. I try to get to a calling position that allows me to see the bull before I start calling him, but many times that's not possible.
Last year, the only spot I thought my bowhunter and me had a chance at taking a bull was a place I knew I wouldn't be able to see the bull to which I was calling. However, when the bull came to my hunter, the woods were so silent I could hear the bow fire, the arrow hit the bull, and the bull go down.
Most of the elk bow shots that hunters take are within 40 yards, with the average being between 20-30 yards. The closest I've ever called in an elk to my hunter was 10 yards, and the bull was a 5×5. The furthest shot one of my bowhunters made successfully was at 50 yards. This hunter was a very-experienced bowhunter and felt certain he could make a shot at that distance. When the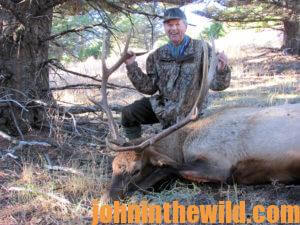 arrow hit the bull, it double-lunged him. I've called in more than 40 bulls that have been taken with bows and guided hunters to more than 100 bulls that have been taken with rifles.
During archery season, the guides and the hunters get up at 4:00 am. Then the hunters either ride in a truck or travel by horseback to where they'll hunt the elk. After they arrive where they'll leave the horses or the truck, they may have a 1/2- to a 10-mile hike to reach a spot and hopefully see a herd or locate a bugling bull. Generally we try to get the bowhunter within easy walking distance of the elk we're trying to hunt. We'll hike as much as 10 miles in a day, however, during rifle season we don't hike as far – usually only about 2-5 miles, since a rifle can shoot further. I spend most of my time glassing for elk.
Another tactic we use for bowhunters is hunting over wallows from either ground blinds or tree stands. We'll set-up stands on our private property along trails that the elk use to move in and out of the hay fields. The third technique is calling the bulls.
Before each bow elk hunt, we and our guides teach a hunter to look at the spot where he or she wants his arrows to hit and not look at the bull's horns when the elk is coming toward them. Most of the people hunting with us are seasoned bowhunters and understand how to concentrate on their shots. However, just about every season we'll have a new bowhunter who also may be a new elk hunter. I've had bowhunters so shaken up when big bulls have come in that they can't even pull their bows back to get ready for their shots. When that shot of adrenaline hits a first-time bowhunter, there's nothing a guide can do to settle that hunter down, until after the elk has been spooked. Then we go over what's happened, what should have happened and how to prevent buck fever from hitting him when he has an opportunity to arrow a bull. Once a big bull comes in bugling at 20 or 30 yards from the bowhunter, getting all shook-up and forgetting what you're supposed to do to take that bull is easy.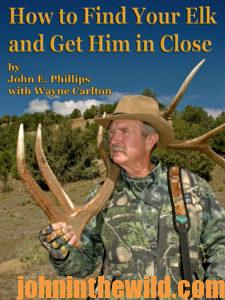 I had a first-time bow elk hunter one time out in front of me while I called a bull. My bowhunter shot under the elk. When I asked him, "What happened?" he said, "The bull was so close to me that I didn't know which pin sight to use. So, I put all the pins on the bull and released the arrow." I called in another bull for this same hunter that came in at 15 yards. My hunter took that bull that scored 340 inches. That was the biggest bull I'd ever called in for a bowhunter. The peculiar thing about this hunt and hunter was that I don't think he understood that he took a very-nice trophy bull, because he never came back and hunted with us again.
To learn more about elk hunting, check out John E. Phillips' book, "How to Find Your Elk and Get Him in Close," available in Kindle, print and Audible versions at http://amzn.to/17ENNqK.  You may have to copy and paste this click into your browser. (When you click on this book, notice on the left where Amazon allows you to read 10% of the book for free).
Tomorrow: Techniques and Tales for Elk Hunters with Rifles