Editor's Note: Pat Reeve and his wife, Nicole, are the hosts of "Driven" TV on the Outdoor Channel (https://www.drivenhunter.com/) and hunt and film all over the world. Pat and Nicole's love of turkeys goes all the way back to their childhoods. And after college, Pat caught wild turkeys, boxed them up, drove them to their new locations, released them and now hunts them. Pat Reeve explains, "The first paycheck I ever received in college was from the National Wild Turkey Federation (NWTF), that's been so instrumental in the wild turkey's recovery and growth across the U.S." Since beginning the reintroduction of 29 turkeys in Minnesota in 1973, wild turkeys today inhabit the southern half of the state with a population of 70,000.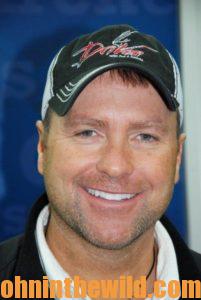 I think I was 12-years old when I first started hunting wild turkeys. The Merriam's gobbler was the native wild turkey of Minnesota. When I was a youngster, there was a huntable population of Merriam's gobblers in Minnesota. However, the Merriam's became extinct, and the Minnesota Department of Natural Resources (DNR) made an early stocking of Merriam's gobblers back in the late 70s or early 80s. I was fortunate enough to be able to hunt the first season for Merriam's gobblers that was held later in Minnesota.
The first season that Minnesota had after they had restocked Merriam's turkeys, I applied for a turkey tag and got one. Back then, very few people in Minnesota even had seen a wild turkey. I remember going to sporting-goods stores trying to find a turkey call to buy. But at that time, no one sold turkey calls, because nobody hunted turkeys. Locating a turkey call to buy in the State of Minnesota was about as likely as finding a polar bear call in Alabama. I found a magazine that had an ad for a turkey call, and that's how I bought my turkey call.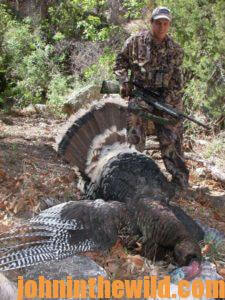 To learn about turkeys, I went to a seminar on turkey hunting that the DNR held that was required before you could even hunt Minnesota turkeys. Then I found a flock of turkeys hanging out in one area early in the morning. So, on my first official wild turkey hunt, I was sitting in the woods before daylight. I remembered from the seminar that I had to look for this thing called a beard on the turkey's chest. If I could see that beard, then I knew that was a legal turkey to shoot. What I didn't learn in that seminar was that male turkeys gobbled, and hen turkeys didn't gobble.
Just as day began to break on my first turkey hunt, this turkey gobbled. I could see him in a roost in the tree out in front of me. So, I told myself, "Okay, I've got to call to that turkey. When he jumps out of the tree and hits the ground, I'll be able to see if he has a beard. If he does, I'll shoot him." I kept calling to him. Once he spotted me, he pitched out of the tree and flew out of sight up the river. I reasoned, "Well, that had to be a hen, because that turkey didn't come to my call."
I got up, put up my turkey call, gathered up my gun and started up the river bank. I hiked about 2 miles up the river and ran into a farmer who asked me what I was doing. I told him I was hunting turkeys. "I've seen some turkeys up here, and they usually hang out on a little spot on that ridge. You might want to go up there and hang out," the farmer said. So, I went to where the farmer directed me and sat down. Every now and then, I'd make a call. Nothing was really happening. But then, out of the side of my eye, I saw a turkey 5 yards from me, looking straight at me. I knew not to move my head, but I turned my eyeballs that way. When the turkey turned sideways, I saw he had a beard. He moved out in front of me, and I could see that he had a really-big red head. Of course back then, I didn't know that gobblers had red heads. When the tom wasn't looking, I grabbed my gun out of my lap, brought it to my shoulder and fired all in one motion. I killed that turkey.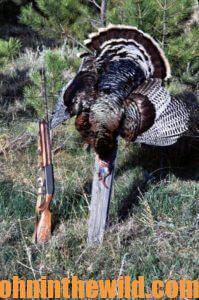 As soon as I killed the turkey, I went straight to the newspaper office and showed them the turkey I had killed. That was big news in our town. When that picture came out with me holding that turkey up in the newspaper, I was an instant hero. Everybody came to talk to me about how I had killed that turkey. I took that turkey either in 1984 or 1985.
Because I've seen the work done by the NWTF through the years in helping to provide more turkeys for all of us to hunt, I strongly recommend that you join the NWTF (http://www.nwtf.org). That's where you can learn so much more about turkey hunting from the information the organization has available.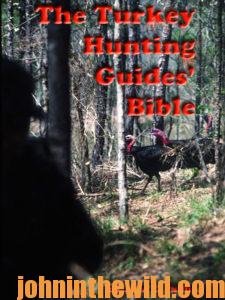 To learn more about turkey hunting, check out John E. Phillips's book, "The Turkey Hunting Guides' Bible," at https://www.amazon.com/gp/product/B01ITWYY2K/ref=dbs_a_def_rwt_hsch_vapi_taft_p2_i11and available in Kindle, print and Audible versions. You may have to cut and paste this link into your browser. (When you click on this book, notice on the left where Amazon says you can read 10% of this book for free and hear 10% for free).
Tomorrow: Pat Reeve Helps Restock Wild Turkeys in Minnesota