Editor's Note: Pat Reeve and his wife, Nicole, are the hosts of "Driven" TV on the Outdoor Channel (https://www.drivenhunter.com/) and hunt and film all over the world. Pat and Nicole's love of turkeys goes all the way back to their childhoods. And after college, Pat caught wild turkeys, boxed them up, drove them to their new locations, released them and now hunts them. Pat Reeve explains, "The first paycheck I ever received in college was from the National Wild Turkey Federation (NWTF), that's been so instrumental in the wild turkey's recovery and growth across the U.S." Since beginning the reintroduction of 29 turkeys in Minnesota in 1973, wild turkeys today inhabit the southern half of the state with a population of 70,000.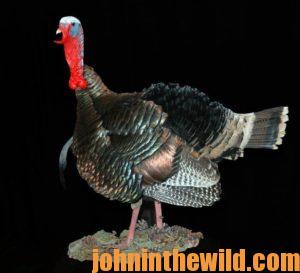 I've hunted turkeys most of my life. I've guided, videoed someone else hunting turkeys or hunted turkeys for my own pleasure. But, here's the big thing turkey hunting does for me. It gives me an excuse to be out in the woods during the spring and be able to hunt. I've often been asked, "Pat, what has caused you to become so obsessed with hunting turkeys?" I've been around turkeys my entire life. I've made a part-time living trapping turkeys, relocating turkeys and releasing turkeys. Then, after college, I made a living guiding for deer and turkeys. When I guided for H.S. Strut, I made a living photographing hunters, photographing turkey hunts and being on camera hunting turkeys. Now that Nicole and I have our "Driven" TV show, I'm hunting and filming turkeys for that show. Another reason I've been bitten by the turkey bug is the long and short of my life – I love being out in the woods. So, since turkey season occurs in the spring, I've got another reason to be out in the woods where I love to be.
I remember the first time I went hunting for spring turkeys. I was walking around in the woods during the spring with a gun in my hand, and it felt like I was doing something illegal. Because up until that time, when deer season was over, hunting season ended. So, even though I knew I was legally hunting, because I never had been able to hunt in the spring before, I kind of felt like I was doing something illegal. Remember spring hunting had been completely off-limits all my life until that point.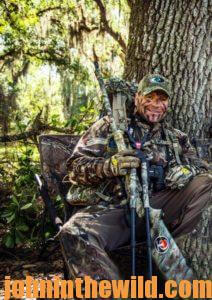 I learned so much the first time I went turkey hunting. But while hunting with legendary turkey hunters like my friends, Eddie Salter and Matt Morrett, I truly learned the fine-points of how to hunt turkeys. They taught me how to be much-more aggressive than I ever was before. They made me a better hunter. Also, having the opportunity to film turkey hunts really increased my knowledge of turkeys – what they did, and why they did it. It taught me when I could move and couldn't move. I learned how and where to set-up on turkeys. But most importantly, I learned how to read a turkey. Understanding the body language of a turkey and learning what he's planning to do before he does it is one of those fine points of turkey hunting that I learned when I was hunting and filming for Hunters Specialties.
I'm often asked, "What's your favorite turkey hunt?" Every turkey season I seem to have a new favorite turkey hunt. But the year I took my then 9-year-old daughter, Isabelle, hunting with me was very special. We were fortunate to call in a really-big longbeard. I relived all the emotions I felt when I went on my first turkey hunt. As I watched Isabelle get nervous, and the end of her gun barrel move around and go in circles, I remembered how nervous and excited I was when I saw my first wild turkey gobbler so many years ago. I still get a shot of adrenaline every time I call to a wild turkey, and he answers and starts getting closer to me. Then finally I get to watch him strut and drum. Being there with Isabelle to relive those moments from my first hunt was really fantastic. Watching Isabelle make a perfect shot made me feel that my life and my hunting had come full circle, from the time when I first started turkey hunting to bringing the joy and the excitement I felt to one of my children. Now my children have bagged wild turkeys and are hooked for life on turkey hunting.
When I take one of my children or another young person turkey hunting, I always want to make turkey hunting a positive experience for them. I do everything I can to make sure they have fun. I don't take youngsters out to hunt in inclement weather – when it's cold or rainy or when we're won't have a good opportunity to see a turkey. I try to make sure that I've scouted enough to have some gobblers roosted. Then, I know where to set-up, and that we have a good chance of at least hearing, seeing and possibly taking a gobbler.
Many times, when I'm taking a youngster turkey hunting, I'll use portable blinds to be mobile and stay better concealed. Youngsters don't know how and when to move when a turkey is coming, and a blind drastically reduces the chances of spooking a gobbler before the youngster can see the bird or possibly take the bird.
When I'm taking a youngster turkey hunting, I generally use a 20 gauge shotgun with a short stock to fit a young hunter better. I put an extra pull choke in the barrel, and I've got a really-nice recoil pad on the butt of the gun. Although a 20 gauge has very little recoil, I want to reduce the recoil as much as possible for the youngster. I'll also take a shooting system with me, so the youngster can rest his or her gun in that shooting system. The gun is as steady as it will be on a tripod to prevent the youngster from having to hold the gun at the ready position for a long time. Then I get behind the shooter and the gun. I help steer the gun. Then when we're ready to shoot, I know that the sight is on the neck and head area of the gobbler. To increase the youngster's ability to aim, I've mounted a turkey scope 1.5×4 on the 20 gauge. On the inside of the scope, the youngster can see a circle reticle with a crosshair in the circle. Then when the youngster sees the head and neck area of the turkey in that reticle, all he or she has to do is squeeze the trigger to make a clean kill. So far, we've had zero misses with that gun out to 40 yards.
To learn more about turkey hunting, check out John E. Phillips's latest Audible book, "PhD Gobblers: How to Hunt the Smartest Turkeys in the World," Revised Edition at https://www.amazon.com/PhD-Gobblers-Smartest-Turkeys-World-ebook/dp/B083V83RLG, available in Kindle, print and Audible. You may have to cut and paste this link into your browser. (When you click on this book, notice on the left where Amazon says you can read 10% of this book for free and hear 10% for free).