Editor's Note: With turkey-hunting season starting March 6, 2021, in Florida, March 15 in Mississippi, and March 20, 2021 in other southern states and continuing in South Carolina until May 10, Texas until May 16, and many northern states like New York and Minnesota and western states such as Washington, Wyoming and South Dakota until May 31, 2021, you need to get ready for turkey season now. The key to taking a gobbler is not your calling ability, your camo, the power of your shotgun or the number of turkeys on the property. To bag the toughest toms, you must know what a turkey is planning to do before he does it. One of the greatest turkey hunters who ever lived was "Uncle Roy" Moorer of Evergreen, Alabama. When I met Uncle Roy many years ago before he passed away, he gave me the secret to bagging even the toughest of toms. "All you've got to do to take any turkey, no matter how tough he is to hunt, is know where that turkey wants to go, get there before he does and let him come to you." Uncle Roy's nephew told me, "The reason Uncle Roy has been able to bag over 500 turkeys in his lifetime was because he always knew what a turkey would do even before the bird knew." To take tough toms, you've got to understand the mind of the turkey.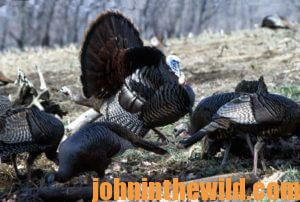 Preston Pittman of Pickens, Mississippi, not only can think and talk like a turkey, most sportsmen who know him agree he even looks like a turkey. To learn more, visit Preston's Facebook page at https://www.facebook.com/pittmangamecalls/about. The creator of Pittman Game Calls, Pittman has developed three tactics for pulling in henned-up gobblers.
"The one technique that is talked about more than any other when you're attempting to take a tom with hens is to call aggressively by yelping, cutting and cackling loudly to the hen to try and get the dominant hen to pull the rest of the hens and the gobbler in the flock to you," Pittman says. "However aggressively that hen calls to me, I'll call more aggressively and louder back to her.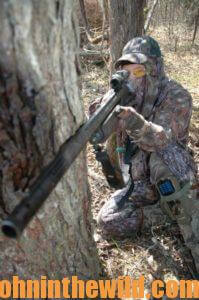 "Another method is just the opposite of aggressive calling but seems to work better when you're hunting an area where the turkeys have had a lot of pressure. When I know a gobbler is with hens in a high-pressured region, I'll often give what I call sweet talk, which is very calm, quiet purring and soft yelping. Too, I'll scratch in the leaves with my hand. I'm trying to tell the dominant hen and the other turkeys in the flock with the gobbler that another hen is in the area, the feed is good, and the region is safe and secure. I'm asking them why don't they come over and socialize. Turkeys are basically social birds. Many times letting a tom with hens know you're in a place can be much-more effective in luring him to you than aggressively calling to the hen.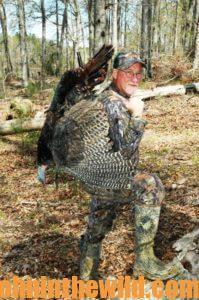 "The third strategy for reaching a henned-up gobbler is to forget about the hens altogether, speak directly to the gobbler and challenge him for his authority. I'll give some cutting sounds of the hen and gobble just as I finish the cutting. But be careful when you use this tactic because if there are other hunters in the woods, they are listening for that gobble. Only use this method when you can see very well, or when you are hunting on private lands. Many times when you challenge a tom by gobbling to him, and you make him think you're about to breed one of his hens, he can't stand the pressure and will come running at you. These three tactics have worked best for me when I find a gobbler with hens."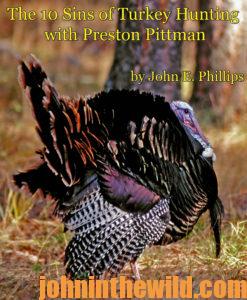 To learn more about turkey hunting, check out John E. Phillips's book "The 10 Sins of Turkey Hunting with Preston Pittman" at http://amzn.to/14BdFMY, available in the Kindle version. You may have to cut and paste this link into your browser.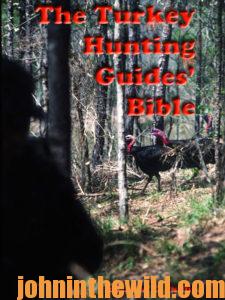 To learn more about turkey hunting, check out John E. Phillips's book, "The Turkey Hunting Guides' Bible," at https://www.amazon.com/gp/product/B01ITWYY2K/ref=dbs_a_def_rwt_hsch_vapi_taft_p2_i11and available in Kindle, print and Audible versions. You may have to cut and paste this link into your browser. (When you click on this book, notice on the left where Amazon says you can read 10% of this book for free and hear 10% for free).
Tomorrow: High-Pressured Turkeys with Allen Jenkins and David Hale