Editor's Note: With turkey-hunting season starting March 6, 2021, in Florida, March 15 in Mississippi, and March 20, 2021 in other southern states and continuing in South Carolina until May 10, Texas until May 16, and many northern states like New York and Minnesota and western states such as Washington, Wyoming and South Dakota until May 31, 2021, you need to get ready for turkey season now. The key to taking a gobbler is not your calling ability, your camo, the power of your shotgun or the number of turkeys on the property. To bag the toughest toms, you must know what a turkey is planning to do before he does it. One of the greatest turkey hunters who ever lived was "Uncle Roy" Moorer of Evergreen, Alabama. When I met Uncle Roy many years ago before he passed away, he gave me the secret to bagging even the toughest of toms. "All you've got to do to take any turkey, no matter how tough he is to hunt, is know where that turkey wants to go, get there before he does and let him come to you." Uncle Roy's nephew told me, "The reason Uncle Roy has been able to bag over 500 turkeys in his lifetime was because he always knew what a turkey would do even before the bird knew." To take tough toms, you've got to understand the mind of the turkey.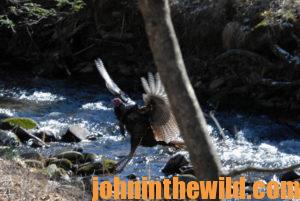 When a turkey is across a river too deep to wade, you don't have a boat to paddle, and the river is too swift to swim, convincing that gobbler to swim or fly across the river can be a real challenge.
But national-known turkey hunter Paul Butski of Scio, New York, with GSM Outdoors (https://www.gsmoutdoors.com/) explains, "Probably your chances are one in 10 that you can call that turkey. I know I have before. "To make that longbeard fly across the river, you must convince him there's more excitement on your side of the bank than on his side. So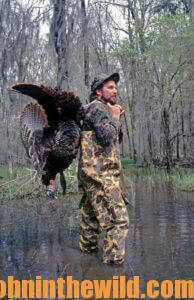 I do a lot of cutting, cackling and excited yelping. I use box calls, slate calls and diaphragm calls to try and sound like three or four hens are on my side of the bank that want to get bred. I give very demanding calls as if to say, 'Okay, ole boy, I know you're over there. However, we hens are over here. If you come to where we are, we'll have a party. But we're not going to fly to where you are. Often you'll have to keep this calling up for a long time to get an ole gobbler to budge. Remember, as long as the turkey is gobbling, you've still got a chance to call him to you – even if he's across a river."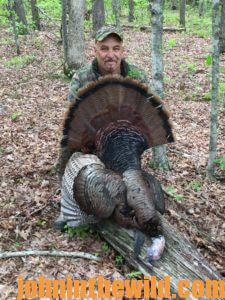 For more information, visit Butski's Facebook page at https://www.facebook.com/Originalturkeythug/).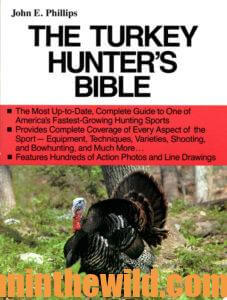 To learn more about turkey hunting, check out John E. Phillips's book "The Turkey Hunter's Bible," available in print, Kindle and Audible versions at https://www.amazon.com/gp/product/B007HT1IUS/ref=dbs_a_def_rwt_hsch_vapi_taft_p1_i7. You may have to cut and paste this link into your browser. (When you click on this book, notice on the left where Amazon says you can read 10% of this book for free and hear 10% for free). To learn more about other turkey books by John E. Phillips, go to www.amazon.com/author/johnephillips.
Tomorrow: Hung-Up Turkeys with Larry Norton