Editor's Note: Many deer hunters today are exploring shooting muzzleloaders like their ancestors did to hunt deer. You need to check the state's regulations where you plan to hunt, because the rules vary from state to state. Some states offer muzzleloading-only seasons or allow muzzleloading during their primitive weapons' seasons. Some states that don't allow muzzleloading still may allow muzzleloading for various big-game species on specific WMAs. Some states have specific rules governing the use of pelletized powders, scopes, 209 primers, sabot and enclosed ignition. Arizona is considered one of the most relaxed states for muzzleloading laws. Consider muzzleloader hunting for deer to enjoy yet another facet of the outdoors.
This ultimate woodsman (see Day 2) will not be found in wide-open spaces and the easy-to-hunt regions. He probably won't be seen during the daylight hours. This woodsman will have scouted his area and found the thickest cov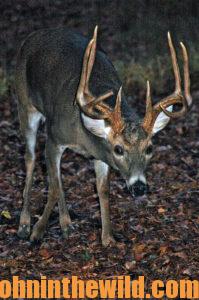 er he can locate where he plans to hunt. He will go into the woods before daylight, move into the heavy cover and find an opening that may only be 10-20 yards wide. He will be in the thicket as the sun rises, because at that point when the other hunters first come into the woods is when the big bucks will begin to move into the thickets from their feeding grounds. This woodsman may not be carrying one of the longer rifles that many blackpowder shooters employ. He may be carrying a much-shorter-barreled rifle. In close cover, he may not be able to swing and maneuver a long-barreled rifle as easily as he can a shorter-barreled one. This woodsman will be camouflaged from head to toe and be very conscious of being as odor-free as possible and using a masking scent. He realizes his antler encounter may come at a much-closer range than most hunters will experience that day.
One successful blackpowder hunter is my friend Thurmond, who hunts thick cover. He says, "The deer will most often move just at daylight, during the 11:00 am to 1:30 pm lunch break and the last 15 minutes before dark. These are the times of day when hunter pressure is the greatest, and the smart bucks require the heaviest cover for maximum protection." Thurmond also agrees with other ultimate woodsmen that, "The later in the season you hunt, the better the thickets are for producing trophy bucks. I believe a deer can tell in the late season where the hunters will be, and how much pressure will be exerted on the woods where he lives. So to survive, I think this buck knows he must feed at night and hole-up in the heavy cover during the daylight hours. That's why I move into the thickets to try and bag a better buck."
To learn more about hunting deer, check out John E. Phillips' book, "How to Hunt Deer Like a Pro," available in Kindle, Print and Audible versions, at (http://amzn.to/YpoQHA).
Tomorrow: Escape Routes for Deer – Wher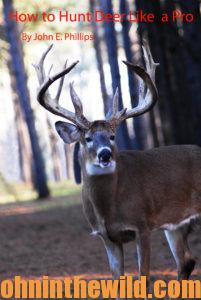 e They Are and How to Hunt Them