Editor's Note: The fastest-growing segment of the outdoors industry is women. In the last 25 years, there have been numerous women who have blazed the trails for careers in the out of doors. Last week and this week, I'm highlighting 14 of these inspiring ladies from my newest book, "Outdoor Women's Hall of Fame – Premier Edition," available at http://amzn.to/2AlVYJE. They are living their dreams as outdoor professionals. 
Tes Jolly Is an Award-Winning Photographer
Tes Randle Jolly of Tuskegee, Alabama, not only shoots award-winning photography but also has received awards for her outdoor writing and her tireless work for various outdoor nonprofits. Tes has served too as an instructor for Becoming an Outdoor Woman courses for the past 25 years. Hunting since she was 9 or 10 years old with her dad, she also was a guide at White Oak Plantation (www.whiteoakplantationbr.com) for 4 years where she met a number of outdoor writers and wildlife photographers. She's been an outdoor writer for 16 years, and she admits to always having had a, "photography bug." She's been a professional photographer for the past 20 years. Her photography has appeared on more than 100 covers in the outdoor industry.
How Tes Became an Outdoor Photographer and How She Shoots Today:
"Up until 18-years ago, I was a greyhound breeder and trainer, and I was a medical lab technician when I graduated from school," Tes explains. "My husband, Ron Jolly, was working for Primos Game Calls (www.primos.com) in 1995. I went to the National Wild Turkey Federation's (NWTF) Convention in Atlanta, Georgia, met Ron and later, we married. Ron taught me how to operate a video camera, and we started our own outdoor video and photography business.
"One of my major mentors in those early days was a photographer named Paul Brown from Mississippi. He was a friend of Ron's, and he did a lot of work for Primos Game Calls. Brown gave me some very-good mentoring advice, and I'll be forever grateful to him. The writers and photographers I met at White Oak Plantation when I guided there, and the mentoring I received from Paul Brown truly influenced me and gave me the confidence and inspiration I needed to switch careers and dive headlong into the outdoor writing and photography business.
"I had been in the business of raising, training and selling greyhounds for race tracks for 20 years with my parents. When they decided to retire, I put all my energy into writing and photography. I'm convinced that getting to know people in the outdoor industry, especially in the area I wanted pursue, was very critical to my success. The mentoring is where I learned the finer points of shooting photography and being able to sell photography. I think those two introductions to the outdoor industry have been critical not only for my success but also will be very important to any other woman who wants to have a career in the outdoors.
"One of the things I also learned early in my writing career was that if I had good photography support for my articles, getting assignments to sell magazine articles was much easier. Editors of magazines were looking for a complete package that included not only the story, but also the photos needed to support the story.
"I've found what I believe to be a unique niche in the outdoor writing and photography business of photographing the wild turkey and its habits and making observations in the field. Also studying and learning how to manage the land to support more wild turkeys has been another area that I write about and enjoy. The same is true of the white-tailed deer. Thankfully, Ron and I have a farm that we mange for whitetails, turkeys and other wildlife. On our farm, I have some really good places to observe wildlife, photograph wildlife and make observations to write about those two species in particular.
"Our farm is 210 acres located in Macon County, Ala. We've always managed our farm for wildlife and planted green fields. We have pine plantations on our farm – not for income as much as they're to provide habitat for deer and turkeys. We love to hunt, and we hunt on our property too. But Ron and I are both more about the hunt than it is about taking the game. As a photographer, I have to use all my hunting skills to get close enough to wildlife to shoot photographs that I can sell. Don't get me wrong. We love to eat wild turkey and venison. However, our long-term objective is to leave this world better off than it was when we first came into it. We put out mineral sites, and we try to keep hunting pressure to a minimum on the farm. Being able to set-up photo blinds close to the house that I can get into and photograph deer in the velvet has taken quite a few years. But once I finally have accomplished that feat, I've really enjoyed being able to walk to a blind before daylight or before dark and photograph deer and turkeys. Then I only have a short walk back to the house.
"I'm often asked, 'How do you keep wildlife on your property and are able to hunt them as well as photograph them?' The answer is that deer, turkeys and other wildlife will move to and stay near where they have plenty of food, water and very-little hunting pressure. So, that's what we try to provide on our farm. Even though we provide everything that our animals need and want, they're not always going to stay on our property. They go wherever they want to go. At certain times of the year, our neighbors may have some type of food that the deer and turkeys want more than the food on our property. However, just before deer season, we get a good push of new deer coming onto our farm to feed on acorns, wild persimmons and our early food plots. We plant early food plots to pull in deer for that specific time of year, but those food plots are only temporary. Over the years, I've learned when deer really want to come to our land, we try then to make everything as comfortable, and the food as appetizing as it can be. Then I'll have plenty of animals to photograph at different phases of the year.
"At certain times of the year, I can set my watch as to when the turkeys will show up. On those days, I want to be at home, get in my blind before daylight and shoot pictures until about 9:00 or 10:00 am. Then I'll return to the blind for the last 2-3 hours of daylight when the deer and the turkeys are the most visible. So, when the photo opportunities are good at home, I'll be in my blind with my camera shooting pictures."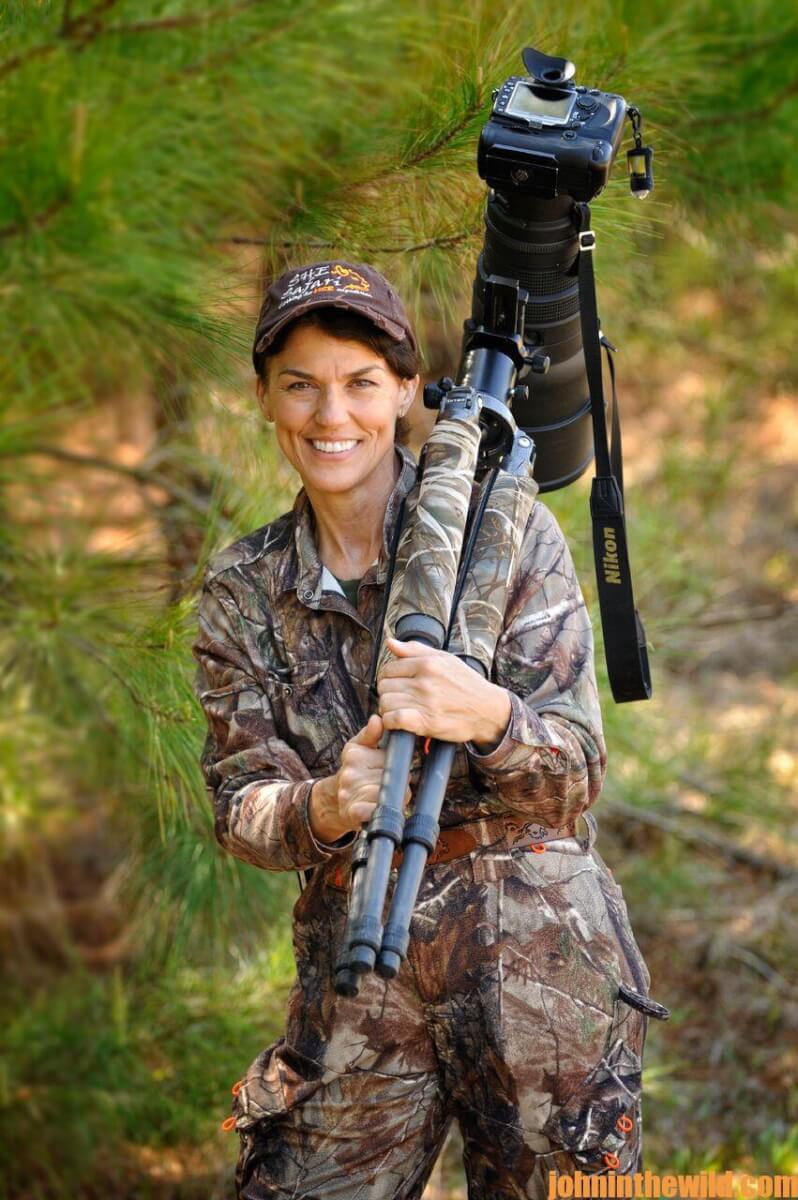 Why I Shoot Photography:
"I'm often asked, 'Why are you so into wildlife photography?' The answer is simple. Photographing animals in the wild puts me in touch with God. I have a Native American heritage. Photographing animals in the woods is a religious experience for me. I have Native American heritage on both sides of my family. My great, great grandmother on my mother's side was a full-blooded Algonquin Cree. I'm the happiest when I'm in the outdoors. I think there's something in my DNA that takes over when I'm in the wild. I have a real need to be close to wildlife and capture them with my camera. I feel very fortunate that I've been able to transition into a career in the outdoors these last 20 years that I thoroughly enjoy.
"I like to photograph animal behavior that most people never see. For instance, I just did a gallery for Realtree camouflage (https://www.realtree.com/) for their online web information. I tried to document the different activities that take place in one day of a turkey's life. So, I included pictures of wing stretching and dusting. I also created terms for the different behaviors I saw that I'd never seen before. One thing I observed and photographed was a gobbler squatting under a tree on the edge of a field, waiting for the hens to leave their nest and come out in the field to feed, so he could strut for them. I've discovered that when you live in an animal's world, you never stop learning new things that you see animals do. I don't believe anyone knows everything they need to know about wildlife.
"One of the advantages of having a camera that can shoot 8 to 10 frames per second is that I can photograph every inch of a wing flap sequence when a turkey is stretching its wings and flapping them. I also can capture the most-minute details of a wild turkey gobbler's head as he starts gobbling and finishes his gobble. One of the things I've noticed that most people never spot is that a male turkey opens his beak really wide and takes a deep breath just before he gobbles. So, catching those little moments that most people never see or notice are some of the advantages I have by using digital photography."
What's the Difference Between Professional and Amateur Wildlife Photographers:
"The difference between a professional wildlife photographer and an amateur wildlife photographer is the amount of time both photographers spend in the field, and the number of photos they shoot," Tes says. "Galen Rowell, a famous landscape photographer who died in a plane crash, had a famous quote of, 'Be there.' With all the new innovations in cell phones and cell-phone cameras, everybody is a photographer. The market for freelance photography has gotten more difficult than it has been in the past, because of the volume of photos available through stock-photo agencies. But one of the things that has saved professional wildlife photography is that a professional will, 'Be there.' If a professional has to hike 5 miles to get a unique photograph, if he or she has to stand in the pouring rain to photograph how deer and turkeys react to the rain, he'll go into the woods before daylight and come out of the woods after dark. He'll take many-more photos on every trip than an amateur will – hoping to get that special photo and capture that one moment in an animal's life that maybe no one ever has seen previously.
"I think the other element required to be a professional photographer is that you have to discover your niche – your place in the entire big world of photography where you fit in, and that's where you can make unusual, beautiful, crisp, sharp pictures that may have been overlooked by other photographers. When you can pinpoint a type of photography that you're really good at and concentrate on that particular kind of photography, that's where you can have the greatest impact. Then you have to find a market to sell that photography to and a market that will pay you a fair price for the pictures you take. When you locate good clients who will pay fair prices for your work, that's the most-rewarding part about being a wildlife photographer.
"People often ask, 'How do you find clients who will pay fair prices for the photos you shoot?' You have to study magazines and learn who the editor and the photo editor are for that magazine. Define the type of photography they're buying, and try to shoot that kind of photography. You need to meet the photo editor in person, on the phone or through email. Then ask him or her if you can submit some photos for his consideration. Every year a new 'Photographer's Market' book, available from Amazon, is published that you can study to see who's looking for what type of photography, what someone's willing to pay, and what you have to do to submit photos. 'Photographer's Market' has been a critical tool for me, especially when I first began my wildlife-photography business. The magazines and companies that are in that book usually specify if they like to buy freelance photography, and what their pay range is. I think buying a copy of 'Photographer's Market' every year is worthwhile, or at least when you're first starting out to sell your photography.
"Another way that you find markets for your work is go to outdoor trade shows and join writer/photographer associations like the Southeastern Outdoor Press Association (SEOPA) Professional Outdoor Media Association (POMA) (http://professionaloutdoormedia.org/), Outdoor Writers Association of America (OWAA) (http://owaa.org/) and other regional and national outdoor-media associations. Go to their conventions. Those organizations have all been a tremendous help to me, because they've put me in touch with editors and manufacturers who buy photography. I believe that anyone who wants to make a career as an outdoor writer/photographer needs to join those organizations and attend trade shows, conservation organizations' shows and conventions."
How to Become a Wildlife Photographer:
"The first and most-important step that people who want to have careers as outdoor photographers need to take and understand is that they need to have good jobs, because they'll have to invest a lot of money to get the equipment they need," Tes emphasizes. "They'll need time also to get the experience they must have to shoot the kind of photos that sell. They'll also need to find a photography mentor who can help them reach their dreams.
"I'm a self-taught photographer. I didn't go to school for photography, but I had several mentors who could tell me or teach me anything I wanted to know. I studied online tutorials, went to seminars and read books on wildlife photography. I'd also strongly recommend that you find another photographer who shoots the same brand of cameras that you shoot. You can learn from them how to better work with your equipment and shoot better photos. Then shoot all the pictures you possibly can shoot of everything.
"My favorite and famous phrase is, 'I photograph everything that can stand still.' I don't really care about photographing people, unless they're in outdoor situations. I'm more or less a grab shooter, meaning I grab photos wherever or whenever I can. Rather than spending time trying to create the prefect picture, I prefer to shoot my camera as things are happening. I don't like to say, 'Okay, you folks sit over here. I want you to be looking over there, and I want you to pretend you're doing this.' Like all photographers, I have to do that sometimes, but that's not really the type of photography that cranks my engine. I like photographing wildlife and grabbing shots in hunting and fishing situations."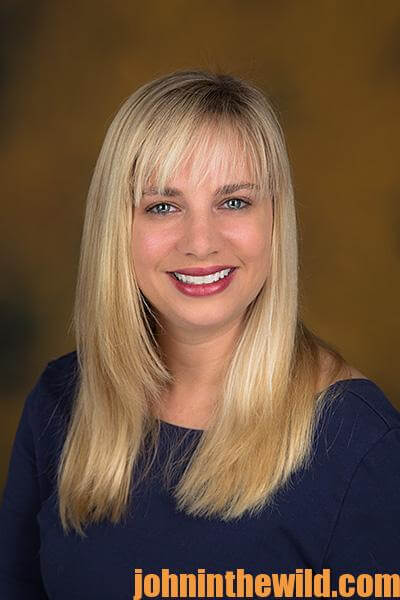 Karen Lee Davis Becomes a Strong Advocate Communicating Hunting and the Outdoors after Being a Non-Hunter
Karen Lee Davis of Johnson, South Carolina, a former non-hunter, has hunted all across the U.S. and Africa. She started with the National Wild Turkey Federation (NWTF) – first as editor of the "Women in the Outdoors" magazine. Then she helped launch "Wheelin' Sportsmen" magazine and edited "Turkey Country" magazine – all for the NWTF. Later Karen became the NWTF's Director of Communications and finally a vice president of the NWTF. Today she's the Senior Director of Communications for Hope for the Warriors organization.
"I wasn't really against hunting. I just never had done it," Karen says. Today Karen has taken three white-tailed deer – one with a rifle, one with a compound bow and one with a crossbow. She's taken four species of wild turkeys and doves and quail. She's been to Africa and hunted plains game, including a blue wildebeest, a springbok and an impala and has hunted sea ducks off the coast of Maine. But Karen's greatest contribution to the outdoors and outdoor women has been in her role as head of communications with the National Wild Turkey Federation (NWTF) (www.nwtf.org). Many powerful women in the outdoor industry have taken different routes to find success and leadership roles in the world of the outdoors. But few have served as head of communications or played such an active role as Karen has with this nonprofit and with so many writers and manufacturers. This once anti-hunter has become one of the strongest advocates for conservation and hunting in the outdoor industry.
"In middle school and high school, I was pretty much an anti-hunter," Karen reports. "I never thought people who hunted were bad. I just never saw myself participating in hunting. The biggest problem I had with hunting was that I didn't understand the role that hunters played in conservation and helping wildlife. My opinions were molded by what I saw on TV, stereotypes of hunters and a poor perception of the sport.
"During my formative years, I grew up in a family of non-hunters. I didn't know anyone who hunted. When I went to college at Samford University in Birmingham, Alabama, I earned a degree in biology with a minor in journalism. While I was in college, I began to consider the possibility of working in some type of media. I dreamed of possibly being a writer or a photographer for 'National Geographic,' traveling to remote places all around the world and shooting beautiful pictures. Like many college students, I had an underlying calling to make a difference in the world, but I saw my role as possibly working for a nonprofit organization. To help fulfill that dream, I did a newsletter for the Birmingham chapter of the Sierra Club while I was in college. I also volunteered at the Birmingham Botanical Gardens, Alabama's largest living museum with more than 10,000 different plants in its living collections."
How Karen Got into the Outdoor Industry: 
"I landed an internship with outdoor writer and author John E. Phillips, and I began to learn the role that hunters played in wildlife conservation and wildlife management," Karen remembers. "I had heard about Mr. Phillips while in college, and I had talked with some of the interns who had worked with him. So, for 2-3 years, I started learning and understanding more about the role that hunters played in wildlife management, conservation and reestablishing wildlife in areas where native animals had been depleted completely.
"I'd always been open to learn, grow and meet new people. So when the Shooting, Hunting & Outdoor Trade (SHOT) Show came to nearby Atlanta, Georgia, Mr. Phillips told me, 'This will be a great opportunity for you to see the outdoor industry, network with outdoor people and learn more about the hunting industry.' I put on my best clothes and drove from Birmingham to Atlanta to attend the SHOT Show, and I found it to be a tremendous experience. I'm still friends with many of the people I met at that first SHOT show 20-years ago, and I still work with many of them today.
"Prior to the SHOT Show, I'd met Mark Thomas who worked for American Cyanamid Company – a chemical company that sold its products to the forest industry. At the SHOT Show, Mark and I reconnected and discussed the possibility of my becoming an intern for him and Cyanamid once I graduated. This was a big change for American Cyanamid. Most of their interns were sales people who worked in the field to get a working knowledge of their products. I was the only intern they had hired that had a journalism minor in college and an internship with an outdoor writer. Working with Mark Thomas gave me the opportunity to meet and get to know many of the nonprofit conservation organizations in the outdoor industry. I met folks from Ducks Unlimited (http://www.ducks.org/), the National Wild Turkey Federation (NWTF) and many other conservation organizations. My internship with American Cyanamid only lasted 3 months, because I knew I didn't want to go into chemical sales and move from Alabama to New Jersey.
"I flew to Sioux Falls, South Dakota, to the Outdoor Writers Association of America's (OWAA) (http://owaa.org) annual convention. Mark Thomas was there for a little while; but for the most part, I was at the convention by myself. I was 21-years old, and I met a lot of people. I went to many conferences and learned more about what outdoor writers did and how they fit into the overall outdoor industry.
"On the plane ride out to South Dakota, I met some people from the NWTF. Throughout the conference, I'd visit with those different people from the NWTF, and I met Tammy Sapp – head of communications for the NWTF at that time. I remember Tammy calling me in my hotel room at the conference and saying, "Why don't we have coffee sometime during the conference?" I was so excited to hear from someone who wanted to be my friend. Tammy set-up the time and place for us to have coffee. When I went to meet with Tammy, several people were sitting in a semicircle, and I said to myself, 'Oh, gosh, this looks like I'm going to be interviewed for something.'
"The people in the room asked me many questions. Not only was Tammy there, but one of the NWTF video producers was too and Rob Keck, CEO of the NWTF. Then I finally understood that they were interviewing me for a public-relations position for the NWTF. I thought that was really strange, because I'm an introverted type of person. I finally explained that I really wasn't interested in public relations. I was really interested in working with the print media. I decided that the best thing I could do in this interview was to answer honestly, because I probably would never see these people again.
"After the conference, I flew back home. I didn't get the PR job, but a couple of months later Tammy Sapp called and said, 'We've decided to launch a new magazine strictly for women in the outdoors here at the NWTF. Would this be something in which you'd be interested?' I was dumb enough to say, 'Sure.' I never had edited a magazine in my life, but I wasn't going to let my lack of experience cause me to pass-up an opportunity to launch a magazine strictly for women. Luckily, when I arrived at the NWTF, I had many great people help me learn what I needed to know. That's how my career with the NWTF began."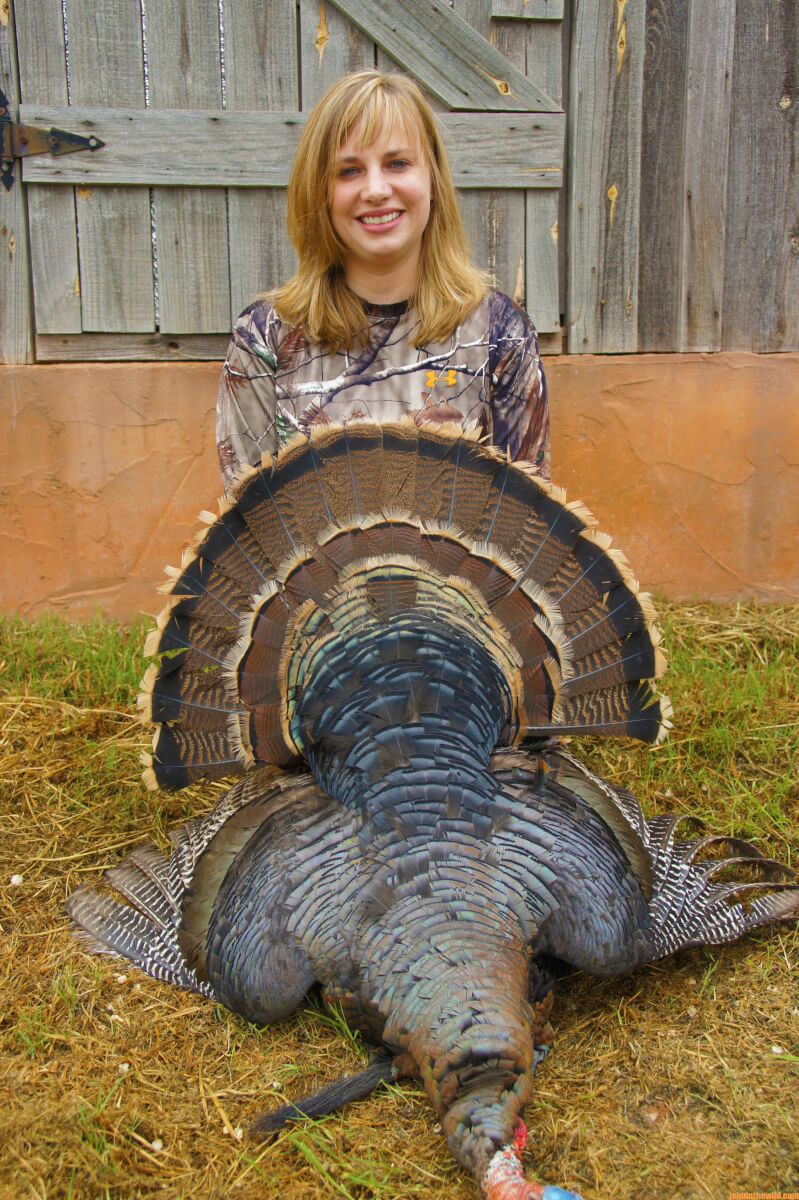 How Karen Worked with the NWTF:
"My first job was editor of the 'Women in the Outdoors' magazine. A couple of years later, I helped launch 'Wheelin' Sportsmen' magazine for sportsmen and women with disabilities, and I worked with those two magazines for 9 years. Then the NWTF decided to consolidate all of its magazines into one – a magazine for the adult membership called 'Turkey Country,' and I became the editor. All the editorial staff from the two magazines that I had been editor of came onboard the 'Turkey Country' title. At that point, I was co-editor and chief, and I continued to take on more responsibility for the editorial side of the NWTF.
"Next I was asked to also be responsible for the graphics team of the print media. I managed the graphics team and also the photography being used in the magazine. We had a lot of changes in staff, and I was the one constant person who was responsible for all the phases of editorial. I was getting tons of experience, but I also had that institutional knowledge that kept pushing me forward. I never was grabbing much opportunity. I just was asked to take care of more and more responsibilities.
"Over the course of 3 years, I became Director of Communications of the NWTF, a position that included all the print media, all digital media, all the Eblasts and E-newsletters, as well as, public relations, the three TV shows that NWTF had, the national NWTF Convention and the sports shows that we attended. I also managed all of our celebrity spokespeople and a staff of about 20- fulltime people. In the last 2 years that I worked for the NWTF, I was a vice president.
"Later, I learned that one of the reasons I was hired initially for the 'Women in the Outdoors' magazine was because the NWTF wanted a person who was on the same journey as many women in the outdoors. I was learning about hunting in the outdoors and conservation, much like what many of our women readers were learning. I was going on the same journey into the outdoors as the readers I served. I quickly learned what conservation meant to the outdoors, and where the funding for conservation came from – for the most part from hunters. When I understood the business behind conservation, my perspective on hunting changed drastically. Learning that hunters played the biggest role in wildlife conservation really helped me see how important conservation organizations were for wildlife today and for wildlife in the future. Working for the NWTF became my livelihood and the lifestyle for my family and me."
What Karen's Doing Now:
"My husband C.J. Davis and I have been married for 12 years," Karen says. "C.J. was more immersed into hunting than I was when we first met. C.J started out in the outdoor industry working for the NWTF and then worked for Mossy Oak camouflage (www.mossyoak.com). Next he worked with the Quality Deer Management Association (QDMA) (www.qdma.com), and then Chevalier Advertising, primarily its Nikon Optics (http://www.nikonsportoptics.com/) account. Currently, he's the president of Montana Decoys (https://www.montanadecoy.com/). So as a family, we're totally immersed in the outdoor industry. We talk hunting, hunting, hunting at work. We talk hunting, hunting, hunting at home. Everywhere I go, and most of the people I know are all about hunting. To date, hunting touches every facet of my life.
"We also have an 8-year-old son named Cooper. Just as I learned about hunting as a young adult, I began to teach Cooper about hunting, as did his dad C.J. We taught him to have respect for animals. We taught him where his food comes from, and what outdoor sportsmanship is. We taught him how to make good decisions when he was out in the field, and we taught him to be a responsible hunter. I've learned that hunting is a vehicle that can be used by parents to teach lifelong lessons to their children in a positive way.
"At this writing, I've just recently left the NWTF to become the Senior Director of Communications for Hope for the Warriors (www.hopeforthewarriors.org). Hope for the Warriors is a nonprofit organization based out of Virginia. This organization works with post-911 members of the Armed Services and their families, as well as, working with and helping families of the fallen. This organization is an overall support group for the new generation of veterans, and the different challenges that they and their families have. We not only support them while they're in the military, but also through the process of transitioning back into civilian life.
What's unique about Hope for the Warriors is that we don't specialize in one type of care for active members of the service and for veterans. We look at each person we serve as a unique individual and try to provide the services, education and support that person needs while in service, and once they come out of the service. Our organization is about the entire being – mental, physical and emotional. We also serve in the area of health and well-being for the people who support our active military and the warriors who are coming home from military service. Many times this includes their families during this transition time.
"I'm part of an advancement team that communicates our mission, the marketing of our program, the community events and the sponsorship and support that helps support our programs. We try to make more people understand and become aware of the sacrifices that our servicemen and women and their families are making for this country, and we help with awareness of the support these warriors need when they return home and transition into civilian life. We want these men and women to know that this country appreciates the sacrifices they've made for the U.S. When they reach the U.S., we want them to know that they're not alone. We want them to have a sense of community back here in the States when they come back home.
"One of the advantages that I have and bring to Hope for the Warriors is that one of the components of our organization is a sports and recreation program. A portion of that program is outdoor adventures that include hunting, fishing and other outdoor pursuits. For some of our returning warriors, the outdoors is a part of their recovery programs and a way for them to transition back into the society they've left. The outdoors seems to have a spiritual connection that helps bring families back together again. If you're a hunter reading this, you know the intangible benefits of hunting, fishing and participating in all outdoor sports. We have a mechanism in place to serve all of our returning warriors to get them back into the outdoors – if that's what they choose to do. This job will be very rewarding for me to have the outdoor infrastructure and outdoor friends that I've made for over 20 years in contact with these returning warriors."
How Karen Views Her Journey from Anti-Hunter to Hunting and Conservation Advocate:
"I assume my journey from an anti-hunter and a non-hunter through my education as a hunter to a strong advocate for hunting is quite different from most women in the outdoors," Karen explains. "Up until I started working for NWTF, I felt like I always hovered on the outside of the hunting community and the hunting industry. I'm not a hardcore hunter. I'm not a hunting gear freak. I don't live, breathe and eat hunting, although it's a very-important part of my life. I'm also a mother, a wife, a professional business woman and many other things. But the thread of hunting winds through all the aspects of my life. I think I've had a unique perspective on hunting and conservation as an outsider looking into this world.
"I think my strongest contribution to the hunting industry is when I can have a conversation – especially with another woman who is on the verge of being an anti-hunter as I was. I have to be open and honest with my feelings about how I feel when I take the life of an animal, and when I talk with people who may have the same stereotype of hunters as I had before I learned what hunting meant. I'm a lady's lady. I love fashion, music, good food and travel. So, I feel like I'm a normal woman.
"Because of these other interests, I believe I'm more approachable when someone says, 'How can you kill an animal?' Then I can say, 'I can take an animal's life, but I don't take harvesting an animal lightly.' Here's what hunting means to me. I now understand where my food comes from, and hunting is not just about harvesting an animal. There are rules, regulations and ethics that go with hunting. Hunters don't just walk out their back doors and take any animal they see. These rules and regulations are deeply entrenched in ethical hunters. As a hunter, I also feel good knowing that other hunters and I pay for the largest majority of money that's used for wildlife conservation. Hunters love and appreciate animals. I've also learned that what may be a bad day for an animal that's been harvested is a good day for the overall population of that species. The money I spend on hunting licenses, guns and ammunition enables me to be a part of the solution to maintaining, restocking and growing a wide variety of animals in this country."