Editor's Note: A couple of weeks ago at the Prattville, Alabama, Bass Pro Shops' (www.basspro.com)  Crappie Masters' (www.crappiemasters.net) Alabama Championship, a father-and-son team, Billy and Scott Williams, from Cochran, Georgia, claimed the title. The weather was warm, and the crappie were moving into their summertime pattern. Although many of us may believe that springtime is the best time to catch crappie, these two men showed us how to catch crappie all summer long.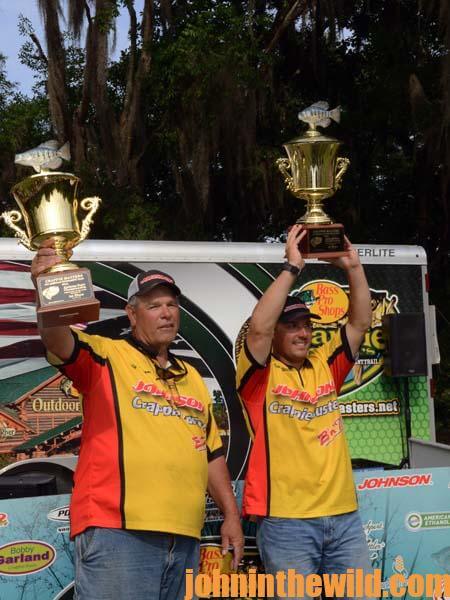 John E. Phillips: Billy, what rivers do you and Scott fish?
Billy Williams: We really love to come to Alabama and fish the Alabama River near Prattville and the Coosa River at Lake Jordan. We also fish the Ocmulgee River southeast of Atlanta, Georgia, and the Altamaha River that's formed at the confluence of the Ocmulgee and the Oconee rivers in south Georgia and is the largest free-flowing river on the East Coast.
Phillips: How did you win this championship?
Billy Williams: We long-lined trolled crappie jigs on Lake Jordan. When Scott and I go to tournaments, we each take a boat. Scott fished the Alabama River, and I fished Lake Jordan a day or two before the tournament.
Scott Williams: In 2013, we fished Lake Jordan at this same time of the year. The black crappie are heartier than the white crappie and tend to live longer in a live well than the white crappie do. So, Dad in pre-practice fished Lake Jordan for black crappie, and I fished for white crappie on the Alabama River by putting in at Cooter's Pond. Although I caught more than 100 crappie in 2 days of fishing by myself, the crappie I caught weighed about 1.15 pounds each. These fish seemed to be stressed from spawning, and I didn't think they would last as long in the live well as the black crappie would.
Billy Williams: Each night we compared notes to see the lake where we found the biggest crappie. We both caught plenty of crappie on the Alabama River and on Lake Jordan, but the crappie I was catching on Lake Jordan averaged being a little bit heavier than the crappie Scott was catching out of Cooter's Pond near Prattville on the Alabama River. So, we decided to fish Lake Jordan in the tournament.
Scott Williams: We stayed at the Hampton Inn in Prattville to fish both places, because the hotel had an early-morning breakfast buffet, and Dad could drive to Lake Jordan and put in his boat almost as quickly as I could drive to the Alabama River and put in my boat.
Phillips: What is long-line trolling?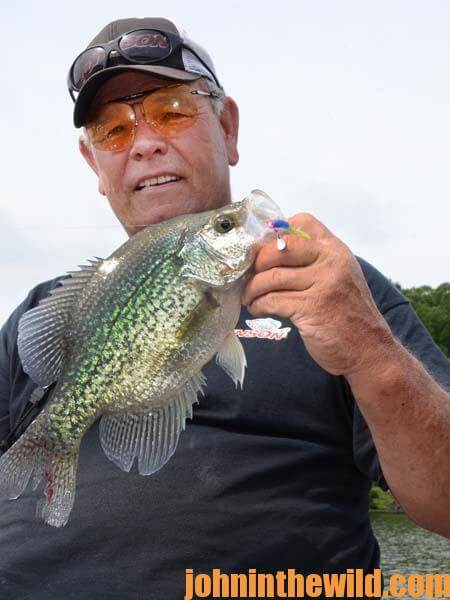 Billy Williams: We use 16-foot B'n'M (www.bnmpoles.com) crappie poles with 4-pound-test line, tie two crappie jigs on each line and cast the jigs out as far as we can behind the boat. Then we set our trolling motor speed on 1 mph and troll along and over underwater structure like submerged points, creek channels, the edge of humps and stump beds. Our jigs run about 8-feet deep with two, 1/24-ounce jigs on each line. Lake Jordan is a very-deep lake with little shallow water. We watch the bottom drop-offs on our side-scanning depth finder to troll right along the edges of the drop-offs.
As we get into the summer months, the crappie often will suspend out in the water, and my depth finder will tell us the depth where they're suspending. We want to troll our jigs about 1 –1-1/2-feet above the crappie. On that tournament day, we caught a lot of crappie that weighed about 1 pound. But because the spawn wasn't completely over, we caught some crappie that weighed in the 1-1/2 – almost 2-pound range. When I was pre-fishing for the tournament, I caught a crappie that weighed 2.22 pounds. However, on tournament day, our biggest fish weighed 1.92 pounds. Each day during practice and the tournament day, we were catching 40 – 50 crappie, and about 75 percent of the crappie we were catching weighed 1-pound plus.
Phillips: What color jigs did you use?
Billy Williams: We like blue chartreuse. If I could only take one color crappie jig to fish with, it would be black and blue with a chartreuse tail. On this tournament, the blue and the chartreuse seemed to catch the most fish. We did catch some crappie on pink jigs, but not as many as we caught on blue chartreuse.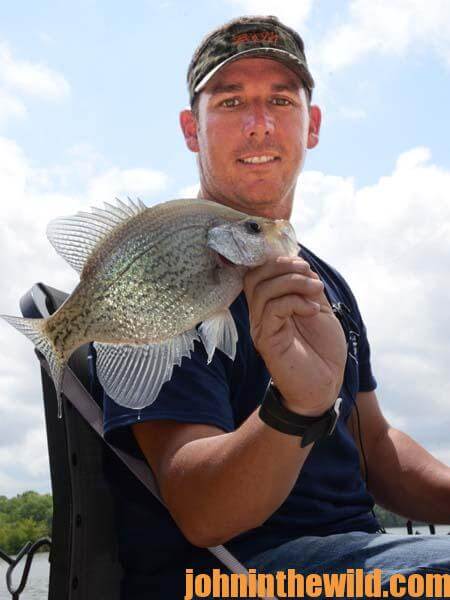 Also, if you'd like to fish Cooter's Pond https://www.facebook.com/pages/Cooters-Pond-Park/146063642088959 near Prattville, Alabama, be sure to stay at the Hampton Inn and Suites, http://hamptoninn3.hilton.com/en/hotels/alabama/hampton-inn-and-suites-prattville-MGMCFHX/index.html, phone: 1-334-285-6167.
To learn much more about crappie fishing, get John E. Phillips' Kindle eBooks and print books, "Crappie: How to Catch Them Fall & Winter," "Crappie: How to Catch Them Spring and Summer," "Catch Cold Water Crappie Now" and "Catch Crappie All Year: Fishing a Single Pole, Using No Boat and Farming Crappie" by clicking on each, and you also can go to johninthewild.com/books.
To receive and download for free "The Crappie Catchers' Cookbook" by John and Denise Phillips that offers free recipes, go to http://johninthewild.com/free-books.
Tomorrow: Alabama's Crappie Masters' Winning Tactics with Billy Williams