Editor's Note: Travis Walton from Birmingham, Alabama, a longtime outdoor friend of my son, John, Jr., is my new turkey-hunting hero. Without question, some of the baddest gobblers live on public hunting lands. Generally, they receive far more hunting pressure than the turkeys living on private lands. After President Trump announced the stay-at-home order in the spring of 2020, turkey hunters all over the nation had a legitimate reason to hunt turkeys every day of turkey season. Travis Walton then had the freedom to hunt a part of every day when not working.
Since much of the land on these 41,500 Cahaba River WMA acres was river-bottom land, I started following ridges all the way to the back of the property where the ridges overlooked the river. To get to the river on this public property, you would have to go by boat or be willing to make a really-long hike.
After scouting, I learned that most of the turkeys were further away from the main roads where most turkey hunters hunted and were holding in pockets that received very-little hunter pressure. With this information, I pinpointed good turkey sign the very first day, went into that area and bagged a longbeard. The second turkey I took was a repeat of the first: I found good sign, went to the region, called-in the bird, and bagged it. Both turkeys gobbled on the roost, and I had to wait for about 30 minutes on each turkey before they came within gun range. I made sure that I didn't overcall the toms because when I started hunting this public property, the first thing I noticed was that just about every hunter with a turkey call in his pocket was blowing or using it about every 10-15 minutes or sooner. Instead, I'd give soft tree calls when the gobblers were on the roost. When they answered me, I wouldn't call again. I believed that when a turkey answered me from the roost, he was saying, "I know where you are, and I'll come looking for you in a little while."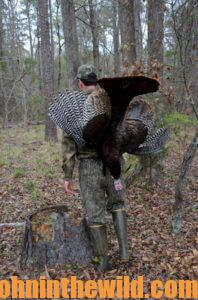 Another thing that I learned about hunting on public land was that just because a gobbler answered you from the roost didn't mean that he was going to come straight to you. Both of the turkeys that I took circled me and came to my right shoulder, instead of walking straight to me before they came within gun range. Although both birds gobbled as they came to me, I never yelped to them. I deliberately didn't want to let the turkeys know exactly where I was because then they would expect me to come to them as a hen. Since they didn't know precisely where I was, they knew they'd have to find me to show off.
I believe that the key to success on both hunts was to be silent once I heard the gobblers fly off of the roost. When I talked to the turkeys on the limb, I used a soft tree call with my slate caller. When the toms gobbled back, I put the slate up and put a diaphragm in my mouth, if I needed to give a few more calls because the gobblers had drifted away from me. That way, I'd be hands-free to mount my shotgun and pull the trigger. When the turkeys were on the ground, I'd often give one light yelp and cup my hand around my mouth to throw the call behind me like a hen that was walking off away from them.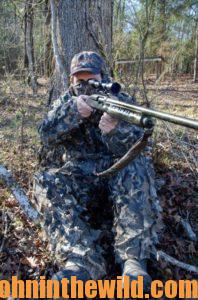 One of the biggest temptations I had in calling in both turkeys was continuing to call, although I knew they were coming to me. Instead I went on silent and never talked to them again, until after I pulled the trigger and went over to pick them up. I learned from the first season that the key to a gobbler's knowing the difference between a hunter calling and a hen calling was that hunters called a lot. That might be because hunters liked to call a lot. Hens generally talked very little. So, I learned that the fewer times I called, the more I sounded like a real hen.
The first turkey that came in was 10 yards from me. I only could see him out of the corner of my eye and had to wait until he walked around that big tree to get my gun ready to shoot. I aimed straight at the tree he was behind and waited until he came from behind the tree to squeeze the trigger. I shot a Weatherby 12 gauge shotgun (https://weatherby.com/shotguns/) with Hornady shotgun shells (https://www.hornady.com/ammunition/shotgun/). I bought several different manufacturing shells in different sizes and patterned this gun. I learned it shot the best pattern with No. 4 shot. I found and took my second gobbler that same week.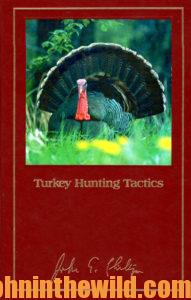 To learn more about turkey hunting, check out John E. Phillips's book, "Turkey Hunting Tactics," at https://www.amazon.com/gp/product/B007PK9B2G/ref=dbs_a_def_rwt_hsch_vapi_taft_p2_i9
that's available in Kindle, print and Audible versions. You may have to cut and paste this link into your browser. (When you click on this book, notice on the left where Amazon says you can read 10% of this book for free and hear 10% for free). To learn more about other turkey books by John E. Phillips, go to www.amazon.com/author/johnephillips.
Tomorrow: What about Travis Walton's Last Public Land Turkey of the 2020 Season