John's Note: When I learned how Kevin Caudle of Gum Pond, Alabama was using a new lighting system to catch stripers on deep, clear Lewis Smith Lake in north Alabama, I decided that those same techniques should work to catch deep-water crappie at different times of the year. To test this idea, I contacted Dan Dannenmueller, one of the nation's top competitive crappie fishermen and the owner of the Bass Pro Shops Crappie Masters Tournament (www.crappiemasters.net) and the online free magazines www.crappienow.com and www.catfishnow.com. I asked Caudle to bring his lighting system and go with Dannenmueller and me to the Alabama River in central Alabama at night to see if this new lighting system would bring deep-water crappie up to within catchable range for crappie fishermen at night. Dannenmueller had gone out early that afternoon and found some spots that were holding deep-water crappie. For the next 3 days, I'll show you what we learned about how to catch crappie at night with deep-water and shallow-water flexible, non-floating, submersible lights that are inexpensive, almost indestructible and deadly efficient.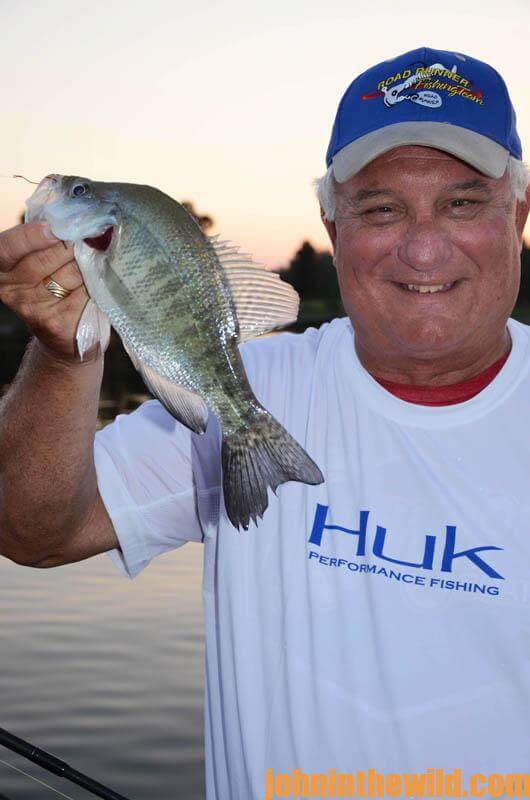 In the early afternoon, the air temperature was about 90 degrees, and the water temperature was 87 degrees when Dan Dannenmueller from Wetumpka, Alabama, went out to try and locate crappie. He used his side-scanning Garmin (www.garmin.com) depth finder to locate brush piles and drop-offs in deep water where crappie usually would hold in the late summer and early fall in the South. The crappie were in the deep water not only to find cooler temperatures, but also to pinpoint bait fish to eat.
Like winter crappie, sometimes crappie during daylight hours in the fall might not be in a feeding mode. Dannenmueller found this to be true. According to him, "The crappie were locked-down on the bottom. Some of them appeared to have their bellies on the bottom, and they definitely were not in a feeding mode. I never had fished with the Bait Snake Fishin Lights (www.baitsnake.com) before, I'd never seen them, and I'd never heard of them. This new type of lights that glowed underwater could be dropped down to any depth of water, depending on the length of the submersible electrical cord attached to the lights. These lights gave off a florescent green glow that was said to attract fish. When outdoor writer John E. Phillips told me about these lights, I said, 'Bring the lights and the man who has them (Kevin Caudle) with you down here to Montgomery, and we'll see what happens when we use those lights fishing at night for crappie.'"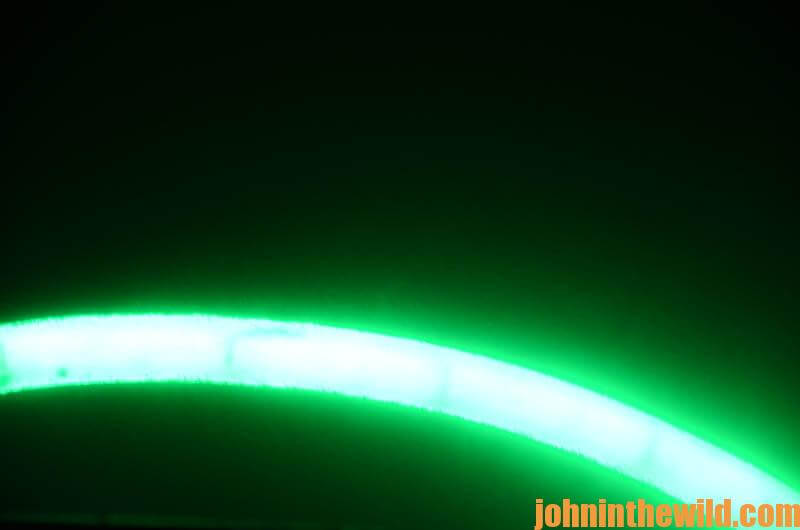 Before we arrived at Swift Creek on the Alabama River, Dannenmueller had done his homework. He had several GPS locations noted that were holding crappie. Our intent was to let down a light off the bow and a light off the stern to just above the brush or the drop-offs that Dannenmueller had found with his Garmin electronics. Hooking these two lights up to the battery that he uses to start his big motor with alligator clips, we could see the these non-floating lights glowing bright green as we let them down into the water. Caudle also brought a longer brown tube light with him that we could tie off on the front of the boat. Using another small rope, we tied the other end of the light to the back of the boat and lowered this light to about 1-1/2 to 2-feet below the boat. It put off a bright-green fluorescent light out to about 5-1/2 to 6-feet away from the boat.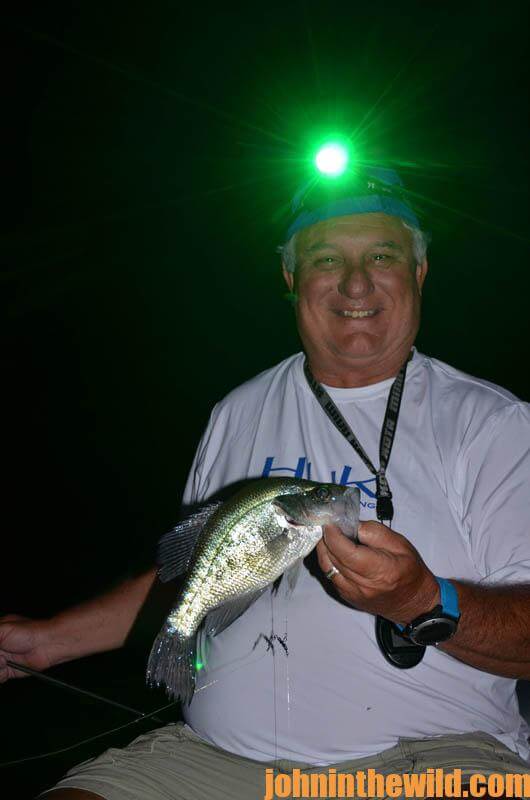 But rather than having me tell you what happened, let's watch Dan Dannenmueller tell us about his experience, and what he saw the lights do in the video, "How to Catch Crappie on Hot Nights Using Lights" and the video, "How to Find Hot Weather Crappie at Night, Before You Start Fishing for Them."
For more information on the Bait Snake Fishin Light from Enlightened Outdoors, go to www.baitsnake.com.
To learn much more about crappie fishing, get John E. Phillips' Kindle eBooks and some print books, "Reelfoot Lake: How to Fish for Crappie, Bass, Bluegills and Catfish & Hunt for Ducks," "Crappie: How to Catch Them Fall & Winter," "Crappie: How to Catch Them Spring and Summer," "Catch Cold Water Crappie Now" and "Catch Crappie All Year: Fishing a Single Pole, Using No Boat and Farming Crappie" by clicking on each, or go to www.barnesandnoble.com to see Nook books.
To receive and download for free "The Crappie Catchers' Cookbook," by John and Denise Phillips that offers free recipes, go to http://johninthewild.com/free-books.
Next: See the Crappie Bite at Night to Catch Them
EXPLORE MORE: you'll love these stories from John too