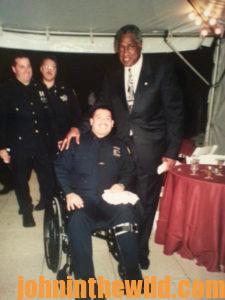 Editor's Note: With the beginning of bow season soon starting, we all need to remember what our bowhunting brother went through on September 11, 2001. Many times we walk past giants and never see them. Such is the case with William Jimeno of Chester, New Jersey, one of the last three people found alive after the terrorist attack on the Twin Towers of the World Trade Center (WTC) on September 11, 2001. As a first responder, he put his life on the line for others who didn't survive. According to Will, "During my recovery after 9/11, I went from a wheelchair to a walker to Canadian crutches and then to a cane. I still have to use a brace to walk, and I have a dropped foot. But as I look back over our ordeal, I feel fortunate. I still can enjoy bowhunting deer and chasing turkeys. I began bowhunting – my favorite pastime – on November 11, 2002, a year after 9/11 when I was buried alive. I had looked in a magazine and saw there was a place in Maryland called Cherry Blossom Farm. I reached out to the owner, Joe Taylor, who was a really-nice guy. I told him my story, and he invited me to come down and hunt with him. I told him the only way I could hunt would be off a ladder stand. Joe told me not to worry that he'd have me a ladder stand. On the last night of the hunt, I missed a nice buck, a big 8-pointer. My arrow flew over his back. As I left, I told Joe thank you, because he'd helped prove to me that I still could hunt. Today I hunt out of ground blinds a lot, but I hunt from a tree stand sometimes. I'm a Mossy Oak Pro." Jimeno has a story to tell that we all need to hear, remember and then draw courage from what happened.
About 8:00 pm on 9/11/2001, as Sgt. McLoughlin and I were trapped under concrete in the WTC, I heard someone near the hole screaming, "U.S. Marines!" Once the two marines (Jason Thomas and Dave Karnes) heard me and located the hole we were in, they stood by the hole, while an unknown civilian went to the police on the scene and came back with Scott Strauss, Paddy McGee and Chuck Sereika. Those three climbed down in the hole to me.
Scott Strauss, a NYC police officer, reached me first. He said, "Hold on, we're going to work on you." I was so excited I started hyperventilating. He gave me some water and told me, "Hold on, you've got to concentrate and help us help you." I answered, "I will!"
Once they started trying to get me out, the pain was so intense. I screamed loudly, because it was the worst pain I'd ever felt. Even as exhausted as I was, I noticed Scott stopped trying to help me get out. I realized if I screamed they wouldn't get me out as quickly as they could. Over the next 3 hours, I just shut-up and ate the pain.
At one point during the rescue, they weren't able to free my left leg, and I said, "Just cut if off." I could see the hole 30-feet up and knew my sergeant below me needed medical assistance. That's why I told them to cut my leg off. I learned later there were doctors standing by who were prepared to come down in the hole and amputate any limb that couldn't be freed. However, Scott told me, "No, I'm going to get you out in one piece."
Fire started falling in the hole again, and up above, I heard men calling to the people helping Sgt. McLoughlin and me, "You've got to leave them and get out of the hole. Get out of the hole!" "We're not going to leave them, even if it means dying with them," the men agreed.
After 3 hours of the hardest work you could imagine, a stretcher was let down in the hole, and I was pulled up from the grave where I had been. As soon as I came out of the hole, I asked "Where is everything?" "It's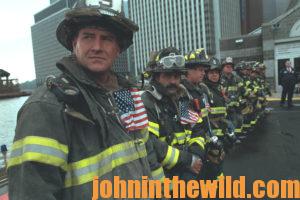 all gone," one of the firefighters told me. "It's all gone, kid." I started crying for the first time since the start of the whole ordeal, because I knew there were a lot of people still in the towers that we hadn't been able to get out before the towers fell.
Then the rescuers passed me down between two lines of people on my stretcher toward the ambulance waiting for me. When the ambulance pulled up to the hospital, I began crying again. When I thought about all the people who had to have been hurt when the two towers at the WTC came down, I doubted that there would be any doctors or nurses to take care of me when they carried me into the hospital. But in the emergency room, I saw an army of doctors and nurses standing around me, and I asked, "Where are all the other people from the towers?" Then someone said, "You're it." Once more I started crying again when I began to think about all the people who didn't make it to the hospital. I was told later that I had eight operations in 7 days. I also learned that the rescuers got to my sergeant after 22 hours of his being buried and pulled him out of the hole.
When Jimeno Learned Later What Happened – Only 20 People Pulled Alive from the WTC Rubble:
I later learned that 30-year old Genelle Guzman-McMillan, who was a secretary on the 64th floor of the North Tower WTC, and her colleagues knew something terrible had happened after the first plane hit 30 floors above them. As they slowly went down dozens of flights of stairs, on the 13th floor she stopped. Suddenly the building imploded, covering her with concrete and dust and a steel beam crushing her legs. Finally after 23 hours a rescue dog named Traker found her. Several hours later Genelle was pulled from the rubble – the last person rescued on 9/11.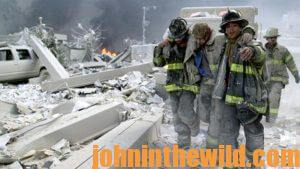 I didn't know until a year later when I went to visit NYPSD USTruck One Base, the mid-town ESU -NYPSD1 (which is one of the New York City Police Department Emergency Services Units) that Sgt. John McLoughlin and I were some of the few survivors pulled out of the rubble. Here in New York and New Jersey, we don't use the term SWAT to describe our emergency service units like other cities do.
The reason we went there was because Truck One was the unit that Scott Strauss and Paddy McGee were from, and the Truck One team was who rescued Sgt. McLoughlin and me. Chuck Sereika, the civilian paramedic, who gave me IVs and medical attention, and the other guys who worked to get me out of the hole where I was buried at the WTC, came to Truck One Base as well to see and visit with us along with Scott and Paddy.
After the team got me out of the hole, I learned later that about 18-other people went down in the hole and worked to get Sgt. McLoughlin free. I also learned from Chuck Sereika that the rescuers looked for other people under the debris for 3 weeks in areas like where they'd found Sgt. McLoughlin and me. But they never found anyone else in those places. Sereika told me, "You two guys were the shining light for all the first responders and volunteers who worked so hard to discover other survivors."
I also found out that when law enforcement took the 19th hijacker, Zacarias Moussaoui, over to the rubble of the Twin Towers and told him how many people had died from that attack, he was heard to say, "That's good – I hope they all died." One of the officers turned to him and said, "No, you didn't kill us all," because that trooper knew mine and Sgt. McLoughlin's story. The trooper said, "Y'all killed a lot of people, but you didn't break our spirit!" I realized after 9-11, that because Sgt. McLoughlin and I kept fighting to survive, the terrorists didn't have a total victory. And by surviving, we cheated them out of being able to say, "We killed them all." And the terrorists never will kill all Americans.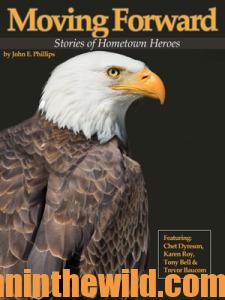 To learn more about facing difficulties, go to John E. Phillips' book, "Moving Forward: Stories of Hometown Heroes," available in Kindle version at http://amzn.to/TmTDpb. To see all of John's hunting books, available in Kindle, print and Audible, go to http://amzn.to/XW2URC
Tomorrow: How Bowhunter Will Jimeno Has Recovered from His Injuries on 9/11
EXPLORE MORE: you'll love these stories from John too