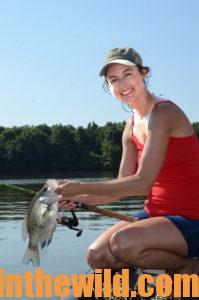 Editor's Note: This past week I fished with the Phillips' family of Wetumpka, Alabama, Jonathan, Alicia, and Wyatt, who have the same last name, but aren't kin to me. I wanted to learn more about hot-weather river fishing and how to crappie fish with a youngster from Jonathan and Alicia – both top crappie-tournament pros.
Jonathan Phillips' wife Alicia is also his tournament partner, who says when she, Jonathan and Wyatt go fishing for crappie, "I really enjoy having Wyatt in the boat. All three of us look forward to a day of family fishing. We both have really-busy jobs. Jonathan is with the fire department, and I'm a biologist with the Alabama Department of Environmental Management (ADEM) that does water-quality sampling and bug collecting. We've had Wyatt fishing with us since he was born. When he was small and got tired, he'd lay down and take a nap in the boat. I didn't fish much growing up. I went a few times with my grandparents and my dad, but my grandmother, most definitely a fisherwoman, really loved fishing. I always enjoyed the outdoors.
"Jonathan is very skilled at hunting and fishing. He's always had a boat and enjoyed trying to find crappie and figure out what baits are required to make them bite. I met Jonathan when I was 16, and we started fishing together. Fishing has brought us together, and now we're married and have a family.
"I'm often asked, 'How did you get into tournament fishing?' In 2014, we fished our first tournament together when Crappie Masters (www.crappiemasters.net) came to Wetumpka where we live. When the tournament ended, we had placed second. I found tournament fishing to be a lot of fun and very exciting.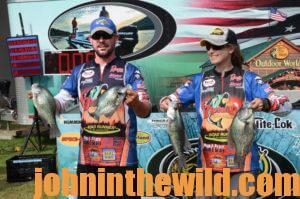 After that first one, we decided to fish more crappie tournaments. Our best tournament was when we won the Alabama State Championship several years ago.
"My favorite part of tournament fishing is the culling process. After we catch our first seven crappie, then we start fishing for bigger crappie and throw the smallest fish in our live well back into the lake or river. We keep upgrading our catch, until we finally think we have the biggest seven crappie we can catch for that day."
When Alicia met Jonathan, her goal was to become a ballerina. She really enjoyed dancing. But once Jonathan introduced Alicia to the outdoors, she became interested in the possibility of working in the outdoors. "I got an environmental-science degree from Auburn University at Montgomery, Alabama,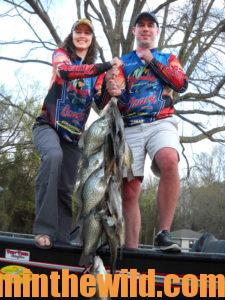 and from that degree I learned that I really liked bugs: I went to Auburn University in Auburn and got a master's degree in entomology. Then, I was hired by the Alabama Department of Environmental Management (ADEM) to study water quality and bugs. Finding certain bugs can tell you what the water quality is of the body of water where they live. Another question I'm often asked, is what does Wyatt, my 6-year old, do in the boat when we're out fishing. He loves to fish and swim, but I think the snacks I bring along with us are the main reason he likes to come. When the fish are really biting, Wyatt loves to hook them and bring them to the boat."
Wyatt says he's been fishing with his mom and dad since, "I was a little baby. Although I like everything about fishing, I especially enjoy fishing during the summer. When I get hot, my mom and dad will stop the boat, and I can jump in and cool off, then climb back in the boat and go fishing some more. I like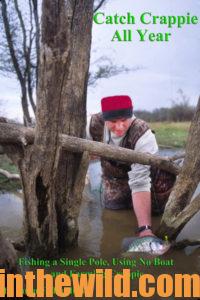 snacks, but I like fishing best. I've got six fishing trophies. I enjoy fishing in tournaments. When Dad or Mom catch a fish in a tournament, they'll give the fish to me. I'll go to the back of the boat, put the fish in the live well and close the door to the live well. When they really catch a lot of crappie at once, I'm really busy taking the fish to the live well."
To learn more about Jonathan Phillips and his guiding, email jphillips10482@yahoo.com, and contact him on Facebook at https://bit.ly/2xexIJ6. For more information on more-productive crappie fishing, check out John E. Phillips' book, "Catch Crappie All Year: Fishing a Single Pole, Using No Boat and Farming Crappie," available in Kindle, print and Audible versions at https://amzn.to/31Ybf0W.
Tomorrow: How to Find Crappie on a River Year Round