Editor's Note: Jonathan Phillips from Wetumpka, Alabama, primarily crappie fishes the Alabama River and Lake Jordan on the Coosa River. However, he also fishes all over the nation wherever a Crappie Master Tournament (http://www.crappiemasters.net/home/) is held.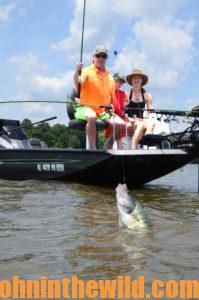 In high water and fast current, I search for places away from the main river to fish in the back waters and creeks where the current may not be as strong as in the main river. Under those conditions, I do everything I can to let the crappie know where the bait is. I'll be fishing a Roadrunner jig head (https://www.ttiblakemore.com/) that throws off a flash and makes more racket than a jig head without a spinner on it. I'll use scent on my lures to enable the crappie to smell the bait. Through the years, I've caught most of my bigger crappie in a raging current in nasty water – so nasty that most people don't want to put their boats in it.
* The Toughest Times to Catch Crappie:
For me, the toughest time to catch a crappie is during the transitions. For instance, when crappie are moving from: deep to shallow water to spawn and then back to the deep after the spawn; deep water in the summertime to the shallow water in the fall; and the shallow water back to the deep water as winter arrives. Crappie will be scattered then. You still can catch them, but you'll have to use various tactics and cover more water to take them.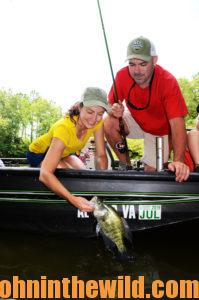 Crappie fishing can be tough in the middle or the late summer too when the water clears-up, and you can see 6-8 feet down in the water. The hydroelectric plants are running almost 24 hours a day, pushing current through the lakes and rivers. Under these conditions, the crappie will be holding tight to the brush, and I want to get my bait to the bottom and in that brush.
Vertical jigging will be the best way to accomplish that task. To also fish that brush, if you prefer to minnow fish, use a drop-shot rig by tying your weight to the end of the line, come up about 12 inches from the lead, tie a loop knot on the main line, and either use a No. 2 or a No. 1 Tru-Turn (https://www.ttiblakemore.com) hook. Next attach a minnow to the hook.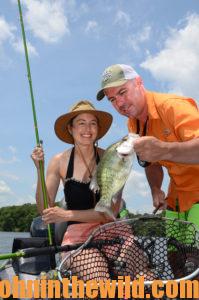 I'll look for crappie in 18-20 foot deep water in thick brush when the water's clear, the weather's hot, and the sun's bright. Remember, crappie have to eat every day. Generally they prefer to feed behind current breaks, eddy holes or off the main river, if the current's running strong. However, you can identify and catch crappie every day of the year in clear water, stained water or muddy water, and whether current's not running at all, is running slowly, is running fast or is flowing briskly like a runaway train. You just have to adapt your tactics, and the size and color of your baits, as well as how and when you present your baits to the crappie.
To learn more about Jonathan and Alicia Phillips, go to https://www.facebook.com/groups/1652871384980476/.
To learn more about crappie fishing, check out John E. Phillips' book, "Catch Crappie All Year: Fishing a Single Pole, Using No Boat and Farming Crappie" in print, Kindle and Audible versions at http://amzn.to/1DBpnNh. You may have to cut and paste this link into your browser. (When you click on this book, notice on the left where Amazon says you can read 10% of this book for free and hear 10% for free).
Tomorrow: Why Pinpoint Hidden Rivers and Sleeper Lakes to Fish for Crappie with Darrell Baker