Editor's Note: William Crawford of Montevallo, Alabama, the director of the Outdoor Scholars Program at the University of Montevallo and a longtime hunter, has been a Labrador retriever trainer since he was 13-years old. He trains Labs to: find wounded deer; to locate, pick up and bring back shed antlers; to find and retrieve doves; and to pinpoint and retrieve ducks. With bow season starting, the bowhunter is the one most likely to need a blood-trailing dog, although that's not a completely accurate term. "Often there won't be a blood trail," Crawford explains. "But because a wounded deer leaves a scent from the glands between his toes, our dogs can find deer – even without a blood trail. They can identify deer in the water, and our best dogs even can find and retrieve deer that may be underwater."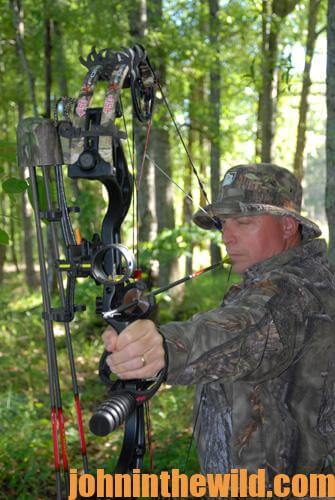 "I have a big freezer," Crawford mentions. "During bow and deer seasons, we freeze deer blood and deer organs, so we can create a blood trail at any time of the year." Crawford praises the dog every time it makes a recovery – a very-important part of Labrador retriever training. Labrador retrievers want to please their handlers and enjoy searching for and pinpointing whatever their handler sends them to retrieve. Finding and retrieving is meant to be fun for the dog and for the handler.
"One of the advantages of having a dog that can find multiple types of game and make multiple kinds of retrieves is that the dog can call on its experience from each task it's learned to help the dog perform better in each area in which it's been trained," Crawford emphasizes. "A dog trained in blood trailing deer, antler recovery, duck hunting and retrieving and dove hunting and retrieving will, if it's on a blood trail, and the deer goes in the water or slightly under the water, put its head under the water, grab that deer and pull it out of the water. If the Lab has been trained on recovering antlers and is on a not-so-good blood trail but spots an antler, the dog will go to that antler. If the dog has been trained to find and pick up doves, and you're hunting a small creek or a small pond, and your duck falls into a cane thicket or high weeds, the dog can use his experience and his nose for finding doves to help locate that duck."
An advantage that a dog's owner has is that the dog can be trained to do specifically what the owner wants the dog to do – perhaps obedience training and blood trailing. Or, the dog can be trained in just antler recovery. Or, you can teach the Lab to blood trail, recover antlers, retrieve ducks and bring in doves. Teaching a dog in obedience training and blood trailing requires about 3 months. To be trained to pick up antlers involves another 2 months. To be trained to pick up ducks and doves means another 6 months of work. Full retriever training, including hand signals and all the finer points of training that a Labrador can be taught, takes two years.
The next natural question is, "What's a trained Labrador retriever worth?" Crawford reports that, "The degree of training the Labrador retriever has and its pedigree heavily influence the value of the dog. Depending on how much training the Labrador retriever has and its pedigree, and how proven it is, that Lab may sell for $5,000 or as much as $30,000."  Currently, most of Crawford's clients want their dogs trained for blood trailing, because of the thick woods and cutover type of terrain where Crawford trains and hunts his dogs. A hunter, a hunting-lodge owner or an individual who own a high-fence enclosure are most concerned about losing any deer that are arrowed or shot with a rifle. Hunters also will call Crawford to bring his dogs when they've shot nice deer and can't find them.
To contact William Crawford, call 205-792-9288 or go to his Facebook page www.facebook.com/SilverBandedRetrievers or www.silverbandedRetrievers.com. For more information about the University of Montevallo's Outdoor Scholars Program, visit http://outdoorscholars.montevallo.edu.
For more information about deer hunting, check out John E. Phillips' eBooks, print and Audible books, at johninthewild.com/books/#deer and www.barnesandnoble.com for Nook books. You can type in the name of the book and download it to your Kindle, and/or download a Kindle app for your iPad, SmartPhone or computer. For a free download on how to make jerky from venison to provide a protein-rich snack, choose "How to Prepare Venison Jerky: The Ultimate Snack Food" at johninthewild.com/free-books.
EXPLORE MORE: you'll love these stories from John too