Editor's Note: Al Morris of Springville, Utah, has hunted elk for three decades and has guided for elk for two decades in Utah, New Mexico, Colorado, Wyoming, Idaho, Montana and Arizona. Morris has won the World Elk Calling Championship and the Best of the West Elk-Calling Contest, the Utah State Bugling Championship and the World Coyote Calling Championship.
How to Hunt the Second Rut – September 30 – October 12: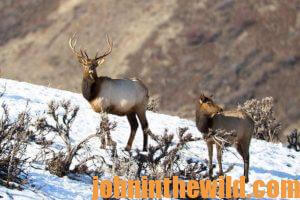 When the second rut starts, you'll have another great chance to take a bull. Not as many elk will be bugling or as many cows coming into estrus as during the main rut, but the second rut still is a productive time to elk hunt. At this time of year, I want to sound almost exclusively like a small cow in heat.
One year, I was giving some soft calling and then made a very-high-pitched young cow-in-estrus call. A 1-1/2 year-old cow came running in to where I was, and following her were two of the biggest bulls I'd ever seen. The bulls were behind her when they stopped and started to fight. My hunter took one of the bulls that scored 365 points on Pope & Young. I actually called-in the 1-1/2-year-old cow because I mimicked her sound. Many times if you'll mimic the sounds of the cows you hear, you may call-in the cows and the bulls with them during the second rut.
How to Hunt the Post Rut – the Month of November:
The post-rut occurs during November. No breeding happens at this time because all the cows are bred, and the big bulls have left the herd. The only thing on a big bull elk's mind at this time of year is trying to eat enough groceries to survive the winter, since he's lost so much weight during the rut. While this time can be one of the most-challenging months to hunt big bulls, you still have an opportunity to go into elk country and tag a bull.
During November, elk hunting is primarily spot-and-stalk. Even though elk aren't calling at this time of year, they're still vocal. In November, December and January, a lot of elk hunts for cows and bulls take place. On one hunt in the post-rut, I actually called-in over 500 head of elk. I was using a cow call, making it sound like a calf in distress. The primary reason I carry a call with me at this time of year is to get a bull to stand-up when he's bedded down or to stop him, if he's walking into a shooting lane to give me an ethical broadside shot.
How to Determine the Best Outfitter for You: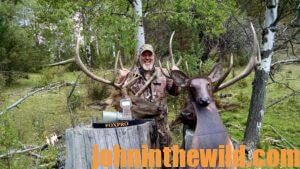 In the places I hunt, primarily in Utah and Colorado, we have the luxury of being able to use an ATV or a pick-up truck. We can get hunters over rugged terrain and close to elk without physically hurting those hunters with a 3-1/2 hour pre-dawn forced march up to the top of a mountain. Fifty to 60 percent of elk hunts are more-physically demanding than many hunters can handle.
I suggest that the first thing a hunter do is find an outfitter who's as concerned about his hunter as he is the elk he's trying to hunt. The best way to identify the outfitter who will take care of you and help you get an elk rather than tell you after your hunt that, "If you'd been in better shape, we could have reached that elk," is to do research on the telephone. Spending money and time calling and talking to outfitters before you book a hunt is far-more important than going on a hunt and having to walk too much, climb too high, get too sore and still not take an elk.
Here are some steps to take when researching for an outfitter:
* Learn what type of hunt your outfitter offers – horseback, ATV access, 4-wheel drive or strictly a walk-in hunt.
* Get a topo map, and understand what type of elevation you can expect in the area where you'll be hunting.
* Do homework on the guides as well as the outfitters. Some guides are great hunters, but no fun to hunt with because they're out to prove that they're stronger and tougher than you. Other guides may not be great hunters; however, they take care of their hunters and go at the hunters' pace, instead of trying to get the hunter to move at their pace. So, find out who your guide will be, and talk with him well before the hunt. Let him know what you physically can do, and what you want him to do with you, if you book the hunt.
* Don't look down the wrong road. If you book an elk hunt at a sports show solely based on the videos you see or the pictures in the photo album the outfitter has on his table, you'll probably go down the wrong road. Ask for references. Don't just talk to the hunters who have taken elk but also with hunters who haven't taken elk. If an outfitter won't give you those references, you don't really need to be hunting with this outfitter. If he only gives you successful hunters to talk with, call those successful hunters, and ask who was hunting with them. Call the people from the hunt who haven't gotten their elk. If everyone has something positive to say about the outfitter, the food and the guides, then you can make a better decision to select the outfitter best for you. If the outfitter won't give you references of unsuccessful hunters, chances are your outfitter is a coyote or a skunk. When you're around a coyote or a skunk, you can smell them before they take your money.
To get an elk hunt of a lifetime, spend plenty of time learning all you can about the outfitter you're considering booking with, the place you're planning to hunt, your expectations during the hunt, and the type of guide you'll have on your hunt. If the outfitter can't tell you what guide you'll be hunting with, that may mean he hires new guides every year, which says he's not a good outfitter because guides don't stay with him for very long. If he does give you the name of a guide, when you talk to the guide, ask how long he's been guiding for that outfitter, and why he continues to hunt with that outfitter. A good guide will be happier if his client kills a good bull than if he takes that same bull himself. He'll also take care of his hunter and make sure his hunter has a good experience, regardless of how many elk they see. Too, he won't try to walk the hunter until the hunter's exhausted.
Having a good elk hunt isn't just the responsibility of the elk outfitter and the guide. Elk hunting is a physical sport and not a spectator sport. You can't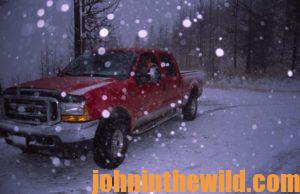 take the elevator to the top of the stadium, walk down three flights of stairs, sit down in a comfortable chair and shoot an elk. You'll need to be in your best physical condition. You'll need to put-down the doughnuts, stop using the elevator, take the stairs and get yourself in as good a shape as you possibly can before you the hunt. If you don't, you're not being fair to the guide or yourself, and you're drastically decreasing your chances of harvesting an elk. Even if you go on some of the best elk hunts in the country, you'll have to do your part to reach the elk. If you only can walk 200 or 300 yards before you're ready to pass out, then you'll have a very-hard time getting your elk. But if you can walk 1 mile into the mountains and 1 mile out without totally being exhausted, your success rate will quadruple.
I had a client come into camp one year, and he said, "I'm in good shape, Al. Take me to the elk." We went to the spot where I wanted to start and walked up a hill. After a few hundred yards, he was out of gas. Part of the problem was the elevation. He wasn't accustomed to it. The other problem was he had on a new pair of boots he'd just taken out of the box upon arrival. When I realized he wouldn't be able to reach the elk, I changed the places for us to hunt. A good guide won't try and hurt you, especially the first day. A common mistake most elk hunters make is they fly into an airport in one of these mountainous states, get picked-up by the outfitter, go to elk camp that night and start hunting the next day. They're not accustomed to the elevation before they start their hunts. You'll have a better chance for success if you come in 1 or 2 days early and allow your body to get accustomed to the elevation before you start hunting.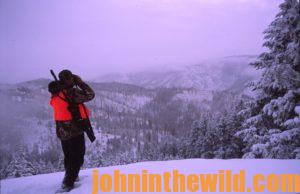 Drink a lot of water, because one of the best ways to fight elevation sickness is to stay hydrated. When hunting elk, you need to break-in your boots 3 months in advance of the hunt. Quality boots are critical to successful elk hunting, since usually you'll have to walk a long way. When I get a client I know isn't in shape, who's flown in the night before and/or who has a new pair of boots, on the first day, I take him or her to a place where we can glass for elk. I want to take him on shorter walks from the vehicle to get his body acclimated to the altitude, break-in his boots and get him somewhat conditioned to the terrain we'll have to hike.
I've found that elk hunters take their elk generally by the third, the fourth and the fifth days of the hunt, because by that time, their bodies have adapted to the altitude, the terrain and the physical strain required to hunt elk. By this time, the hunters are more comfortable, and I know what to expect out of them and the type of terrain that's best for them to hunt.
Some guides reserve areas where they'll hunt. On the property where I once guided, I had a specific region I hunted every year that had certain places where if my client could walk 300 yards, more than likely he'd take an elk. I guided several people in wheelchairs and other disabled hunters to taking their first elk there. We might require 2 hours to travel those 300 yards, but there was a meadow in the shape of a bowl down below us where elk would frequent daily. To have an enjoyable and a successful elk hunt, choose the right guide who intimately knows the place where he hunts, learns his hunter's condition and then selects the most-productive site where he can take that individual hunter to see and possibly take an elk.
To learn more about hunting elk successfully, check out John E. Phillips' book, "Elk: Keys to 25 Hunters' Success," available in Kindle, print and Audible versions at https://amzn.to/2IDszQk.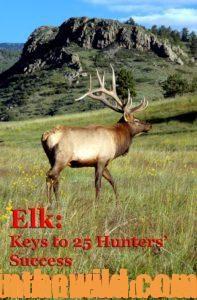 Tomorrow: Learn Al Morris' Secrets to Taking Elk