John's Note: Fishing over the years with some of the greatest crappie fishermen in America, I've discovered a couple of all-important secrets to catching really big crappie. If you fish for crappie in a lake that traditionally has homed monster-sized crappie in a state that manages its crappie in places where no other crappie fishermen fish, you'll consistently catch bigger crappie. You can adapt these strategies to where you fish and catch big slab crappie throughout the year.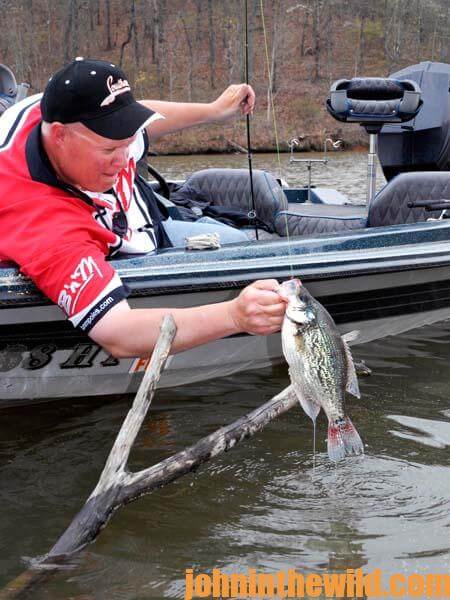 "I'll grab a box of crappie hooks, you get some minnows, and we'll go catch us a mess of fish," John Holley of Linden, Alabama, would tell me. I fished for 4 years with Holley, one of the best crappie fishermen ever, on the Tombigbee River in west Alabama, while we were in school at the University of West Alabama. "If you want to catch big crappie, get prepared to lose your hooks," Holley said, "because you have to put your baits in places where no other crappie fishermen will fish with their baits."
We used 20-pound-test Berkley XT line, and we bought 13-foot cane poles. Then we broke the poles off to make each about 10-feet long. Each stiff pole resembled a pool cue. We used quills for our floats. Before we ever lip-hooked our minnows, we'd bend our wire hooks straight and then re-bend them, so if the hooks hung up in wood, they would straighten-out easily and quickly. "Thread your minnow down through the thickest tree top, the thickest brush or the thickest weeds that you can find on the bank," Holley told me. "You want to put that minnow down in that brush where nobody in his right mind would fish. Once you get a crappie to bite and the hook set, then we'll begin to worry about how to get that crappie out of that brush."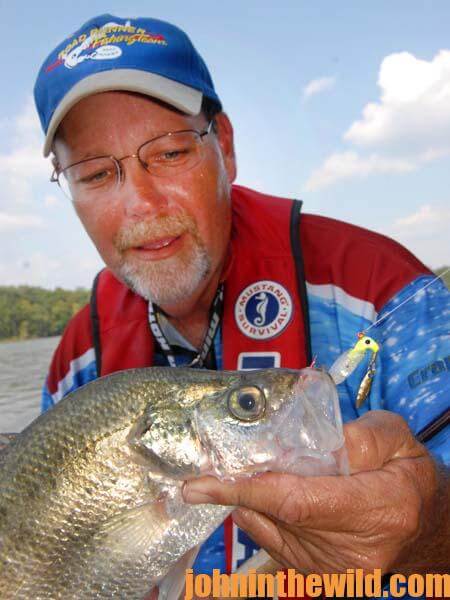 Using this technique, John Holley and I always caught bigger crappie than anyone else I knew. Holley also would fish areas that no other crappie anglers could reach. We always wore shorts and old tennis shoes when we went crappie fishing in the spring because often we'd have to drag our boat across a sandbar or up a bank to get into a remote back-water slough. However, we learned that if we paid the physical price to catch big crappie, we would catch the monster fish that most crappie fishermen just dreamed of catching.
Suntan Crappie:
After seeing two crappie fishermen motoring from the river into a slough while I was turkey hunting, I watched as they caught 1-1/2- to 2-1/2-pound crappie on almost every cast. The size and number of crappie they caught amazed me. I dug my binoculars out of my turkey vest and tried to learn how these two fishermen had taken such big crappie.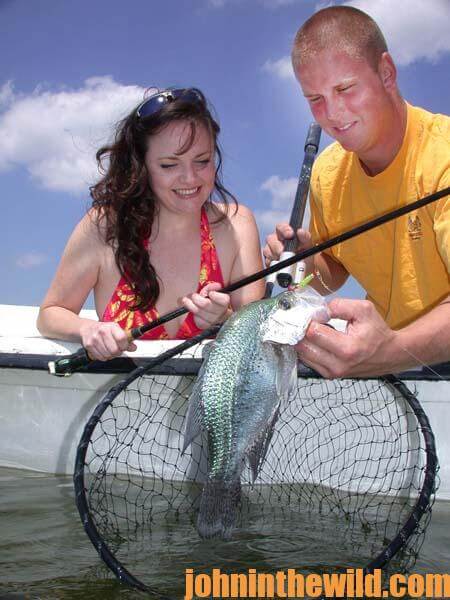 These anglers fished with cane poles and round bobbers. I noticed they swung the bobbers right beside the logs and stumps sticking up out of the water. Their baits barely would hit the water before the corks would sink. I watched through my binoculars as they baited their lines to see exactly where they placed the bobbers on the lines, and how much lead they used. They put the bobbers 1 or 2 inches above the hooks. When they swung their baits next to that wood cover, I could see the dorsal fins and/or portions of the tails of the crappie that would take their baits out of the water. Evidently with the sun high and hot, the water in that slough beside the wood soaked up the heat, which called the crappie. I'd never before considered fishing so shallow for monster-sized crappie.
To learn much more about crappie fishing, get John E. Phillips' Kindle eBooks and some print books, "Crappie: How to Catch Them Fall & Winter," "Crappie: How to Catch Them Spring and Summer," "Catch Cold Water Crappie Now" and "Catch Crappie All Year: Fishing a Single Pole, Using No Boat and Farming Crappie." Click here to get these books. To receive for free the "Crappie Catchers' Cookbook," by John and Denise Phillips that offers free recipes, click here.
Next: Fishing Bass Spots for Big Crappie