Editor's Note: Last week I gave you a roundup of offshore fishing in the Gulf of Mexico on the Upper Gulf Coast off Alabama's shoreline with Captain Troy Frady. This week we'll be looking at inshore fishing in late May and June with Captain Sonny Schindler and Shore Thing Charters (https://www.shorethingcharters.com/), headquartered at Bay St. Louis, Mississippi.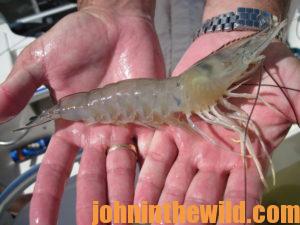 John E. Phillips: The Florida tripletail looks like a giant bream with three tails because this fish has a dorsal fin and an anal fin that are elongated, making him appear to have three tails. These are migratory fish. How do you know when the Florida tripletail will show up along the Upper Gulf Coast?
Captain Sonny Schindler: As long as this area has salinity in the water, the tripletail will start coming in at the end of May and usually be here on the Mississippi Gulf Coast all summer and fall. These migratory fish seem to come from south Florida up the coastline of the Gulf of Mexico – moving from the east and travelling west. We'll start getting reports of tripletail sightings from our friends on the eastern part of the Upper Gulf Coast and start showing-up first around Florida's Panhandle, move over to Alabama and then beginning arriving in Mississippi around mid-May to mid-June. They'll travel about the same route as the cobia do.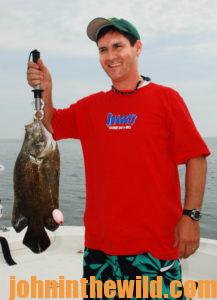 We love to fish for tripletail because they are unique fish. When you find them, they are relatively easy to catch and delicious to eat. The first wave of tripletails we see usually will be undersized (less than 18-inches long) or just barely legal. But before long, the bigger tripletails will start showing-up. An 18-inch tripletail generally will weigh 2 – 3 pounds. A 24-inch fish may be three or four times as big as an 18-inch tripletail because they grow wider and fatter. Our average tripletail that we catch from now through the summer will weigh 3 – 20 pounds. And, most of them will be around 10 pounds.
Phillips: How and where do you see and catch tripletails?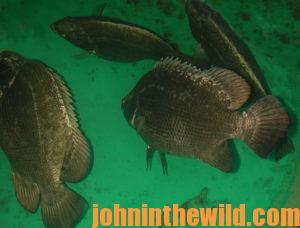 Schindler: The best conditions needed to see tripletails are a clear, bluebird day with a high sun, hot weather with little or no wind, little to no current and fairly-clear water. Then you have to have time, fuel and luck to find them. Tripletails usually will be holding under or beside floating logs and debris on the surface, buoys, poles, markers, floating grass lines or any other type of debris that's either sticking up out of the water or floating in the water. They also like to hold under or near crab trap buoys and channel markers. Of course, you may run your boat past 50 of these buoys and crab trap floats and not spot a single tripletail. But buoy number 51 may have one or two tripletail relating to it. I have caught tripletails that were holding under dead fish on the surface. I've caught them under buckets floating on the surface. I've even caught tripletail under dead pigs floating under the surface after our area has had a hurricane or a tropical storm.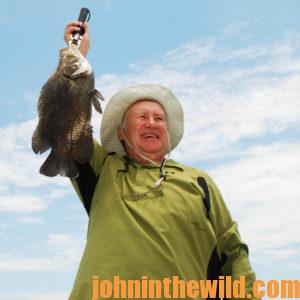 Phillips: What bait do you use to catch tripletails, and how do you rig to catch them?
Schindler: We use big live shrimp that we hook onto the same rods with floats on them that we use to catch speckled trout and redfish. You want to have a short leader attached to a bell swivel and attach the top of the bell swivel to your main line. The tripletail is another one of those lazy fish that doesn't want to leave the structure where they're hanging around, so you'll usually cast past the buoy or floating structure and either let the current bring your cork and live shrimp right by the place where you've seen the tripletail, or you slowly can reel the cork close to the structure where the tripletail is holding. Don't pop your cork, or jerk your line. Just let the shrimp swim as naturally as possible in front of the tripletail's face. About nine times out of 10 – that tripletail will inhale that shrimp, and you'll have a battle.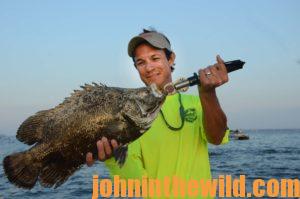 The trick to catching the tripletail, especially if it's holding on a channel marker or a crab trap buoy, is when you set the hook you need to try and pull the tripletail away from the line or the chain that is holding the crab-trap buoy or the channel marker. Once the angler gets the tripletail away from the buoy, I put my boat between the buoy and the tripletail to try and help keep the tripletail from going back to the crab- trap line or the chain holding the buoy in place. One of the interesting things about the tripletail is once it's hooked, it may dive for the bottom or blow-up or jump out of the water. I try to put my boat between the structure that the tripletail is holding on and the tripletail to use my boat to keep the tripletail from going back to the structure. Usually if the tripletail sees the boat, the fish will dive and/or swim away from the boat and not go back to the structure where it's holding.
Anglers will discover that the tripletail is one of the tastiest fish that swims in the Gulf of Mexico. The next time they come fishing with us, they'll want to leave an hour or two in the middle of the day to go look for tripletails to catch.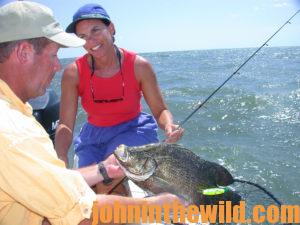 To contact Captain Sonny Schindler call 228-342-2206, Email: info@shorethingcharters.com or visit https://shorethingcharters.com.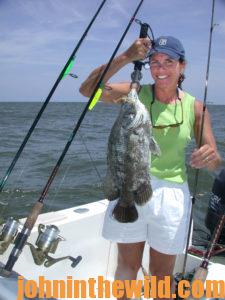 Better-Than-Fried Tripletail Fillets
This delicious, heart-healthy recipe that's easy to prepare features tripletail fillets that taste like fried bream.
Ingredients:
2 large egg whites
3/4-cup plain dried bread crumbs (may need to adjust this amount; also Panko crumbs work well, Italian bread crumbs, etc.)
4 tripletail fillets, about 4-ounces each
1/4-teaspoon salt
1/4-teaspoon pepper
Juice of 1 lemon
Preparation:
In a pie plate, whisk the two large egg whites with a fork just until frothy. Place bread crumbs on waxed paper. Squeeze lemon juice over the tripletail fillets, and sprinkle the fillets with salt and pepper. Dip each fillet into egg whites, and then coat with bread crumbs. Arrange on baking sheet coated with nonstick spray. (I always use parchment paper). Broil 3 to 4 minutes or until golden brown, turning over once.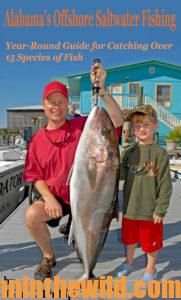 To learn more about fishing in the Gulf of Mexico, check out John E. Phillips' book, "Alabama's Offshore Saltwater Fishing: A Year-Round Guide for Catching Over 15 Species of Fish" at https://www.amazon.com/dp/B008VT4FBM. You may have to copy and paste this address into your browser. You also can go to John's Author's Page at http://amzn.to/XW2URC to learn about his other outdoor books.