John's Note: Cindi Richardson has been hunting almost 30 years and is considered one of the most-outstanding women hunters of our day. The Arizona Department of Conservation has a record that's known as the Big 10, consisting of the 10 Arizona big game species. Cindi was the first person to accomplish taking Arizona's Big 10, which now has become the Big 11, due to the Rocky Mountain bighorn sheep expanding its range into Arizona and having a viable population there. The Big 10 consists of the Coues deer, mule deer, antelope, black bear, mountain lion, elk, desert sheep, bison (buffalo), javelina and wild turkey. Cindi took all these animals with PSE bows, particularly the PSE Fire Flight, Mach 6 and Vendetta XS ( http://pse-archery.com/). Cindi helps her husband, Corky Richardson, also a well-known Western hunter, guide for elk, buffalo and mule deer. At one time, they guided as many as 12 elk hunters a season, but now they're taking fewer hunters than in the past, and they mainly concentrate on bison and elk. Usually, Cindi does the logistics of the hunt, including cooking and picking up and dropping off hunters at the airport. On her own, Cindi has taken 14 elk with her bow, she holds the Arizona wild turkey record with a bow, and she has taken over 75 animals with her bow, with 40 of those classified as trophy animals.
I was hunting Arizona's Unit 9 that's known for having big elk.
Most non-residents put in hoping to draw Unit 9. At this time in my elk hunting career, I had taken some elk hunting from a tree stand and with the spot-and-stalk method. I preferred to hunt from a tree stand, because I could get in a tree and do what I wanted to do, and my husband, Corky, and his hunter could spot and stalk elk.
Before the season, we had done a lot of scouting on this public land. I had found a place I really liked that had an old bathtub that had filled up with water. I told Corky, "I have a really good feeling about this spot. I'm going to put up my tree stand here." This spot was close to a little town that had a McDonald's. When there wasn't any wind, I even could hear the McDonald's drive through speaker, and the lady asking the customers what they wanted. Unit 9 is just on the south rim of the Grand Canyon and borders the Grand Canyon National Park. This little town is just outside the park.
My father-in-law, George, had helped me put up my tree stand and get everything right to hunt from it. This stand was in an area that didn't permit any motorized vehicles. So, I had to walk in to my stand in the dark for about a mile, because I like to get to my tree stand really early to give the woods the chance to settle down, before first light. I can determine which way the wind is blowing. I don't like to put out flagging tape, which will allow other hunters to know where my tree stand is. Instead, I lean sticks up against trees, so I can find my way with a flashlight.
The first day I hunted from this stand I had a nice elk come in just before dark, late in the evening when the weather turned cold. However, I was so cold, I couldn't get to full draw. Darkness fell, and I still could hear the elk moving around under my tree. So, I waited until I couldn't hear the elk anymore and was sure they had left the area, before I climbed down out of my tree stand. When I returned to camp, Corky and his dad were already asleep but had left me something to eat.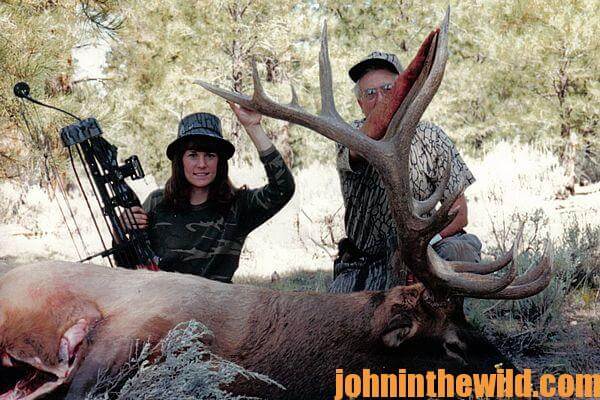 The next morning, we got up before daylight, and Corky asked, "Did you have an elk come in?' I started not to tell them I had seen a shooter bull, but then my honesty got the best of me. I explained I was so cold I couldn't pull my bow back. On this day, I climbed into my stand and got out the Zane Grey western novel I was reading, saw a few deer and some small elk and then about 8:30 am, I heard a little tweek, tweek sound. The water tank I was hunting over had a fence around it, and the sound I heard was like the wire being stretched or bumped. I thought to myself, "I bet that's an elk coming," and then I heard something walking, but I kept reading my interesting book. Out of the corner of my eye, I spotted an elk about 40-yards away and whispered to myself, "Holy crap, that's the elk I'm hoping to take."
Corky and I are different when we decide to take the shot.
Corky will shoot the elk as soon as he thinks he can make the shot, but I usually like to wait a little bit.
I put my book down, prepared my bow, got it in my hand and waited for the elk to come within 12 yards. When he put his head down the first time to take a drink of water, I didn't take the shot. I know many times an elk will put his head down to drink and jerk it right back up to see if a predator is watching him. Then I drew my PSE bow, let my pin settle on the spot I wanted to hit, released the arrow, made a good hit and waited about 20 minutes, before getting down from the tree stand. Since I couldn't find any blood, rather than push the elk, I backed out and returned to camp.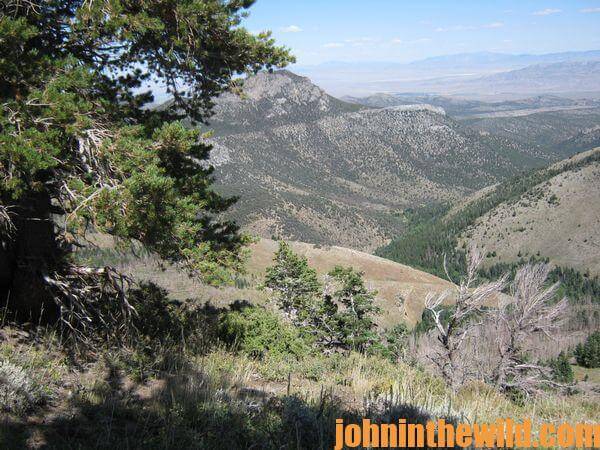 Later Corky and George went back to my tree stand with me and were able to track the elk back to the fence that he had jumped after he had taken the arrow. They found blood there. This 7×9 elk that grossed 373 points had only gone 120 yards, after I had shot him. George and Corky probably were more excited than me. This was the first record-book elk I ever had taken. I never will forget how big the elk was. I had to almost crawl up inside the elk to remove his lungs. I'm 5-foot, 6-inches tall and weigh almost 140 pounds, and I almost could have vanished inside that elk.
To get John E. Phillips' Kindle eBooks, "Bowhunting Deer: The Secrets of the PSE Pros," "The Most Dangerous Game with a Bow: Secrets of the PSE Pros," "Bowhunting the Dangerous Bears of Alaska," "PhD Elk," "Secrets for Hunting Elk", and "How to Find Your Elk and Get Him in Close," click here.
About the Author
John Phillips, winner of the 2012 Homer Circle Fishing Award for outstanding fishing writer by the American Sportfishing Association (ASA) and the Professional Outdoor Media Association (POMA), the 2008 Crossbow Communicator of the year and the 2007 Legendary Communicator chosen for induction into the National Fresh Water Hall of Fame, is a freelance writer (over 6,000 magazine articles for about 100 magazines and several thousand newspaper columns published), magazine editor, photographer for print media as well as industry catalogues (over 25,000 photos published), lecturer, outdoor consultant, marketing consultant, book author and daily internet content provider with an overview of the outdoors.