Editor's Note: I started deer hunting years before compound bows, tree stands, safety harnesses, GPS and the other advantages for deer hunting we have today were available. I'm a strong advocate of safe tree stands, full body harnesses and safety devices and equipment to make deer hunting safe and prevent tree stand falls. But in years past, I've made some not-so-bright decisions while hunting deer. I've spooked deer before and even have fallen out of a tree stand three times in the same day. I've shot 24 arrows in one afternoon at deer less than 30 yards from me and failed to cut a hair on them. I've fallen asleep in a tree stand. I've even dropped bows and other pieces of equipment from my tree stand. I've probably committed every sin a deer hunter possibly can commit when hunting from an elevated platform. This week I'll share the truth with you about some of the dumbest things I've done in a tree stand over the years. You may see yourself mirrored in some of my misfortunes. Hopefully you can learn from my mistakes.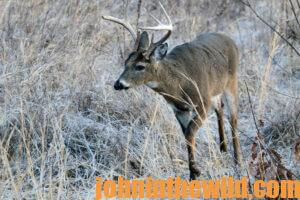 Tom Gresham, once the editor of "Southern Outdoors Magazine" and today the host of the "Gun Talk" radio show and podcast, hunted with me at Westervelt Lodge in central Alabama some years ago. I wanted to impress Gresham with my hunting skills, so I could sell him more articles for his prestigious magazine. So, I had a buddy of mine build me a tree stand with a platform that was wider than other stands' platforms at that time. Although my stand weighed a little more, it looked impressive.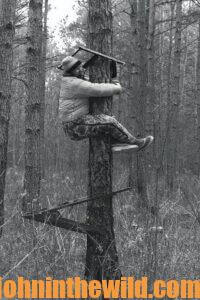 Early that afternoon, Gresham and I planned to hunt two different trails leading into the same green field. Gresham set-up on one end of the field with me on the other end. Eager to impress Gresham, I felt I needed to climb into my tree stand quickly. So, I didn't put enough tilt on my new stand as I normally would before beginning to climb. The particular tree I chose had a rather large base but then slimmed-down up the trunk. This scaly-bark hickory had 1/4- to 1/2-inch grooves in the bark and a very rough exterior.
I hastily climbed about 15-20 feet off the ground and started to pull my bow up with a pull-up rope, a new product then that I'd recently discovered. But just as I got the stand about 6-feet off the ground, I heard the stand pop and felt it give a little. I quickly dropped my bow, turned around, grabbed the trunk of the tree and put my feet in the loops that I'd used to pull-up my tree stand. I hadn't quite gotten my arms around the tree when the tree stand started to fall.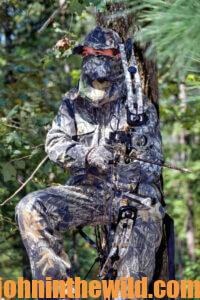 Fortunately, I'd grabbed hold of the trunk of the tree and managed to slow my fall as the tree stand and I headed for the ground. Once I arrived at a bone-jarring stop, I felt excruciating pain on my stomach and my forearms. When I looked down, I saw that as I'd slid down the tree, the scaly-bark hickory had rolled-up my shirt and rough-sanded some of the skin off my body, my forearms and biceps. Not only did my accident cause me a lot of pain, I just knew that Gresham had observed me make my foolish mistake. I peeked at him across the field, and he didn't look in my direction. He gave no indication of having seen my quick slide down the tree.
Wanting to get back up the tree before he spotted me, I didn't tighten my tree stand on the tree. Instead, I decided not to climb quite as high as I had on my first trip up the tree. I thought that if I didn't go as high, the tree stand wouldn't break free, I still could hunt, and Gresham never would know that I'd slid down the tree.
I jumped into the stirrups on the tree stand and began to hug the tree and pull the tree stand up with my feet. Every inch upwards hurt. When I got about 12-feet off the ground, I turned and saw that Gresham hadn't seen me. I carefully held onto the tree and began to turn around on the platform to pull up my bow. Then I heard and felt the tree stand coming loose from the tree. Once again, I turned, grabbed the tree and made a quick descent. As I reached the bottom of the tree this second time, my stomach looked like I'd fought in a battle with a bobcat and lost with my chewed-up undershirt and heavily-scratched arms.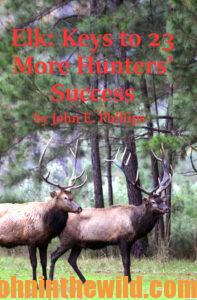 But when I peered over at Gresham once again, apparently he hadn't seen me. So, as you might guess, I got back into the stirrups, tried to forget about my pain and attempted to climb the tree again – stopping about 10-feet up this time. However, before I even could turn around, the tree stand kicked-out from underneath me.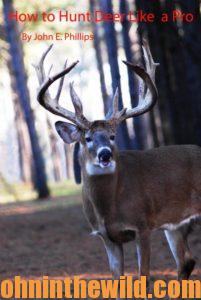 To learn more about hunting deer, check out John E. Phillips' book, "How to Hunt Deer Like a Pro," available in Kindle, print and Audible versions, at (http://amzn.to/YpoQHA). You may have to copy and paste these links into your browser. (When you click on this book, notice on the left where Amazon says you can read 10% of the book for free, and you can hear 10% for free). On the right side of the page and below the offer for a free Audible trial, you can click on Buy the Audible book. To see more of John's deer-hunting books, visit www.amazon.com/author/johnephillips. John's latest book, "Elk: Keys to 23 More Hunters' Success," was just published in Audible on November 15, 2021, and is available in Kindle, print and Audible at https://www.amazon.com/gp/product/B09B2H9V6Y/ref=dbs_a_def_rwt_hsch_vapi_taft_p1_i10. You can find John's book, "Jim Crumley's Secrets of Bowhunting Deer," available in Kindle and print and soon to be available in Audible at https://www.amazon.com/gp/product/B008N230PE/ref=dbs_a_def_rwt_bibl_vppi_i0.
Tomorrow: Learning about Deer Tree Stand Problems