John's Note: Bringing your buddy along when hunting turkey gobblers will sometimes produce far better results than going one-on-one against the feathered fox. Even though turkey hunting is basically an individual sport, there are several reasons why two people should try hunting turkeys together. Foremost is the fellowship that comes from sharing the experience of calling, watching and bagging a turkey with a friend. Also, a turkey hunter can lengthen his season by taking a novice hunting. Making tactical decisions, calling and showing a newcomer when to shoot sharpens your own skills and allows you to hunt, even if you can't shoot after filling your season's limit. Often there are tactical reasons for two on a turkey. Smart old gobblers that have been shot at in the past may be call- and-man-shy. These birds can be outsmarted when two hunters combine their skills and knowledge.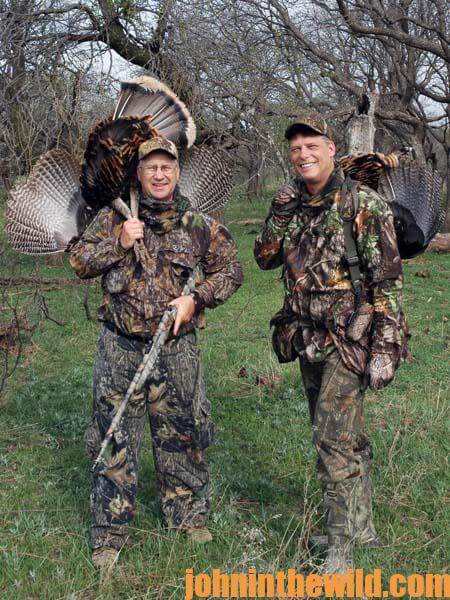 Ben Curry, a longtime friend and avid turkey hunter, told me, "Kenny Poole and I had a friend who told us about a smart turkey that had been shot at several times. The men who had been hunting the bird had seen him at about 75 yards, but could never get him close enough for a shot. They were tired of chasing him, so they told Kenny and me where he was. For two or three mornings we tried to call the turkey. He would answer, walk down the ridge and stop, 75 yards away. He always strutted and drummed but came no closer. We tried letting one person sit in front and the other person call from behind – but that didn't work. After exhausting all our tactics for two on a turkey, we had nothing to lose by attempting something new.
"The next morning, I called when the turkey gobbled. Kenny moved quickly and quietly to a spot 75 yards behind the bird, and began calling. Both of us worked that old bird back and forth on that ridge that morning, but he never came into gun range for either of us. On the following day, we tried another new approach. The turkey gobbled, and Kenny went around behind him again. We both started calling and then hushed. The turkey gobbled close to me. I looked but could barely see him out in front. Meanwhile, Kenny had moved up to the spot where we had first heard the turkey gobble that morning. I took my mask off, stood up and started walking straight at the wise old bird. Figuring I hadn't seen him, he sneaked back the way he had come – and right into Kenny's gun range. Since that time we've often used this technique to take cantankerous turkeys."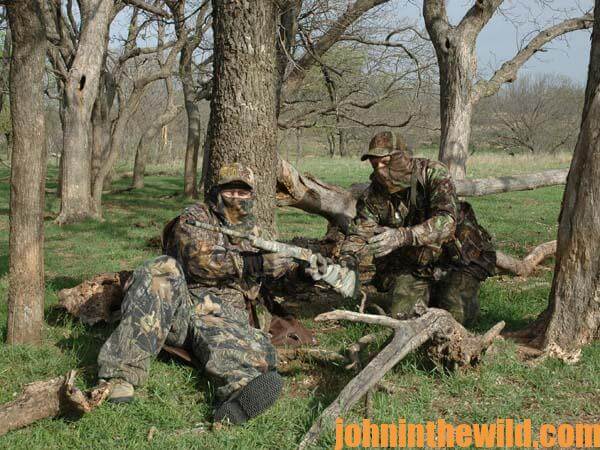 Other hunters have perfected methods for doubling-up on turkeys. One strategy calls for the first hunter to set-up about 25- to 30-yards away from the second hunter. The first hunter then calls to the turkey. If the bird comes into run range, the first hunter kills him. But if the turkey "hangs up" and refuses to come closer, the second hunter goes to work with a gobbling box or tube. When the turkey won't come any closer, the first partner yelps, and then the second partner follows the yelps with a gobble, making the old turkey upset. He must decide to either fight or mate. Whichever choice he makes, though, will be his downfall. This technique seems to work better than just one caller making both calls, since the calls are heard in two different locations and makes them more believable.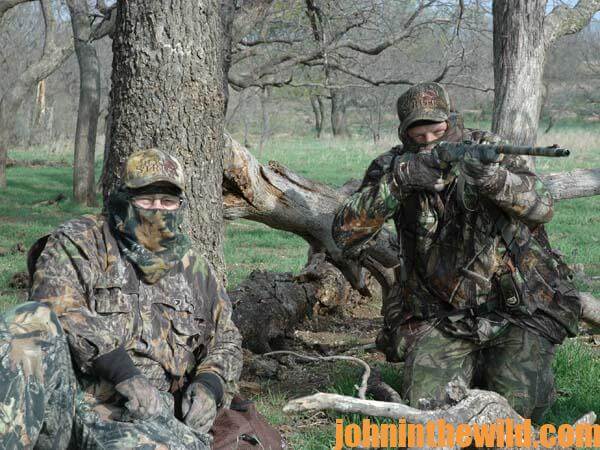 To get John's book, "The Turkey Gobbler Getter Manual," for free, go to www.johninthewild.com/free-books to download.
To learn more about turkey hunting from the masters, get these Kindle eBooks and print books by John E. Phillips, including: "The Turkey Hunter's Bible (available as an eBook or in paperback)," "PhD Gobblers: How to Hunt the Smartest Turkeys in the World," "Turkey Hunting Tactics," (also available in an audio book from  http://www.audible.com/pd/Self-Development/Turkey-Hunting-Tactics), "How to Hunt Turkeys with World Champion Preston Pittman," "The 10 Sins of Turkey Hunting with Preston Pittman" and "Outdoor Life's Complete Turkey Hunting." Click here to get these books.
Next: Hunting Wild Turkeys with a Novice Partner