John's Note: Dustin Mizell of Foley, Alabama, owns Fish-Kabob Bowfishing and Charters www.fish-kabob.com, Mizell's Mounts – a taxidermy business, South Coast Safaris – his local bowhunting guide service – and Puddin Proof Productions – a video company. He specializes in one of the fastest-growing and most-exciting outdoor sports – bowfishing – that combines hunting and fishing.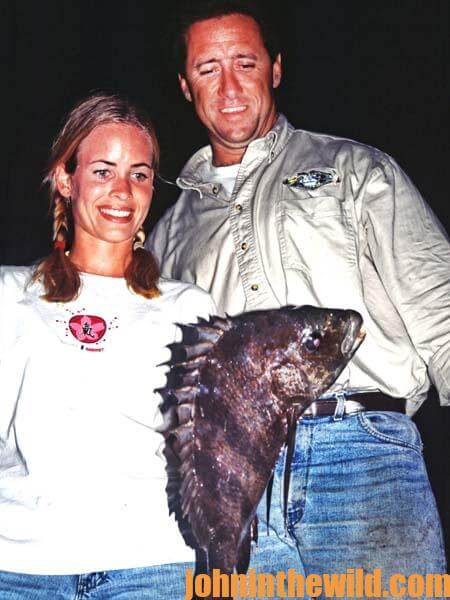 To be honest, having the opportunity to take fish on an offshore trip is often a hit-or-miss game. Sometimes, we'll have a lot of opportunities to shoot fish. At other times, we only may have a few chances. So, our offshore trips are usually a combination of rod-and-reel fishing and bowfishing, once we see fish close to the surface that we can take. We charge by the distance we have to travel to have an opportunity to take the kind of fish our customers want to take.
We use completely-different gear on the offshore trips as we do on the inshore trips. We shoot heavier poundage bows and use heavier line than when fishing inshore. As long as we're shooting fish that weigh 10 pounds or less, conventional bowfishing tackle that you use in fresh water is sufficient. However, generally, when we're bowfishing offshore, we'll be catching big fish. For this reason, we use break-away arrows. The line from the break-away arrows is usually tied to a leader line that's attached to a rod and reel. With this system, we can shoot any-size fish and then bring the fish to the boat with the rod and reel. We rig with 600-pound-test braided line on the break-away arrow. If we're not going to use a rod and reel, we'll use a poly ball (polyurethane) float that is attached to the line. This way, we can follow the poly ball until the fish tires. Then, we can pull the fish into the boat. Using this system, we can shoot some really-big fish and land them. We'll use braided line for other fish from 200-pound test all the way up to 600-pound test. We try to match the line to the size and the type of fish we're trying to shoot.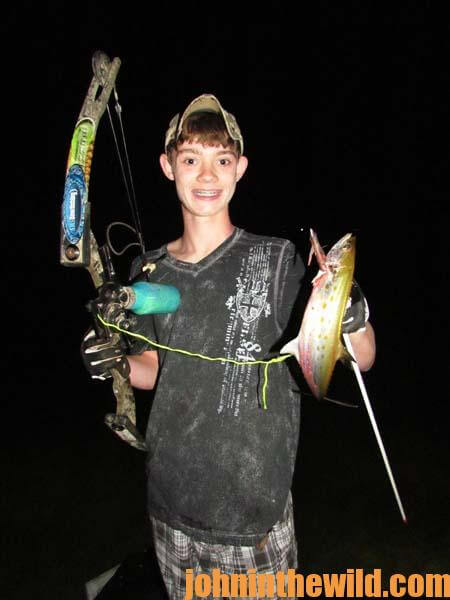 Our primary targets offshore are remoras, because they'll be holding on any type of bottom structure or structure that comes near or sticks out above the surface of the water. They're usually the first fish to show-up when we're seriously bowfishing. Most of the time, we chum for fish holding on wrecks, reefs, oil and gas platforms or some other kind of structure. Sometimes, big spadefish with their very-wide bodies will show-up right on the surface and present fairly-easy targets. We see a lot of spadefish around the rigs. On the Sargassum grass mats, we usually can find dolphin and tripletails, also both wide-sided and good targets for the bowfishermen. If we go out to deep water, we'll often have the opportunity to shoot barracudas, sharks, king mackerel and cobia. If we're on a snapper spot, and snapper season is in, when we start chumming in the early part of snapper season, the red snapper will come up close to the surface, and bowfishermen can pick out the one they want to shoot.
Most of the time, the further we go offshore, the fewer opportunities our bowfishermen will have to take fish. That's why we offer a combo hook-and-line fishing trip and a bowfishing trip. If we're not seeing any fish to shoot with our bows and arrows, our parties can let their lines down and catch fish on hooks and lines. If we catch a really-big fish like a shark and can't get it in the boat, then while it's on the line, we allow our customers to shoot it with their bows and arrows to help subdue the fish and get it to the boat.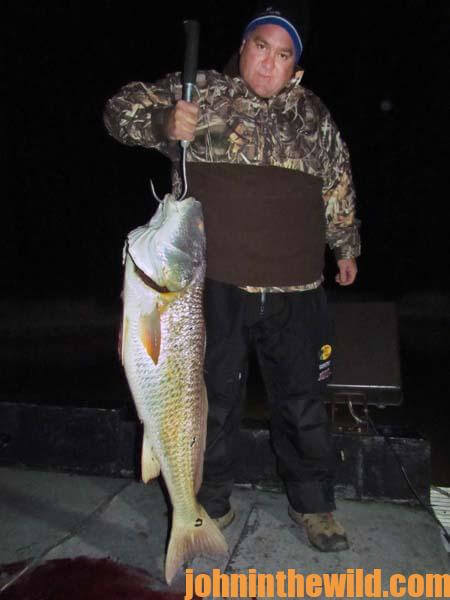 I also offer combination wild hog hunts during the daylight hours and bowfishing trips at night. Go to my webpage at www.fish-kabob.com; on Facebook, https://www.facebook.com/fishkabob; by email [email protected]; or, by phone 251-504-4709.
To get John's book, "The Bowfishing Bible," go to http://amzn.to/22zX7Zz. To learn more about hunting and fishing from John E. Phillips' print and eBooks, click here.
Next: Near Shore and Inshore Bowfishing with Dustin Mizell for Game Fish, Sharks, Sting Rays and Remoras