John's Note: Eva Shockey can't remember a time that she wasn't around hunting. Eva's mother, Louise Shockey, was a ballerina. Following her mother's lead, during the early part of her life, Eva leaned heavily toward dance. She was a ballerina, she competed in ballroom dancing, and she taught dance. She went on hunts with her dad, well-known outdoorsman Jim Shockey, but never really wanted to take an animal until she was in her early 20s. Today, she's one of the most recognized lady hunters in the hunting industry. She co-hosts "Jim Shockey's Hunting Adventures" (www.jimshockey.com) TV show and hunts all over the world with and without her dad.
When we moose hunt, we climb to the top of a high mountain, so we can see for miles in all directions.
We looked a long time for moose on top of the first mountain on this Yukon hunt. When we didn't spot one, we went over to another mountain. Finally, we spotted a big, beautiful bull moose feeding on willows down in a valley. A trophy bull moose stands about 5 or 6 feet from the ground. I'm only 5-feet, 6-inches tall, and the willows were about 6-feet tall. So, when we got down in the valley and started to make our stalk, I couldn't see the moose above the willows. Once we got within 50 to 60 yards of the moose, we could hear him, but we couldn't see him, due to the willows being so tall and thick. Finally at about 6:00 pm, the moose walked up to the peak of a little hill. At that time in the Yukon, we could hunt until about 9:00 pm.
"I could see the huge antlers on this moose that was just standing still, rocking back and forth."
We were hunting just before the peak of the rut. My dad had been calling to the moose, but the moose wouldn't come any closer. So finally, when he was at 70 yards, I took the shot. The moose only went about 10 yards.
We went up to the peak of the little hill and looked at the moose. He was the biggest moose I ever had taken, That was the good news. The bad news was we were about 4 hours from our spike camp. We had to skin the moose and carry out the meat and the trophy. So, we decided to set-up a camp right beside the moose. We knew there were grizzly bears in this area that might find my moose and start eating on him, if we left the moose where I'd shot him and returned to our spike camp.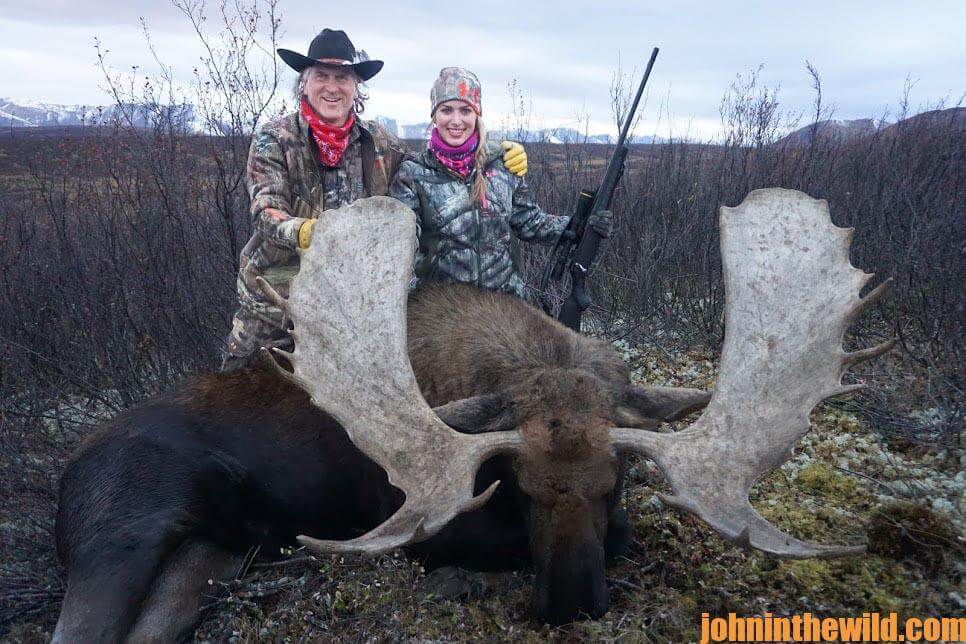 We had a big crew on this hunt – my dad, our main cameraman, my guide, two more cameramen and me. I set-up the camp, while the men started skinning the moose and quartering the meat. About 2:00 am, when the men had finished skinning the moose and quartering the meat, we cooked and ate grilled moose meat. Finally, we went to bed. The moose had about a 60-inch spread and big, wide, heavy pans (the palmated flat side of the antlers). The next morning we got up early. We all helped pack out the camera gear, the trophy and the meat.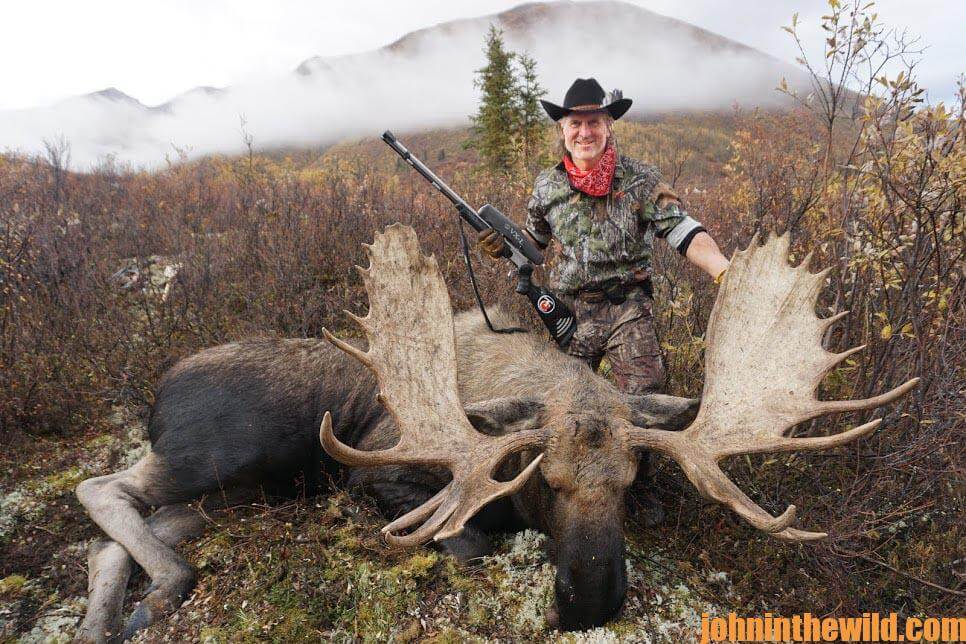 This hunt was such a great one. I took my biggest moose ever, we produced a great TV show, we had fresh moose meat on the grill in the middle of the night, and we had a long hike with moose meat on our backs to return to camp.
John's Note: Eva Shockey became engaged this past May to Tim Brent, a professional hockey player. They plan to be married on June 20, 2015, at her parents' house. The wedding feast will have Eva's moose as the main course and include venison and other wild meats on the menu. According to Eva, "We're having a pretty laid-back family type wedding. I'm so excited. I don't know how I'm going to wait until June."
To learn more about deer hunting, you can get John E. Phillips' Kindle eBooks and some print books, "How to Hunt and Take Big Buck Deer on Small Properties," (John's latest book), "How to Hunt Deer Up Close: With Bows, Rifles, Muzzleloaders and Crossbows," "PhD Whitetails: How to Hunt and Take the Smartest Deer on Any Property," "How to Take Monster Bucks," and "How to Hunt Deer Like a Pro," or to prepare venison, get "Deer & Fixings." Click here to get these books.