Editor's Note: Roger Stegall of Iuka, Mississippi, one of the nation's leading smallmouth bass guides, is known as Mr. Smallmouth on Pickwick Lake on the Alabama/Tennessee/Mississippi border. Stegall shows his clients when and where to catch the big ones. Smallmouth weighing over 5 pounds are common, 6- and 7-pound smallmouths are caught frequently, and every now and then you may catch an 8 pounder or better at Pickwick Lake. Each year Stegall and his clients will catch and release 150 smallmouth that weigh at least 5-pounds each. (https://www.facebook.com/pg/fishpickwick/about/?ref=page_internal)
One mistake that many people make when fishing a jerkbait for smallmouths is they believe the jerkbait needs to be fished really fast. But if you've ever watc
hed a school of shad in the wintertime and seen the shad dying off, they'll just barely twitch as they flutter to the bottom. When a fish is dying, it won't be jerking and jumping through the water quickly. I'll cast a jerkbait out and crank it down eight or 10 times pretty hard. Then I'll stop it and allow it to sit still. I use my rod tip to pull it slowly like you'll pull a Carolina-rigged worm across the bottom. I can feel the bait wobbling slowly. Then I take up my slack, and once again pull the lure slowly with my rod tip. I'll have a lot of hard hits from big smallmouths when I'm using this technique.
My favorite wintertime jerkbait color is chartreuse with a black back when the water has a little bit of color to it or is very cold. I start using this tactic when the water temperature is 48 degrees. When the water's clear, I'll fish a clown color with a lot of red in it, a chrome with a blue back or a chrome with a black back. Just remember to fish the jerkbait really slowly, and you'll catch many-more big smallmouths.
Editor's Note: VanDam, 53-years old from Kalamazoo, Michigan has earned more than $6 million fishing professionally after capturing four Bassmaster Classic titles and seven Angler of the Year titles. His current world ranking on BassFan.com (http://www.bassfan.com) is No. 63. (https://www.facebook.com/pg/kevinvandamfishing/about/?ref=page_internal)
I really like to fish jerkbaits, particularly Strike King's Wild Shiner. I use the Wild Shiner jerkbait that I helped to design, mostly in northern lakes, even through the summer months. I prefer to fish big flats with this lure. There are a number of baits I can use to cover a lot of water, but when I'm properly working a jerkbait, there are very-few baits that will elicit as many strikes as the jerkbait. The jerkbait has a productive, wounded-baitfish action that will cause bass to follow it, even if they don't eat it. Too, I use a jerkbait as a search bait. If there are bass in an area, I can locate them with the jerkbait.
Early in t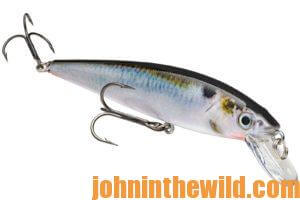 he season when the water's cold, I'll fish a suspending jerkbait really slowly and use it as a draw bait to attract bass. The bass' metabolism is much slower in cold water than in the spring and the summer. So, I give the bass more time to see the bait and then come to it before I move the bait. I'll use long pauses between the times I twitch the bait and then not jerk the bait really hard or move it very far in the water. As the water warms-up and becomes clearer in the summer, the bass become very aggressive. Then I'll use a fast retrieve. I'll snap the jerkbait with my rod tip hard to make the bait dart and move in an erratic motion, and then move the bait quickly through the water. This way, I can cover a lot of water with the jerkbait.
Since smallmouths generally prefer faster-moving baits, I really can turn-on the smallmouth bite by moving a jerkbait quickly and erratically. To be effective, I'll fish it over the top of grass, gravel flats or points to make sure the bait's above the bass's line of sight, so the bass has to look up to see the bait.
I'll be using fluorocarbon line with the jerkbait, because it has low stretch and makes the bait dance. Since I'm making long casts, I want the line to be responsive when I twitch and jerk the lure. Too, realize you're missing out on catching numbers of bass, if you don't fish the jerkbait during the spring and the summer as well as the winter. A jerkbait can be deadly effective when you're dead-sticking it during the winter months, but it also can be very productive during the spring, the summer and the fall when you speed-up your retrieve and give it an erratic action.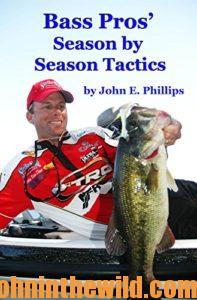 To learn more about catching bass, check out John E. Phillips' book, "Bass Pros': Season by Season Tactics" at https://amzn.to/2IKUhe2, and available in Kindle, print and Audible versions.