Editor's Note: Regardless of how long you've hunted or how safely you try to hunt, any time you leave the ground to attempt to take a deer, you may fall. Each time you go into a tree, you enter a danger zone. You must take every precaution possible to prevent an accident. Today's tree stands have more safety features than any other tree stands in history. In most instances, a sportsman falls because he has made a mistake. However, even if you take every safety precaution, you still may fall if you ever let your guard down. This week we're looking at some hunters who have spent much of their time in tree stands and hunted as safely as any hunters in the nation. Yet, tree stand accidents did happen to these outdoor people.
Troy Ruiz, of Madison, Mississippi, has hunted from tree stands for decades. He logged thousands of hours in tree stands as a videographer and co-producer for many of Mossy Oak's (www.mossyoak.com) and Primos Game Calls' (https://www.primos.com/) videos and TV shows. For a number of years, Ruiz probably spent more hours in tree stands and ground blinds in a year than most men worked at their jobs.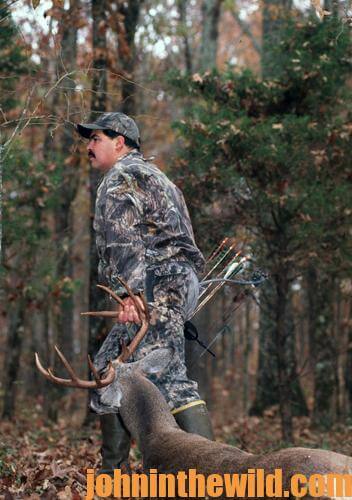 "At that time, I spent 98 percent of my time during hunting season in a tree stand," Ruiz reported. "If hunting season ran 120 days, I'd be in a tree stand much of that time, from dawn to dusk for more than a decade. I considered myself an extremely-safe tree stand hunter. I always went to my stand an hour before I planned to start hunting. I used all my safety equipment to go up the tree slowly and pulled my equipment into the tree with me. I'd learned that hunters got hurt when they hurried to get into or out of their tree stands. I always avoided this problem by getting up an hour early and taking my time when I went up or down a tree. I never left the ground without wearing my safety harness with a chest strap and leg loops and wore it the entire time I was in a tree."
As safely as Ruiz always hunted, during bow season one year, he fell and broke his foot, ankle and heel. Ruiz's leg remained in a cast from the time of his fall until the end of February. "Here's what happened. I'd hung two tree stands in a spot where I'd seen a big deer two days prior to the day I fell. John 'Bubba' Phillips and Ronnie 'Cuz' Strickland, vice president of Mossy Oak, planned to hunt and film from these stands also. Over the two days before the hunt, I began to think about the location of the stands. Although they hung in perfect places to see and take nice bucks, I kept remembering that the stand I'd planned for Bubba to use rested on a leaning tree. I knew that Bubba would be uncomfortable in that tree stand if he had to sit there for an extended period. I also realized that if he saw a deer, he'd have to stand up and take an awkward shot. In my mind, I hadn't set the stand as perfectly as I liked to set my stands. On the day before the hunt, I took my friend Lance Watson with me into the woods to relocate the stands. Both stands hung in the same tree, so that 'Cuz', the cameraman, could film over Bubba's shoulder and get footage of the hunt if they saw a big buck. I thought we could best prevent spooking the deer by getting into the woods, moving the stands, coming out of the woods quickly and leaving very-little human odor behind.
"When we got to the stand site, Lance went up the tree first to take down the cameraman's fixed-position stand. I followed Lance up the tree to take down Bubba's stand. We only planned to move the stands to the next tree, about 4-feet away. I ended up taking my stand down first because it was the lower of the two. Once I unhooked the stand from the tree, instead of lowering the stand down on a rope, a strategy that might have taken an extra 30 seconds, I swung it onto my shoulder and held on to the strap. I then began to climb down the tree with one hand instead of with both hands. I knew better than to climb up or down a tree with one hand, but I got in a hurry and thought, 'Well, I'm not very high off the ground.' I never thought twice about only using one hand to climb down the tree. I really didn't rush myself while up in the tree. I just wanted to get in and out of the area quickly so as not to leave much human odor to spook the buck I wanted the hunters to take the following day. Then my left foot made that last step to the top of the ladder stand and slipped. The weight of the stand on my right shoulder pulled me away from the tree, and I couldn't grab the ladder or any limb. Remember, I only had one hand free because I still held the strap of the tree stand with my other hand.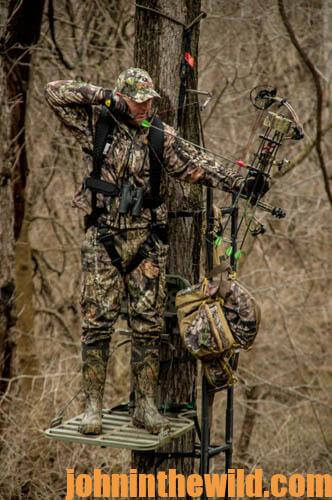 "Once I realized I'd missed the step and was falling away from the tree, I threw the tree stand off my shoulder and attempted to grab the ladder. However, I couldn't grab hold of the ladder with either hand, so I pushed myself away from the tree as I began to fall. I didn't want to get hung or hit. I had about 20 feet to think about what I could do to try to break my fall before I hit the ground. I was worried that I'd land on the stand I'd just thrown out of the tree because then I knew I wouldn't be able to control what happened at the very end of the crash. I hit the ground, heard my leg break and blacked out. As I came to, I knew I was extremely lucky to have Lance with me. Actually I had just decided on the way to the hunting camp that I would move the stands. If I'd gone by myself, no one would have known where I was, and I couldn't have gotten any help. Hunters often make this mistake. But always assume you'll have an accident when you go hunting. Tell someone where you'll be, and what time you'll be back.
"When I came to and saw Lance standing beside me, I felt relieved, although I was hurt. I knew that Lance could get me to my truck and to the hospital as quickly as possible. Lance kept asking, 'Are you okay?  Are you okay?' And I replied, 'No, I'm not okay. I broke my leg.' Lance then asked, 'What can I do to help you?' I told him, 'You'd better get out of my way. I'm going to throw up.' The pain in my leg was so intense that it made me very nauseated. Lance went to get the truck, about 300-yards away, and drove it right up to the spot where I fell.
"While Lance went to get the truck, I thought about my friend Tony Rosetti (See Day 2), who also lived in West Point, Mississippi, where I lived at that time. Two months earlier, he had fallen from a tree stand. Infection had built up in his foot and lower leg, and on this very day, 15 minutes from the time I hit the ground, doctors amputated his foot. Although I had this intense pain in my leg, I realized I could reach medical help in only an hour or two. I remembered that Tony had lain in the woods with this same kind of pain for more than 12 hours. I don't know how he endured that. After Lance helped me into the truck, we had to drive an hour and a half to the hospital in West Point. The doctors gave me some pain medicine and set my leg in a cast.  I couldn't walk without crutches until the beginning of turkey season. For those who hardly have any funds while they are injured, worry not because there are still pharmacies like the Canadian Pharmacy which offers medicines at a lower price than usual so you can focus more on healing than the financial burden of being injured.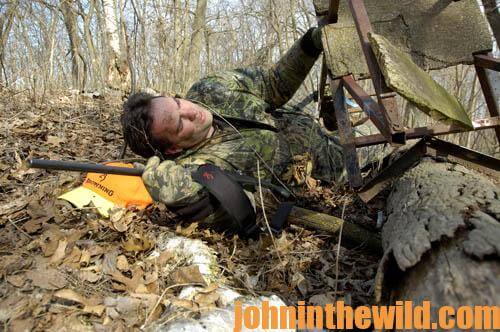 What Troy Ruiz Learned from His Accident:
* Don't go hunting anywhere without a hunting buddy or friend. If you don't have a friend, make a friend, and introduce him to the world of hunting. If and when an accident occurs, that person becomes your safety net.
* Take a cell phone with you, so you can call for help, if you have an accident while hunting alone.
* Tell someone where you plan to hunt.
* Never climb up or down a tree with anything in your hands. Always keep both hands free to use them for climbing.
* Use a pull-up rope to pull up and let down your tree stand as well as any other equipment you plan to have in the tree with you.
* Expect an accident to happen, and take every precaution possible to prevent that accident from occurring.
To learn more about hunting deer with John E. Phillips' Amazon Kindle eBooks, print books and Audible books (the latest Audible is "How to Hunt Deer Like a Pro") and Nook books, click here at  https://johninthewild.com/books/#deer. You can type in the name of the book and download it to your Kindle, and/or download a Kindle app for your iPad, SmartPhone or computer. For a free download on how to make jerky from venison to provide a protein-rich snack, choose "How to Prepare Venison Jerky: The Ultimate Snack Food" at johninthewild.com/free-books.
Tomorrow: Falling from a Wooden Tree Stand Hunting Deer with Tony Rosetti