Editor's Note: Fifty-two year-old Shannon Parsons and his dad, 85-year-old Mike Parsons, own property in the Crazy Mountains of Montana near the town of White Sulphur Springs. The Parsons have been hunting elk and mule deer since 1978, and they have developed a very-successful method of finding and taking elk for both rifle hunters and bowhunters in their guiding business of Crow Creek Outfitters. Shannon's son, Mike is 23-years-old and will be the third generation of Parsons in the elk-guiding business. One of the reasons the Parsons have been so successful is because they pass down all the knowledge about elk hunting from one generation to the next.
Another big advantage that the Parsons have is they've hunted the same ranch (private land) for over 30 years and 100,000 acres of national forest for over 40 years. Hunting approximately 135,000 acres means they don't put heavy hunting pressure on any area. These elk are much-less spooky than the elk on public lands that receive extreme elk-hunting pressure. Besides knowing where to find the elk, and when they're most likely to show up, all the guides at Crow Creek Outfitters offer are very proficient in calling elk.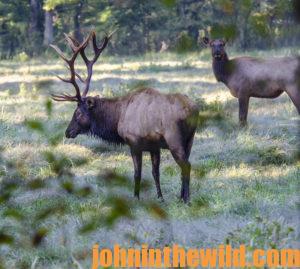 I usually carry two, big bottles of water, dry socks, a couple of flashlights, extra batteries, knives, snacks, first-aid gear and anything else I think my hunter or I may need. I prefer Kenetrek boots (https://kenetrek.com/) that fit me very well, even though they're pricey. The Kenetreks hold up well considering all the walking I do, and they're very comfortable.
I have two different styles of these boots. I wear Kenetrek hiking boots during bow season and wear the higher-top Kenetrek boots during gun season. However, every September during bow season, we'll usually have a snow that lasts two or three days, so I often have to change from my hiking boots to my high-top boots due to the snow. But the snow is usually gone in two or three days, and we don't get another big snow until November. Having said this, we have had as much as 16 inches of snow in September.
I recommend that our hunters wear some type of base layer at least, and if they are hiking, they'll probably need to carry a heavy jacket. Also, we usually use wool pants or some other type of pants that are made of a high-tech, lightweight material that will keep the hunter dry. Even after these recommendations, we still have some guys who bring snowmobile suits – a statement directed at the author, John E. Phillips.
"The first time I hunted at Crow Creek Outfitters many years ago was the first elk hunt I'd been on in my life," John E. Phillips, the author of this book, explains. "Since I knew we'd have snow, I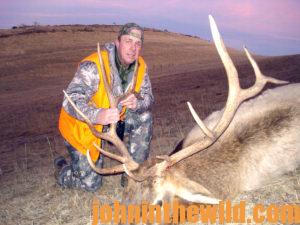 wore a camouflaged snowmobile jumpsuit. The first morning we went out, we were side-hilling (walking a zigzag pattern across the face of a fairly-steep mountain) in about 2 feet of snow. Suddenly I was face down in the snow. When my guide came to ask me if I was alright, I looked up and told him, 'Well, I was walking at full speed when my legs gave out. But as soon as they wake back up, I'll be ready to go again.'
"Once we returned to camp at lunch, Mike Parsons was told about my experience. He came to see me with some wool pants in his hands and said, 'I heard about your legs giving out on the mountain. So, I brought you some speed britches to wear the rest of the week. Snowmobile suits will wear you out when you're climbing mountains and walking through snow, but with these 100% wool (speed) britches, you'll be able to go all day long.' He was proved right."
To learn more about elk hunting, check out John E. Phillips' book, "How to Find Your Elk and Get Him in Close,"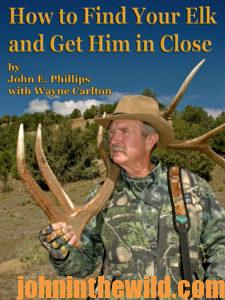 available in Kindle, print and Audible versions at http://amzn.to/17ENNqK. You may have to copy and paste this click into your browser. (When you click on this book, notice on the left where Amazon allows you to read 10% of the book for free).
Tomorrow: Most-Common Mistakes Made by Unsuccessful Elk Hunters