Editor's Note: Seven Bassmaster Angler-of-the-Year titles, four of those consecutively, and four Bassmaster Classic Championships make Kevin VanDam of Kalamazoo, Michigan, one of the most-consistent bass anglers on the professional-bass-fishing circuit today. Here's what VanDam says about his secrets to consistency.
I fish top-water lures, especially when we go to the lakes that have a shad spawn. If we happen to be fishing a tournament on a lake that's having a shad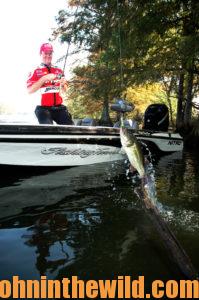 spawn, you'll see me fishing top-water lures, just like the other pros. In the past, some anglers have had problems making a top-water bait perform the walk-the-dog-type action. I'm using the Strike King Sexy Dawg
(https://www.strikeking.com/), that doesn't dive under the surface, and stays on top of the water, even in choppy water. This lure also has a great gliding action. It comes in a variety of colors. Of course, there will be a sexy-shad color and some natural and translucent colors. I like to use this lure during the postspawn, and I really like to cast it around targets when the bass are holding on bushes and boat docks. Too, I like to fish it around grass beds.
The Sexy Dawg has a drawing ability to pull bass out of their hiding spots and cover. Of course, during the shad spawn in the spring and then when the bass spawn, this lure will be dynamite. Even when the bass pull-out of the shallow water and move-out onto the deep-water ledges, you'll be able to pull them up to the surface to take this bait. Too, when the bass move into the creeks in the fall and start schooling, this new lure will be hard to beat.
I caught a number of bass at a tournament in May some years ago, when the lake we were fishing had a blueback herring spawn. I cast the Sexy Dawg off shallow rocky points and around schools of herring. One of the things that helps me in my fishing is I'm always looking for a new, a better or a more-efficient lure than what's in my tackle box. Because I'm fortunate enough to be able to help design most of the lures I fish with, I feel that when I'm not catching bass, I need a different lure that will help me start catching bass. So, every year, as focused as I am on catching more and bigger bass, I'm also focused on how to develop a lure that will help me catch more and bigger bass.
Bonus Video: Kevin VanDam talks about how he stays consistent
http://www.youtube.com/watch?v=RziD81pRwLk.
To learn more about Kevin VanDam and his fishing, go to www.kevinvandam.com.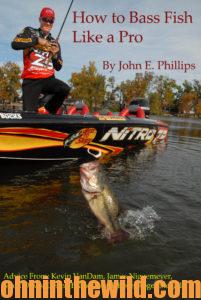 To learn more about bass fishing, check out John E. Phillips' book, "How to Bass Fish Like a Pro" at http://amzn.to/YpoJvD, available in Kindle and print versions and Click here for the Audible link.