John's Note: When I called to interview Cody Robbins, he said, "Can I call you back, John, in about 2 hours? We've just seen a giant mule deer buck, and my friend is about to take him. I'm shooting the video and the pictures." Robbins is the owner and producer of the TV show, "Live 2 Hunt (www.live2hunt.com) with Cody and Kelsy Robbins." Many deer hunters have said, "If I had the money and the time I'd have my own TV show." Others have told friends, "I bet those guys who have the hunting TV shows can't find and take a buck on public lands." Yet another group may think, "If those hosts of TV deer-hunting shows would let me hunt where they get to hunt, I could take a lot of deer, too!" This week we'll learn how true those statements are by talking with Cody Robbins of central Saskatchewan, Canada. So, what's required to get your own TV show, how do you learn that business, and what's the best way to get into it? I've known, hunted with and interviewed many of the outdoor hunting TV hosts and learned that they're hard-working people who are engaged in hunting all year long. The story of Cody Robbins, how he's learned his craft, and how he's put a TV show on the "Outdoor Channel" is well worth the telling. 
I took the biggest white-tailed buck I'd ever harvested last year (2015) off one of my public-land honey holes. I shot the buck with a TenPoint (www.tenpointcrossbows.com) crossbow, and he scored 195-6/8. I found that buck about 3 miles from the closest access road to this public land. Every day I hunted him I'd hike in 3 miles and out 3 miles. I named this buck Blackie. His antlers were only one shade lighter than black. I'd been watching this buck grow his antlers on my Stealth (http://www.stealthcam.com/) cameras for 3 years before I took him. The year before I took the buck, I hunted him for 3 months and never saw him. I never tagged a whitetail that year, and for dinner I had deer-tag soup. The year I didn't see him I estimated his rack would be about 165 inches, and in 2015, I started getting trail-camera pictures of him again. Every time I had a favorable wind, I'd be sitting in the stand where I had the trail-camera pictures of Blackie.
On November 26, 2015, Blackie came walking into my stand site and presented a 32-yard shot. During those 3 years I hunted Blackie, I learned so much about public-land hunting. I started hunting by going out about 2 miles from the access road. Even though I photographed some bucks with my trail cameras, I never could get pictures of mature bucks moving during daylight hours. I also learned that in that first 2 miles there were people everywhere, stalking, hunting from tree stands, putting out deer lure and using grunt calls. I realized that although I had pictures of some mature bucks, the older bucks weren't moving at all during daylight hours. I realized I would have to move further away from the crowds to find a mature buck that would move during daylight hours.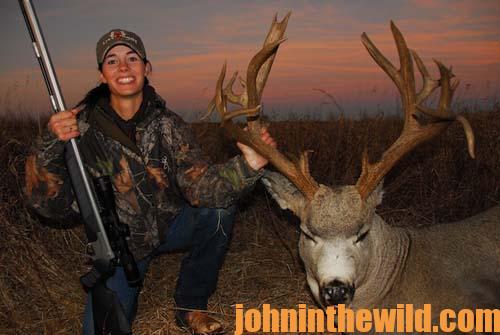 I knew that going that far to put-out trail cameras, to hunt and possibly to drag a big buck out would require a lot of time and effort. Most people wouldn't be willing to do that. On this particular public land I was hunting, people could use ATVs to put out cameras and scout, but you couldn't have a weapon with you on your ATV in hunting season. During the early season, and especially during summer, I'd use an ATV to get within a mile of the place I was planning to hunt, scout that property and hang trail cameras. I knew during hunting season I'd have to walk in and out the full 3 miles from the ATV trail.
By the time hunting season came in the third year I hunted Blackie, I had my trail so well memorized that I didn't have to use any flagging tape, Bright Eyes (fluorescent thumb tacks) or any other type of trail markers. When hunting public land, I never wanted other hunters to find a trail to my stand site. I'm often asked, "How do you keep people from stealing your trail cameras, if you're putting them out on public land?" I generally put out 30-trail cameras on various properties, and during the course of a year, I'll probably have five of them stolen. So, I anticipate and budget for buying five new trail cameras every year. Checking my trail cameras is like opening packages on Christmas Day. I get so excited when I reach a camera, and I hardly can wait to see pictures the camera has taken. However, when I see boot prints in the snow and find my trail camera missing, I do get discouraged. But I'll think, "The person who took that camera must really have needed it worse than I do if he had to take it."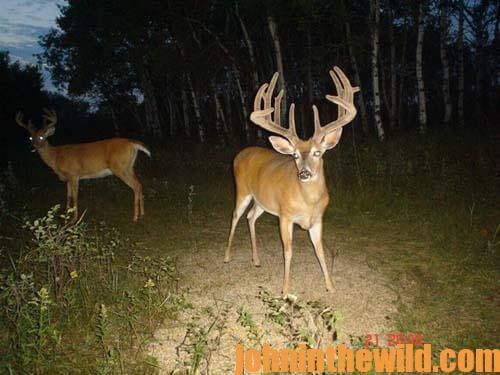 Another thing I do to protect my cameras and my stand sites is I don't put them where most people can find them. Too, if you're going to be a successful hunter, don't post where you're hunting or the size of buck you've taken on Facebook. If you're taking pictures of your buck, don't take those pictures where you've shot the buck or next to your tree stand or in any type of terrain where another hunter may see the picture and know exactly where you're hunting. The same's true of trail-camera pictures. If some of your friends or other people who know where you hunt start seeing trail-camera pictures of a big buck, there's a really good chance that they'll find the spot where you're hunting.
I try to be as discreet as possible and leave no sign of where my cameras are, or where my tree stands are. I like to put my trail cameras and my tree stands in places where I may have to walk or crawl through a fallen treetop, or where there's a lot of timber laying on the ground, so that getting to my hunting site isn't as easy as walking down a trail. If you're hunting big acreages of public land, and you're putting out trail cameras and tree stands, try to find hard-to-reach places that aren't as easy as just walking down a trail. To reiterate about finding and taking mature bucks on public lands:
* Start scouting long before other hunters do;
* Be willing to walk further than most public-land hunters;
* Put your trail camera and tree stand where most hunters aren't likely to look for them; and
* Don't get upset when someone takes one of your trail cameras. But next time, hide it better on public lands.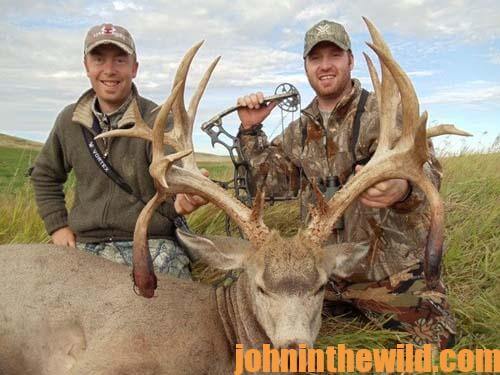 To get John E. Phillips' eBooks and print books on hunting deer, including his newest deer-hunting book, "Whitetail Deer and the Hunters Who Take Big Bucks," available at http://amzn.to/2bYwYOK/, click on these books to learn more, "How to Hunt and Take Big Buck Deer on Small Properties," "How to Hunt Deer Up Close: With Bows, Rifles, Muzzleloaders and Crossbows," "PhD Whitetails: How to Hunt and Take the Smartest Deer on Any Property," "How to Take Monster Bucks," "How to Hunt Deer Like a Pro," and "Bowhunting Deer: Mossy Oak Pros Know Bucks and Bows," or to prepare venison, "Deer & Fixings." Or, go to www.amazon.com/kindle-ebooks, type in the name of the book, and download it to your Kindle, and/or download a Kindle app for your iPad, SmartPhone or computer. You also can find John's books on Nook at www.barnesandnoble.com.
For information on making jerky from your deer to provide a protein-rich snack, you can download a free book, "How to Prepare Venison Jerky: The Ultimate Snack Food," from https://johninthewild.com/fee-books.
Next: Learn How to Find Big Bucks with Cody Robbins