Edi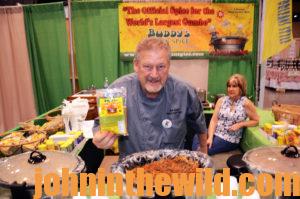 tor's Note: This past week I went to a Deer Expo and met some interesting people, scouting out what outdoorsmen needed to know about hunting, new hunting products and hunting places to go. This week I'll share with you some of the people I've met, and what I've learned that may help you and your hunting buddies have a more fun and successful deer-hunting season this fall.
Buddy's Cajun Spice and Quick Meal Mixes for Hunting Camps
One of the most-enjoyable and fun times I always have at hunting camp is around the supper table after the hunt has ended, and the fellowship begins. Nothing ruins a night out in the wilderness like a noisy generator, so make sure to take the steps to keep your generator quiet. I really like hunting-camp food and want to try new and creative recipes I've never made before. So, when I met Chef Buddy Callahan from Louisiana, tasted his delicious cooking and realized how quickly meals could be prepared with his products, I decided there on the spot to share his recipes with our readers to enjoy at their hunting camps.
Buddy Callahan was a radiation therapist who had done numerous fundraisers for the Susan B. Komen Foundation, the National Breast Cancer Foundation and the hospital where he was employed by preparing various types of Cajun food to sell at events. Then he donated the money raised – $50,000 – to these great causes. He also competed in jambalaya cook-offs. Callahan produced his spices at home, but the demand for his products far exceeded his ability to produce them. He needed to find a way to package the products easier and quicker to keep up with the demand. In 2008, Callahan ramped up his production of Cajun spices and then retired from his radiation job, going into the spice business fulltime.
"I offer my original Buddy's Cajun Spice, which is a low-sodium, all-purpose seasoning," Callahan explains. "Then because many people believe the only way that Cajun seasoning is Cajun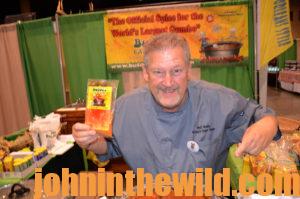 seasoning is it must be somewhat hotter, I've formulated seasonings with no MSG called Mo Peppa and another with more garlic than the original, Beaucoup Garlic. Beaucoup in French means plenty, so this spice contains plenty of garlic. I also have a completely Salt-Free Cajun Spice. I've been producing a Chili Mix since 2008, as well as a gluten-free Gumbo-Laya Mix that contains roux and rice, a Gumbo Mix with roux and a Black Beans and Rice Mix."
We all know the real heart of any Cajun recipe is the roux, which generally requires hours to make. All the flavors of Cajun Country come out in whatever you're cooking when you make a delicious roux. So, we asked Chef Buddy what he'd done about roux, since all his spices are offered as dry spices. Chef Buddy reports, "When I was developing my recipes, I discovered several kinds of dry roux baked with oil in them. I didn't like the taste of the roux with the first two or three batches I tried with various types of dry roux. All my life I'd eaten gumbo and other Cajun cuisine with roux that had been cooked for an hour or more. Then I discovered a gluten-free dry roux. We did some blind testing, letting several groups of people taste different kinds of roux. Each group chose the gluten-free dry roux to prepare our dishes, due to its superior flavor. Being gluten-free was a bonus."
Down Da Bayou Gumbo Mix:
I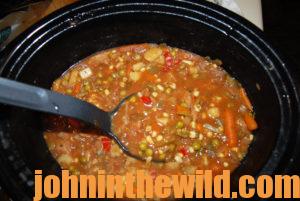 wanted to know how Chef Buddy could make a crockpot of gumbo at deer shows, since it was like a stew. You could put many food items in it, but the gumbo Chef Buddy made featured chicken and sausage. "I recommend chopping up a rotisserie chicken and a pack of smoked sausage into 8 cups of water," Chef Buddy says. "Then I pour in my gumbo spices from the mix, cooking the mixture in a crockpot for 30 minutes."
You also can substitute crawfish, shrimp and/or crab meat for the gumbo meats, depending on your own personal taste. If you'll be in a hunting camp this year and need a hearty, quick but delicious meal to feed a crowd, this recipe will be a crowd pleaser. Even made with just the chicken, it's a delicious dish.
One of the problems associated with crockpot cooking is cleaning up after the meal. But I noticed in Chef Buddy's three crockpots that he had plastic bags in their bottoms. Chef Buddy informed me that he used crockpot liners that he found at Walmart and other stores that were BPA free and fit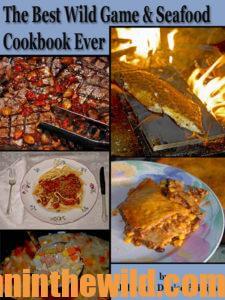 crockpots from 3-8 quarts. When dinner's over, to clean up, you simply pull the liner out of the crockpot and discard it.
To see more recipes and learn more about Buddy's Cajun Spice, go to www.buddyscajunspice.com, or to the Facebook page, or https://bit.ly/2Og2ahf.
For other hunting-camp recipes that require more time to prepare than Chef Buddy's recipes, check out John E. Phillips' "The Best Wild Game and Seafood Cookbook Ever" with its top hunting-camp recipes in Kindle and print versions at http://amzn.to/WkbLRg. Here's one of our favorite recipes from the cookbook.
Crockpot Venison Vegetable Soup:
Our daughter-in-law is a wonderful cook, and this recipe from her is easy to prepare and has a delicious flavor.
Ingredients:
1 pound ground venison
1 onion, chopped
2 teaspoons garlic, minced
2 16-ounce cans diced tomatoes
1 can lima beans (15 ounces)
1 can French sliced green beans (15 ounces)
2 cans sliced carrots
1 can kernel corn
Garlic powder, Italian seasoning, salt and pepper. (We also add 1-2 teaspoons Penzey's Sunny Spain seasoning – (https://bit.ly/2Y5H61q)
Preparation:
Saute meat, onion and garlic in olive oil in a skillet until the onions are clear. Drain the meat on paper towels. Put tomatoes in a crockpot. Fill one can with water, and pour into the crockpot. Add drained cans of lima beans, green beans, carrots and corn to the crockpot. Next mix in the cooked meat, Italian seasoning, garlic powder, salt, pepper and Sunny Spain seasoning, if available, according to taste. Cook on HIGH for 3-4 hours. (You may have to add more water as needed). This recipe doubles well.
Tomorrow: Using Buddy's Cajun Spice and Mixes for Tasty and Quick Hunting Camp Meals